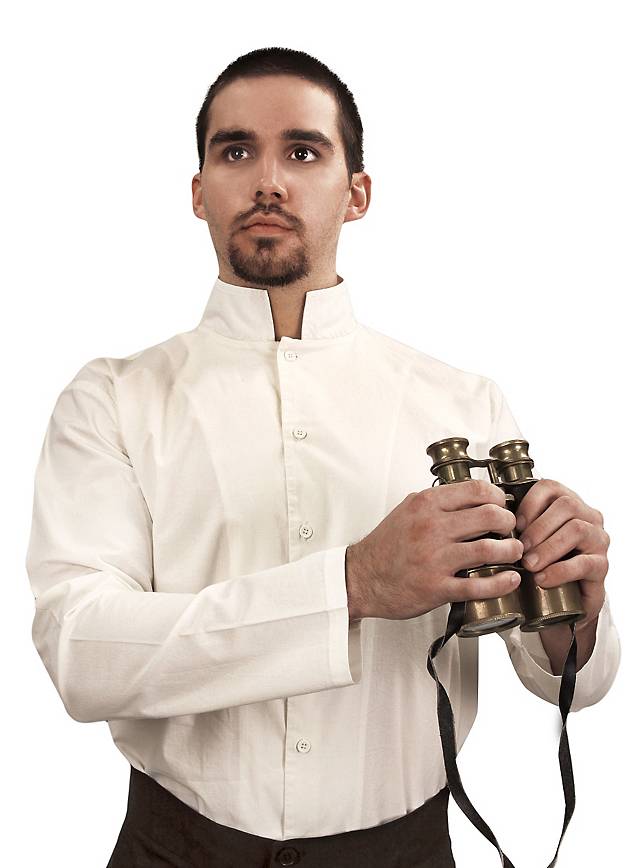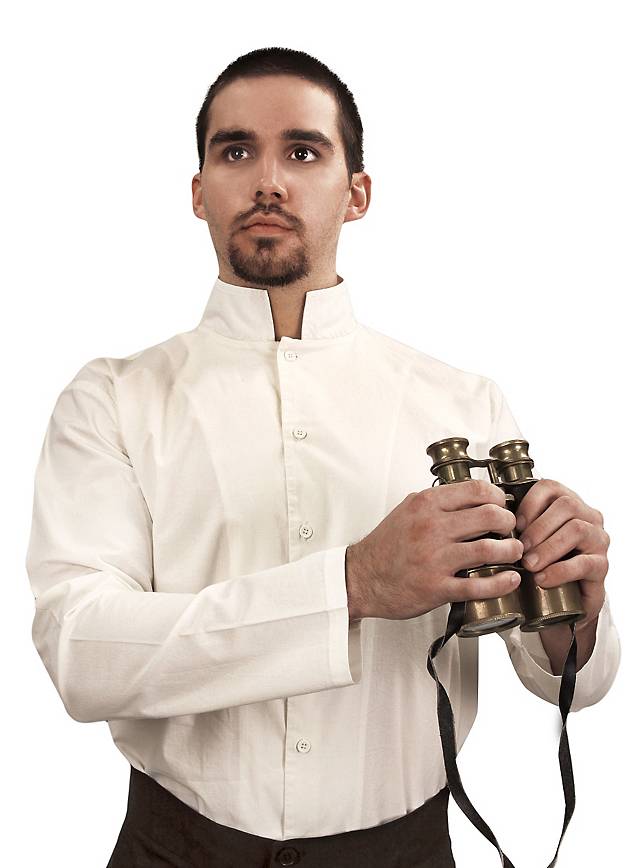 Shirt - Aristocrat
Included in delivery
Shirt - Aristocrat, 1-piece
Without any other costume pieces or accessories shown
Product Description
Simple, elegant shirt made of 100 percent cotton in natural. Gaslight shift in steampunk style. Narrow wing collar, long sleeves and front insert with buttons. Perfect for Victorian retro-futuristic ensembles!
This shirt - Aristocrat in 100 percent natural, unbleached cotton looks simple but has a few intrepid details. Nevertheless, you can combine it with a wide range of costume themes to give them your own, personal touch.
The body of our natural cotton Gaslight Shirt is cut simply because you will probably be wearing it under a vest or jacket. It buttons from top to bottom and has a generous stand-up collar. The sleeves are gathered into the shoulders to add volume, and they do not have cuffs so they are open at the ends. This deceptively simple shirt is perfect in combination with retro-futuristic outfits!
Material
100% cotton
You may also like:
-13%
Sailor's trousers striped - Johnny
Costume Part
39,90 €
from 34,90 €
Staff Pick
-20%
Steampunk Top Hat gray
Accessory
49,90 €
39,90 €
Staff Pick
25 Rounds for 45 Colt
Accessory
24,90 €
Ambience Thermos Flask with Shoulder Bag
Accessory
79,90 €
Shirt - Engineer
Costume Part
54,90 €
Shirley
Eyelashes
4,90 €
Bowler black
Accessory
12,90 €
Vest - Engineer
Costume Part
79,90 €
Flag - Crusader
Decoration
14,90 €
Day Cravat - Mortimer
Accessory
19,90 €
Uniform jacket - US Infantry
Costume Part
79,90 €
Shirt - Old Sam, white
Costume Part
49,90 €
Shirt - Rio Grande, white
Costume Part
34,90 €
Puff Tie brown
Accessory
24,90 €
Shirt - Dandy
Costume Part
44,90 €
Morphsuit Chessboard
Costume
49,90 €
-17%
Postilion Hat
Accessory
29,90 €
24,90 €
Gentleman Vest black-gold
Costume Part
39,90 €
Gloves white
Accessory
3,90 €
Shirt - Old Sam, natura
Costume Part
44,90 €
Payment & Support
✓ Fast and secure payment
✓ Payment options incl. PayPal and invoice
✓ 24/7 service and ordering
Orders & Shipping
✓ Free of charge on orders of €30 or more within Germany
✓ We deliver worldwide
✓ Super speedy express shipping
Claims & Returns
✓ Free return shipping on orders of €40 or more within Germany
✓ 14 days right of return
✓ Easy and hassle-free
Reviews
Shirt - Aristocrat
(8)
4.4 out of 5 stars
verified purchase

The material is very thin, but apart from that a great shirt.

Renae
back to top