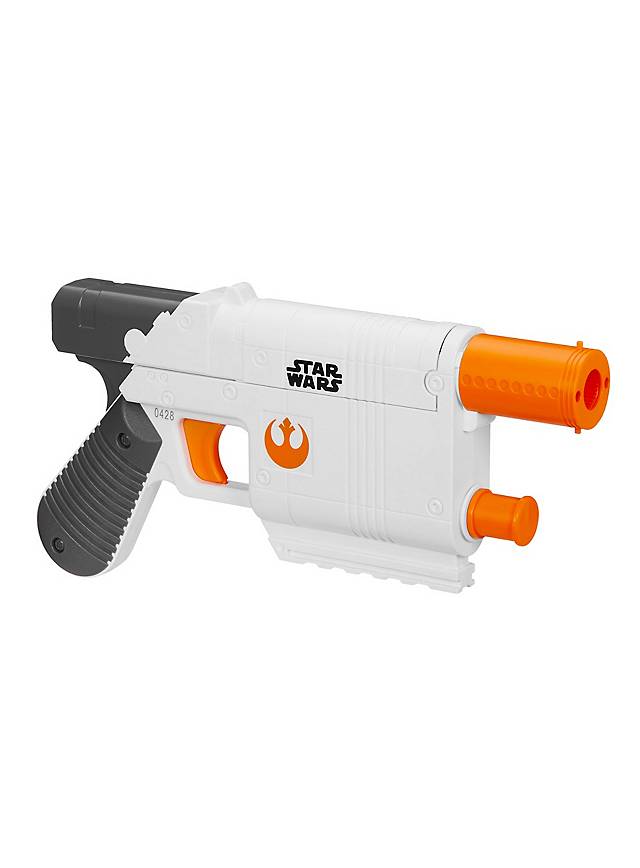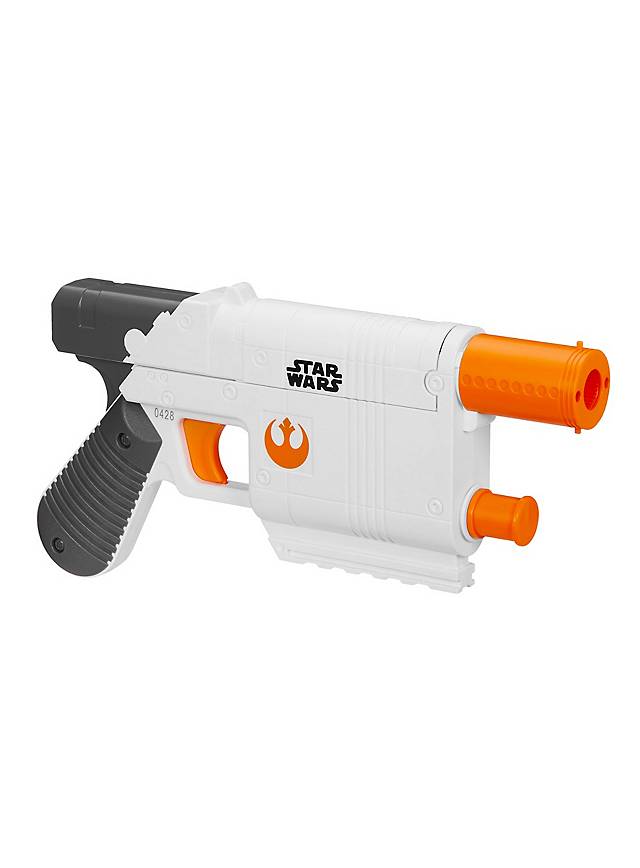 Star Wars - NERF Rey Blaster
The NN-14 blaster that Rey got from Han Solo!
Included in delivery
Rey's Blaster as Nerf Gun
Detailed and close to the movie original from Star Wars Episode 7
Built-in magazine for four darts
With four Star Wars darts
With Tactical Rail for Nerf Accessories
Compatible with other nerf darts
Note
Warning: Not suitable for children under the age of three. Warning: Do not aim at eyes or face. To avoid injury: Only use original darts. Other darts may not meet safety standards. Do not modify darts or dart blaster.
Product Description
"You might need this."
With these words Han Solo Rey gives an NN-14 Blaster to Rey after they have landed in "The Force Awakens" on the planet Takodana. If you're not only a Nerf fan but also a Star Wars fan, you need "this" in any case!
The Nerf version of Reys Blaster from "The Force Awakens"
As with the Nerf Han Solo Blaster, the Nerf Star Wars Rey Blaster is designed very close to the movie template. Very Hasbro-typical is the case very detailed designed: Just like Reys Blaster in the film, the typical grooves and screws can also be found here.
Only in the rear part of the blaster a compromise had to be found with regard to design in order to be able to accommodate the mechanics inside. This compromise was quite successful, because with this slight change the Blaster is capable of more than just one shot.
May the fourth be with you!
If three darts miss their target, trust in the power and use the fourth! Because apart from the mad optics the Blaster convinces also by an inserted magazine for four Darts.
NERF Rey Blaster, 4 Star Wars Darts
Payment & Support
✓ Fast and secure payment
✓ Payment options incl. PayPal and invoice
✓ 24/7 service and ordering
Orders & Shipping
✓ Free of charge on orders of €30 or more within Germany
✓ We deliver worldwide
✓ Super speedy express shipping
Claims & Returns
✓ Free return shipping on orders of €40 or more within Germany
✓ 14 days right of return
✓ Easy and hassle-free
Reviews
Star Wars - NERF Rey Blaster
(2)
5 out of 5 stars
back to top