Brush-on Hydro Mastix Spirit Gum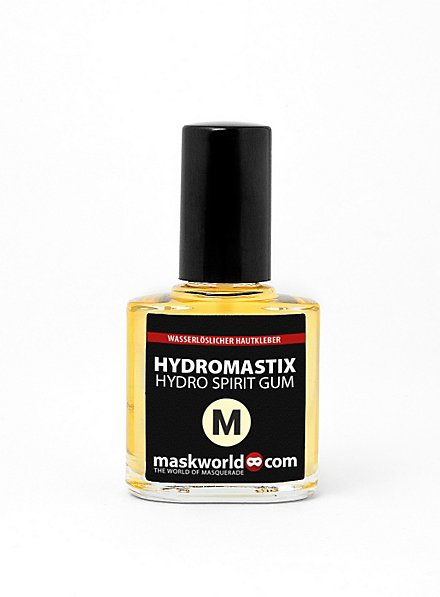 Brush-on Hydro Mastix Spirit Gum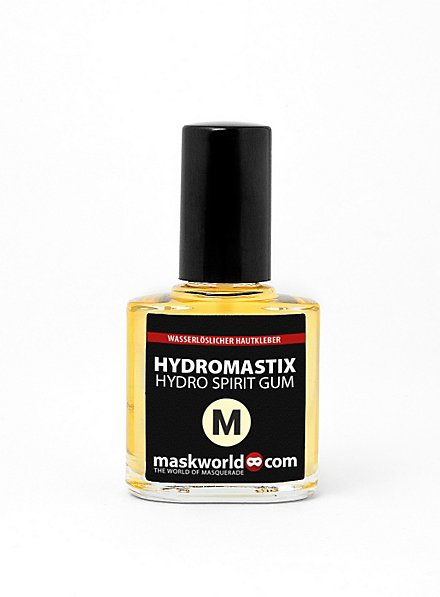 Brush-on Hydro Mastix Spirit Gum
Water-based, solvent-free spirit gum
Included in delivery
Glass bottle with brush and 12 ml Hydro Mastix spirit gum
Note
If the brush hairs of the applicator are stuck together, rinse it with warm water and rub between thumb and index finger at the same time. Since the adhesive is solvent-free, this bonding can occur sporadically. However, there is no shortage of the product.
Product Description
Skin-compatible water-based spirit gum: maskworld.com Hydro Mastix in convenient brush-on bottle.
Water-based, solvent-free spirit gum
highly skin-compatible & easy to use
brush-on bottle for large surface application
less adhesive power than normal Mastix spirit gum
great for smaller effects such as rhinestones & feathers
for beards, small latex pieces and holding hair in place
easy removal with water and soap (no Mastix Remover required)
Made in Germany, can be used up to 12 months after opening.
Material
Aqua (Water), PEG-8, Acrylates Copolymer, Glycerin, Sodium Hydroxide, Sodium Methylparaben
Shelf life 12 months
Payment & Support
✓ Fast and secure payment
✓ Payment options incl. PayPal and invoice
✓ Service Mo-Fr from 9 am to 5 pm
Orders & Shipping
✓ Free of charge on orders of €50 or more within Germany
✓ We deliver worldwide
✓ Super speedy express shipping
Claims & Returns
✓ Free return shipping on orders of €40 or more within Germany
✓ 14 days right of return
✓ Easy and hassle-free
Reviews
Brush-on Hydro Mastix Spirit Gum
(47)
4.6 out of 5 stars
verified purchase

Very good product.

Michael

verified purchase

Works

Luis

verified purchase

It did its job well, I was in the appliance mask for over 24 hours and it did not move.

Steven

verified purchase

One of my favorites that I ever tried on

Sebastião

verified purchase

Excellent

Katharina
back to top