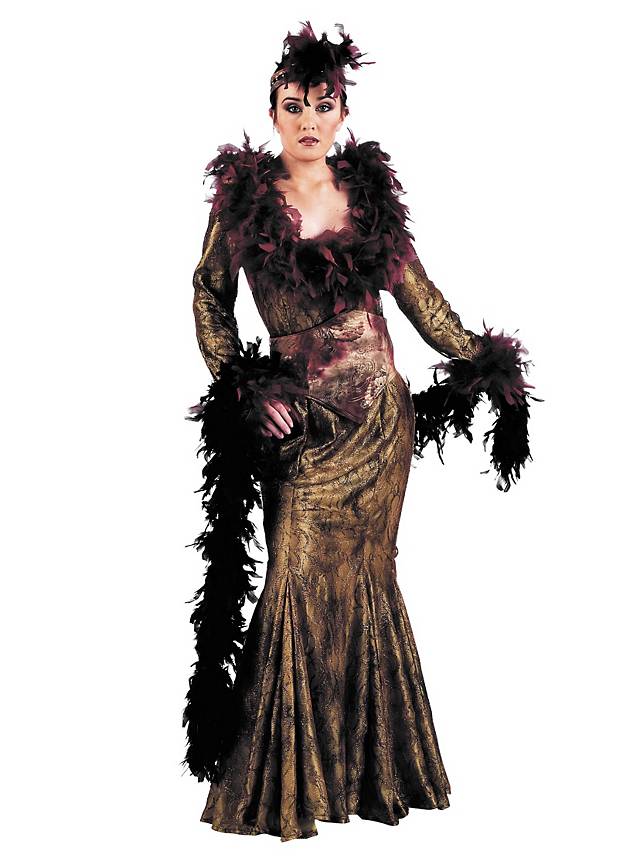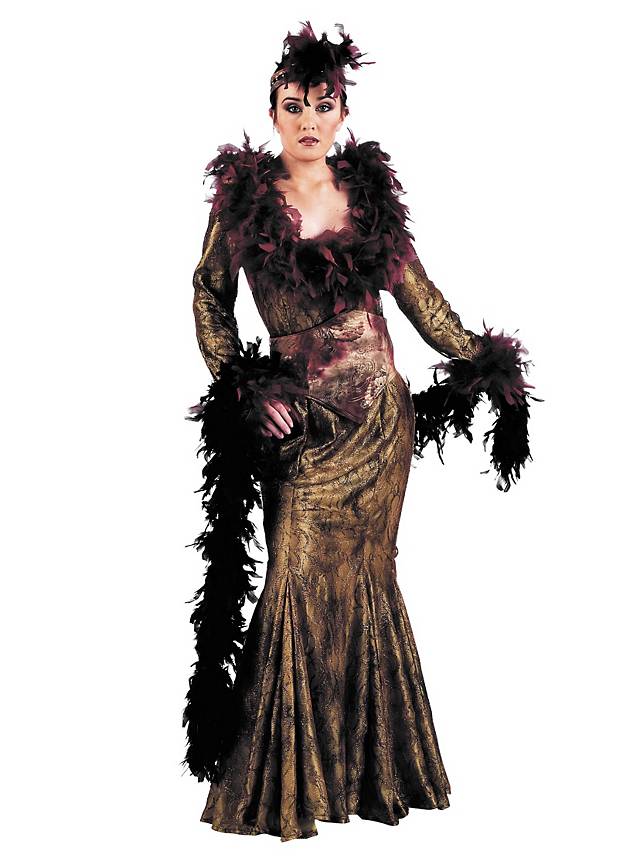 Diva Costume
Included in delivery
Costume, 4-piece
With dress
With belt
With feather boa collar
With headdress
Without additional black feather boa
Product Description
With her gown and feathers, this Diva is sure to leave a lasting impression! This double-layered, floor length Diva gown has a classic, scoop neckline cut and zips up the back. Its inner layer of shiny, golden fabric is covered in net with a lacy floral pattern that shimmers from bronze to gold. The overall effect is extravagant splendor! From the knees down, our Diva gown has gores in the style of queens of yore for added fullness. The cuffs are feathered, and the separate feather boa collar fastens around the neck.
An elastic band keeps the plumed headdress that sparkles with tiny rhinestones on your head. Fashioned with dramatic curves, the belt is dyed to match and fastens with two snap fasteners at the back. In this Diva costume, you will be the star of the party!
Costume, 4-piece
With dress
With belt
With feather boa collar
With headdress
Without additional black feather boa
Material
dress: 50% polyester, 46% polyamide, 4% elastane; belt: 56% polyester, 39% acrylic, 3% elastane, 2% polypropylene; headdress: 48% polyester, 36% acrylic, 13% polyamide, 3% elastane
You may also like:
Witch Shoes black
Shoes
44,90 €
-44%
Charleston Dress
Costume
89,90 €
from 49,90 €
Walking Stick Brass / Gentleman
Accessory
34,90 €
-20%
Sunglasses "Cop"
Accessory
9,90 €
7,90 €
-43%
Strip Search Sally
Costume
69,90 €
39,90 €
-13%
Funky Girl
Wig
39,90 €
34,90 €
-44%
Burlesque Dancer
Costume
89,90 €
from 49,90 €
Al Capone Shoes
Shoes
54,90 €
-50%
Flapper Girl black
Costume
79,90 €
39,90 €
Top Hat
Accessory
39,90 €
Tailcoat black
Costume
59,90 €
Mini Top Hat red
Accessory
19,90 €
-25%
Bob
Wig
39,90 €
29,90 €
-29%
Sexy Charleston black
Costume
69,90 €
49,90 €
-44%
Landlady
Costume
89,90 €
from 49,90 €
-29%
Maidservant
Costume
69,90 €
from 49,90 €
-11%
Dandy
Costume
179,00 €
159,00 €
Gloves white
Accessory
3,90 €
Satin Gloves black
Accessory
7,90 €
-64%
Charleston Queen
Costume
139,00 €
49,90 €
Cigarette Holder
Accessory
12,90 €
Feather Boa black
Accessory
7,90 €
Charleston black
Wig
39,90 €
Platform Shoes black
Shoes
44,90 €
Payment & Support
✓ Fast and secure payment
✓ Payment options incl. PayPal and invoice
✓ 24/7 service and ordering
Orders & Shipping
✓ Free of charge on orders of €30 or more within Germany
✓ We deliver worldwide
✓ Super speedy express shipping
Claims & Returns
✓ Free return shipping on orders of €40 or more within Germany
✓ 14 days right of return
✓ Easy and hassle-free