Sold out
Don't be sad. You might like these alternatives: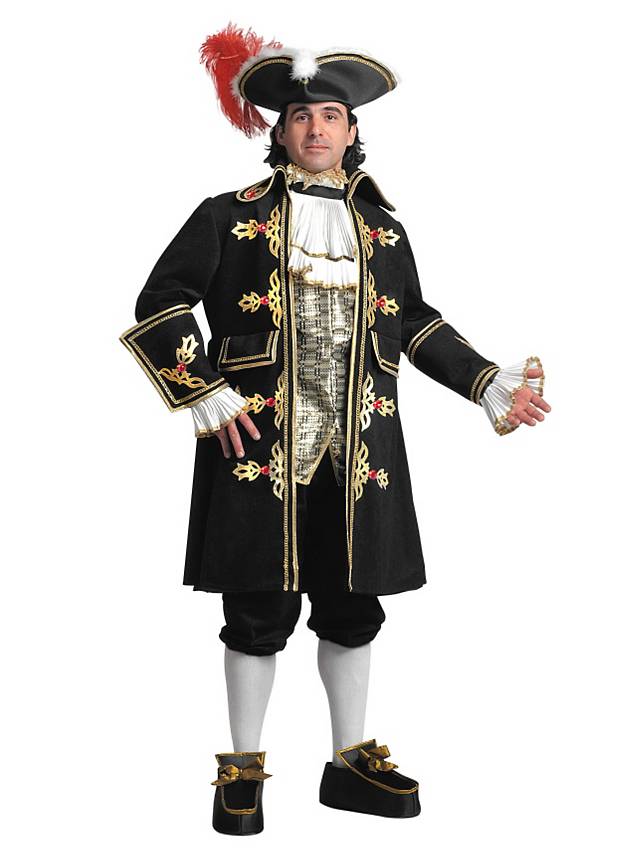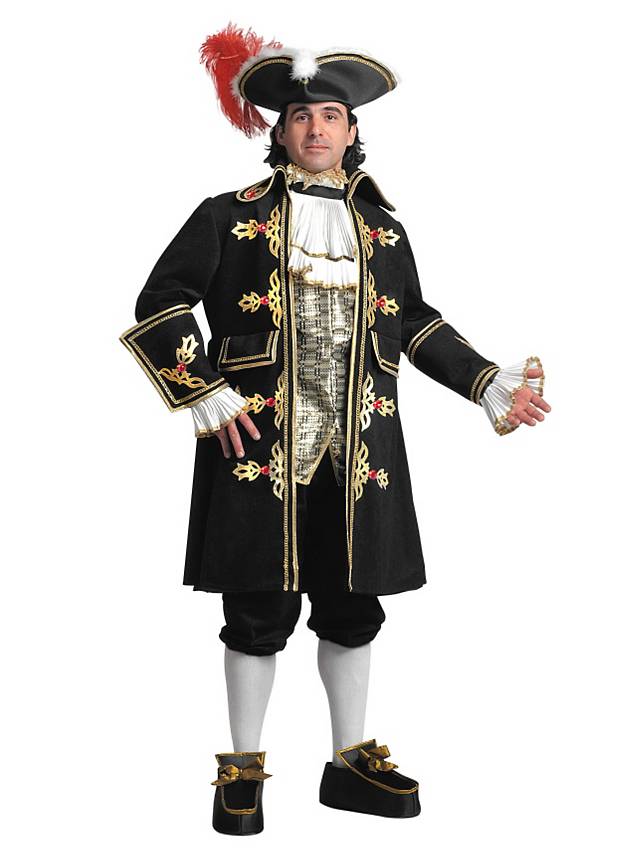 Governor Costume
Included in delivery
Costume, 5-piece
With frock coat
With breeches
With shirt/vest combination
With lace jabot
With hat
Without shoe tops or red feather
Product Description
Royal governors did not have it easy being so far away from the court! They compensated for the lack of personal attention by wearing the most elaborate outfits they could find. The velveteen frock coat is tastefully trimmed with golden braid and highly decorative, stylized frog closures. The dramatic collar and cuffs are decorated in the same pattern. The white lace jabot and shirt cuffs that spill out of the coat sleeves are also trimmed in gold. The shimmering shirt/vest combination creates a textural contrast to the lightweight, comfortable velveteen breeches and the gold-trimmed tricorne is a sign of the Governor's status. A real fashion plate!
Costume, 5-piece
With frock coat
With breeches
With shirt/vest combination
With lace jabot
With hat
Without shoe tops or red feather
Material
100% polyester
You may also like:
Double Layer Petticoat
Costume Part
19,90 €
-60%
Sexy Madame Pompadour
Costume
99,90 €
from 39,90 €
-40%
Lady Marie costume peach
Costume
99,90 €
59,90 €
Gothic Lady
Wig
24,90 €
-20%
White Stockings
Accessory
9,90 €
7,90 €
-17%
Footboy
Costume
179,00 €
149,00 €
-23%
Marie Antoinette
Costume
129,00 €
99,90 €
Caribbean Pirate Captain
Costume
229,00 €
King Arthur
Costume
from 219,00 €
-21%
Marquis de Sade
Costume
189,00 €
from 149,00 €
Hair Spray Silver
Make-up
2,90 €
Hair Spray White
Make-up
2,90 €
-20%
Madame Pompadour
Wig
49,90 €
39,90 €
Brush-On Mastix Spirit Gum
Special Effect
4,90 €
-54%
Cyrano de Bergerac
Costume
129,00 €
59,90 €
-58%
Countess
Costume
119,00 €
49,90 €
Pirate Pistol
Replica Weapon
44,90 €
-11%
Mozart
Wig
44,90 €
39,90 €
Knee Socks
Accessory
9,90 €
Gloves white
Accessory
3,90 €
Historical Buckle Shoes
Shoes
49,90 €
Payment & Support
✓ Fast and secure payment
✓ Payment options incl. PayPal and invoice
✓ 24/7 service and ordering
Orders & Shipping
✓ Free of charge on orders of €30 or more within Germany
✓ We deliver worldwide
✓ Super speedy express shipping
Claims & Returns
✓ Free return shipping on orders of €40 or more within Germany
✓ 14 days right of return
✓ Easy and hassle-free
back to top