Sold out
Don't be sad. You might like these alternatives: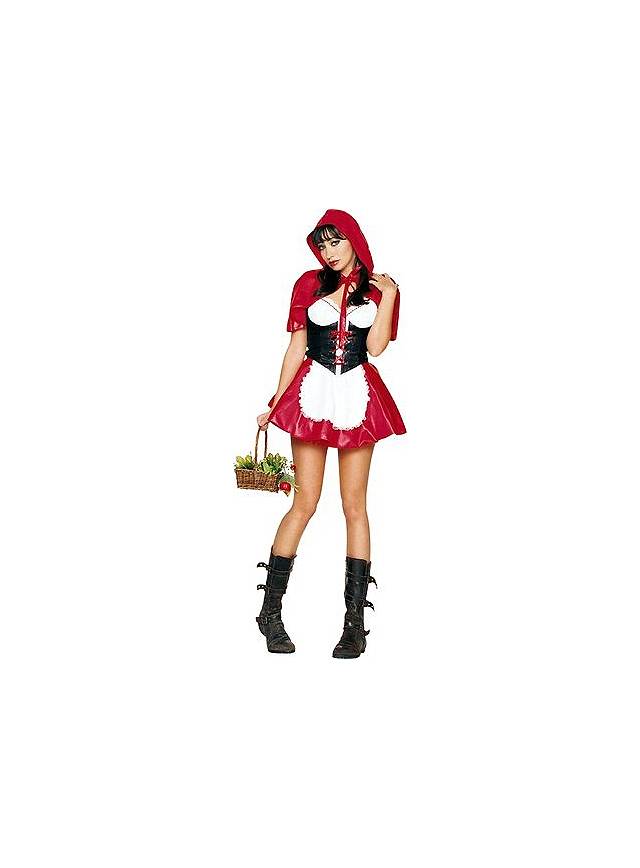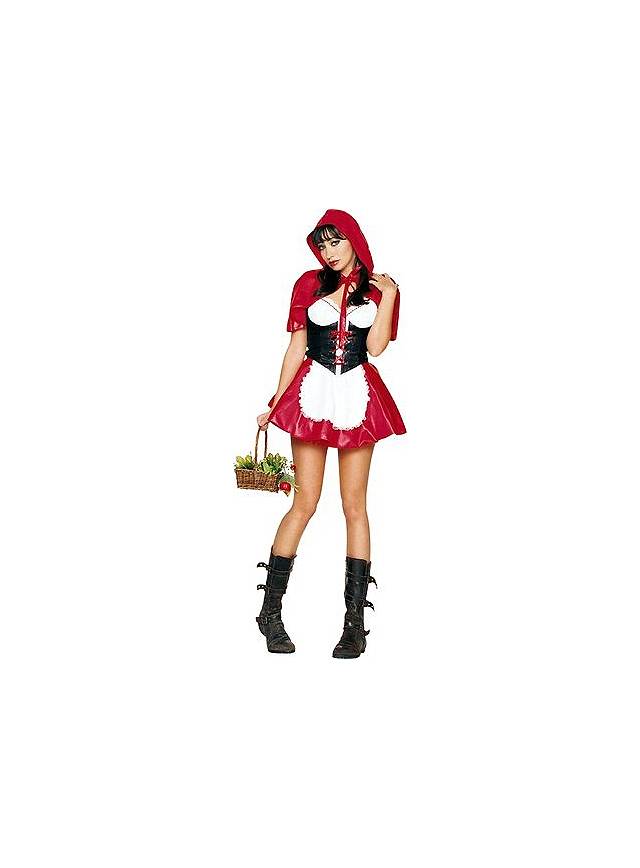 Little Red Riding Hood Costume
Fairytale costume for a seductive look
Included in delivery
Costume, 2-piece
With dress
With hooded cape
Without boots or basket
Note
PLEASE NOTE: This item is skin-tight and very short. Our advice: combine this costume with a petticoat or leggings to take the sexy down a notch.
Product Description
No wolf can resist! Sexy corset dress with red tippet.
The sexy Little Red Riding Hood costume includes a revealing hooded cape and a very sexy dress. The cups are decorated with lace and red ribbon. This sexy Red Riding Hood is wearing a sewn-on imitation leather bodice and a sweet apron with lace frills. In this costume, Little Red Riding Hood really does look good enough to eat.
Tip
: a short
petticoat
gives the skirt extra volume.
Material
100% polyamide
You may also like:
Double Layer Petticoat
Costume Part
19,90 €
Satin Gloves red
Accessory
7,90 €
Big Petticoat white short
Costume Part
29,90 €
Fishnet stockings
Accessory
9,90 €
-15%
Petticoat white short
Costume Part
19,90 €
16,90 €
-15%
Petticoat black short
Costume Part
19,90 €
16,90 €
-30%
Red Stockings
Accessory
9,90 €
6,90 €
Petticoat red
Costume Part
19,90 €
-14%
Black Ankle Socks with Ruffle
Accessory
6,90 €
5,90 €
Werewolf
Costume
69,90 €
-34%
Claw Marks
Special Effect
14,90 €
9,90 €
-61%
Lollypop Stockings (Special Item)
Accessory
9,90 €
3,90 €
Satin Gloves black
Accessory
7,90 €
Staff Pick
-11%
Bavarian
Wig
44,90 €
39,90 €
-40%
Sexy Buckle Boots black
Shoes
49,90 €
29,90 €
-20%
White Stockings
Accessory
9,90 €
7,90 €
Gloves long black
Accessory
6,90 €
Your Favourite
-34%
Satan
1-Month Lenses
14,90 €
9,90 €
Your Favourite
Hair Net
Accessory
4,90 €
Your Favourite
-29%
Bloody Scab
Special Effect
6,90 €
4,90 €
Your Favourite
-43%
Theatre Blood
Special Effect
6,90 €
3,90 €
Your Favourite
-34%
Undead
1-month lenses
14,90 €
9,90 €
Your Favourite
Long Hair black
Wig
16,90 €
Payment & Support
✓ Fast and secure payment
✓ Payment options incl. PayPal and invoice
✓ 24/7 service and ordering
Orders & Shipping
✓ Free of charge on orders of €30 or more within Germany
✓ We deliver worldwide
✓ Super speedy express shipping
Claims & Returns
✓ Free return shipping on orders of €40 or more within Germany
✓ 14 days right of return
✓ Easy and hassle-free
Reviews
Little Red Riding Hood Costume
(3)
4 out of 5 stars
verified purchase

The quality in the picture seems much better than what it actually is.

Anna
back to top