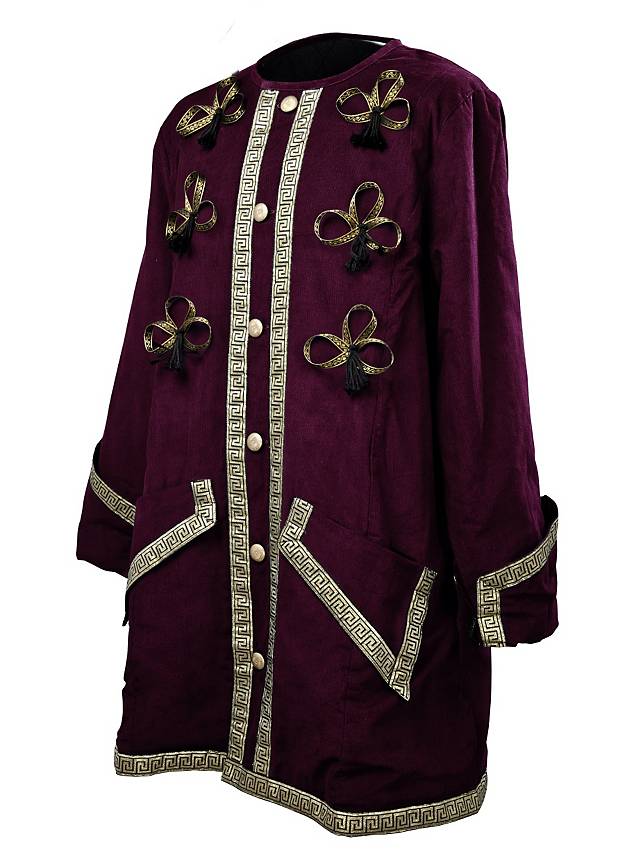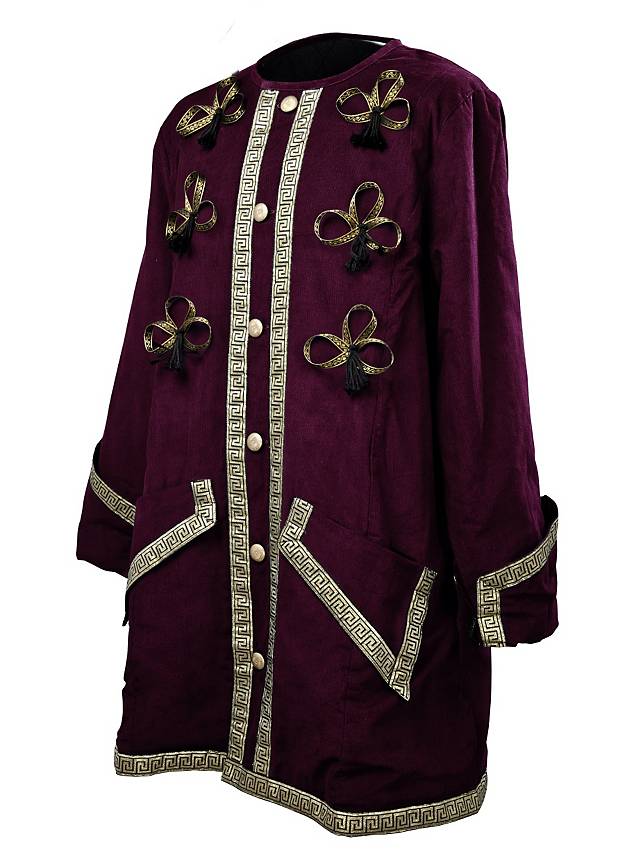 Waistcoat - Archibald, wine red
Splendid burgundy red frock coat for pirate captains or officers.
Product Description
A Baroque era northern European officer's dress coat was the prototype for this splendid wine red waistcoat. Our wine red dress coat is cut wide to give lots of wearing comfort. It is made of supreme quality ribbed velveteen and has a quilted lining. Golden Jacquard trim defines the cuffs, hem, and front opening, and the front of our wine red dress coat is also decorated with bows. The row of golden buttons at the front is as functional as it is decorative. The deep pocket at each side provides room for things that need to be kept at hand.
Material
100% cotton; padding: 100% polyester
You may also like:
Pocket pistol - Derringer
Replica Weapon
44,90 €
-57%
Koala
Baby Costume
69,90 €
from 29,90 €
Breeches
Costume Part
29,90 €
-20%
Captain Coat green
Costume Part
99,90 €
79,90 €
-41%
Sexy Pirate's Daughter
Costume
119,00 €
from 69,90 €
Money Pouch with Gold Coins
Accessory
4,90 €
Medieval Shirt
Costume Part
from 29,90 €
Pirate Pants black
Costume Part
39,90 €
Geisha Umbrella
Accessory
14,90 €
Jacket - Ernando
Costume Part
69,90 €
-33%
Colonial Military Overcoat
Costume Part
149,00 €
99,90 €
Asian Hand Fan wood
Accessory
9,90 €
Tricorn Hat
Accessory
39,90 €
Captain
Beard available in 6 colors
44,90 €
-40%
Adventurer Shirt
Costume Part
49,90 €
29,90 €
-33%
Buccaneer Boots black
Shoes
119,00 €
79,90 €
Suede Leather Gloves burgundy
Accessory
29,90 €
-25%
Majors Hat with gold trim
Accessory
39,90 €
29,90 €
Boots - Privateeress
Shoes
79,90 €
Payment & Support
✓ Fast and secure payment
✓ Payment options incl. PayPal and invoice
✓ 24/7 service and ordering
Orders & Shipping
✓ Free of charge on orders of €30 or more within Germany
✓ We deliver worldwide
✓ Super speedy express shipping
Claims & Returns
✓ Free return shipping on orders of €40 or more within Germany
✓ 14 days right of return
✓ Easy and hassle-free
back to top