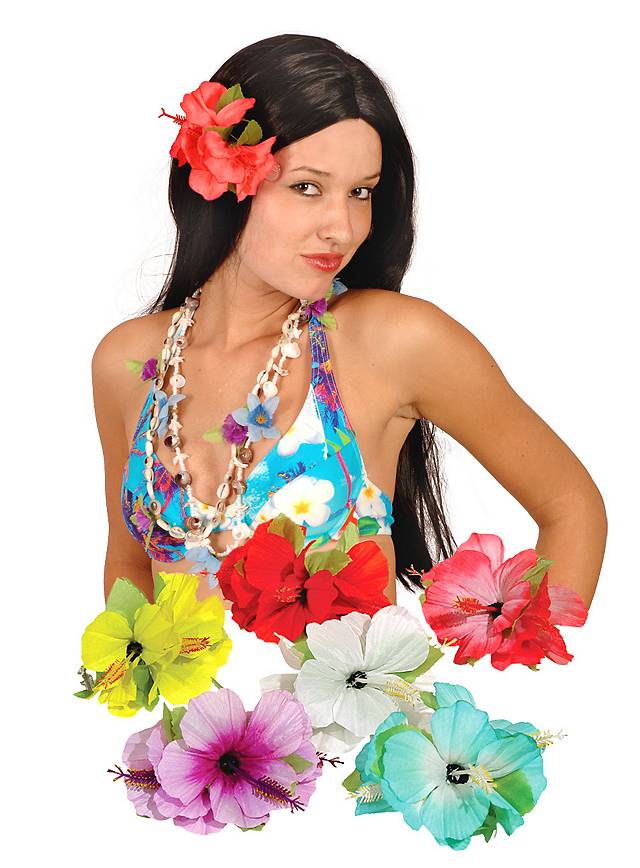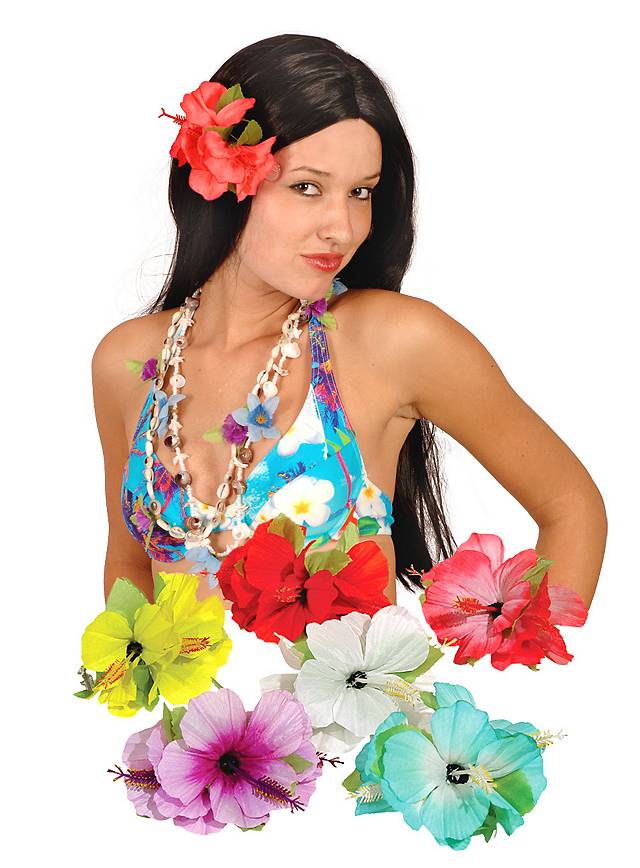 Hawaii Hair Clip aqua
Included in delivery
Aqua Hawaii hair clip, 1-piece
Without any other costume pieces or accessories shown
Product Description
Three exotic hibiscus blossoms in colorful fabric in a row on a plastic hair clip – the Hawaii Hair Clip is a tropical accent in aqua.
Summon up a feminine spot of color on every hairdo – our aqua Hawaii hair clip will even stay in short hair above an ear, for example. Three hibiscus blossoms with leaves in delicate, embossed fabric and a plastic anther are attached to a transparent hair clip, approx. 10 cm long.
Aqua Hawaii hair clip, 1-piece
Without any other costume pieces or accessories shown
Material
94% polyester, 6% polyurethane
You may also like:
Detective
Beard available in 6 colors
14,90 €
Private Investigator
Beard available in 6 colors
14,90 €
-20%
Top Gun Pilot
Costume
74,90 €
59,90 €
Kryolan Eye Shadow canyon
Make-up
5,90 €
Satin Elbow Gloves White
Accessory
9,90 €
Satin Gloves red
Accessory
7,90 €
Satin Gloves black
Accessory
8,90 €
-20%
Sunglasses "Cop"
Accessory
9,90 €
7,90 €
-13%
Deluxe Muscle Chest Zorro
Costume
79,90 €
69,90 €
Feather Boa black
Accessory
7,90 €
Pimp
Beard available in 6 colors
14,90 €
-20%
The King's 70's Sunglasses gold
Accessory
9,90 €
7,90 €
Hula Skirt natural
Costume Part
7,90 €
Fishnet stockings
Accessory
9,90 €
-14%
Hawaii Lei Set
Accessory
6,90 €
5,90 €
Classic Backseam Pantyhose black
Accessory
6,90 €
Hawaii Hair Clip red
Accessory
2,90 €
Beach Party Straw Hat
Accessory
14,90 €
Round Case
Teeth
0,99 €
Hawaii Hair Clip purple
Accessory
2,90 €
Hawaii Lei Necklace
Accessory
3,90 €
Hawaii Hair Clip pink
Accessory
2,90 €
Long Hair lemon
Wig
16,90 €
Beach Party Hawaii blue
Costume
11,90 €
Payment & Support
✓ Fast and secure payment
✓ Payment options incl. PayPal and invoice
✓ 24/7 service and ordering
Orders & Shipping
✓ Free of charge on orders of €30 or more within Germany
✓ We deliver worldwide
✓ Super speedy express shipping
Claims & Returns
✓ Free return shipping on orders of €40 or more within Germany
✓ 14 days right of return
✓ Easy and hassle-free
back to top