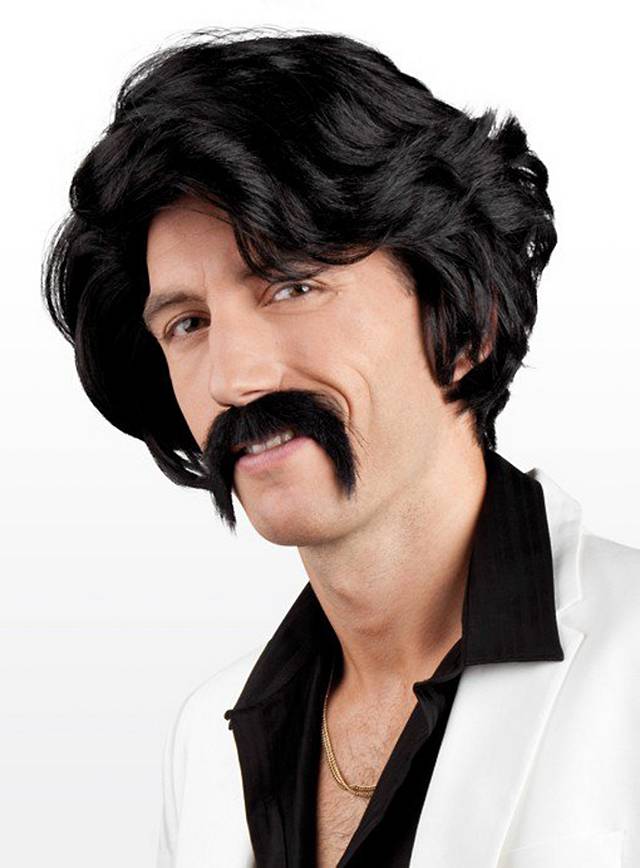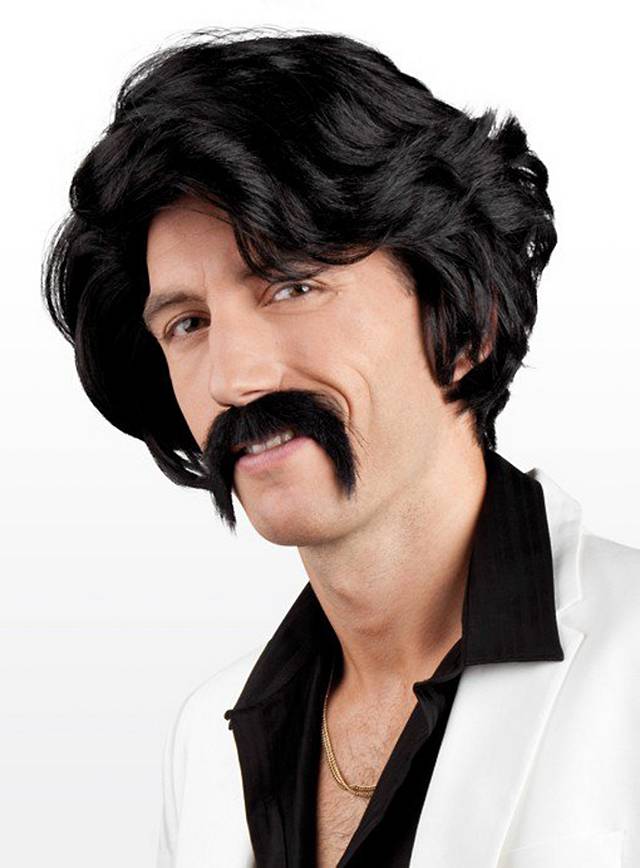 1970s Hair black Wig and Moustache
Included in delivery
1970s Hair wig and moustache , 2-piece
With wig
With moustache
Without any other costume pieces or accessories
Product Description
Who wouldn't like to be a flashy disco dancer, film star, playboy or gallant man of the world for a day? Our 1970s Hair wig and moustache in black make it possible!
For an irresistible movie star or – better yet – porn star look, this combination wig and moustache is the perfect choice! Medium-long and natural, black 1970s hair is made for running fingers through and the fu manchu moustache looks like it tickles – the 1970s must have been a lot of fun! The flexible net base guarantees staying power and a perfect fit for every head size. Naturally wavy, soft and layered, 1970s hair in black for a cool, elegant playboy look that makes ladies' hearts beat faster!
1970s Hair wig and moustache , 2-piece
With wig
With moustache
Without any other costume pieces or accessories
Material
100% chlorofibre
You may also like:
-20%
Top Gun Pilot
Costume
74,90 €
59,90 €
Staff Pick
Artist
Beard available in 6 colors
19,90 €
Staff Pick
Doctor
Mask
59,90 €
Staff Pick
Pinocchio
Nose
14,90 €
-20%
Metal Rocker
Wig
24,90 €
19,90 €
Motor Mouth
Teeth
9,90 €
-20%
Sunglasses "Cop"
Accessory
9,90 €
7,90 €
Dollar Deluxe Medallion
Jewelry
12,90 €
Handcuffs
Accessory
4,90 €
-40%
Aviator
Costume
99,90 €
59,90 €
-24%
Gold Chain Deluxe
Jewelry
16,90 €
12,90 €
Your Favourite
Mastix Spirit Gum Remover
Special Effect
4,90 €
70's Platform Shoes Men gold
Shoes
69,90 €
Your Favourite
Private Investigator
Beard available in 6 colors
14,90 €
Staff Pick
Pimp
Beard available in 6 colors
14,90 €
70ies Shoes Men black
Shoes
69,90 €
Disco Gigolo
Costume
59,90 €
-20%
The King's 70's Sunglasses gold
Accessory
9,90 €
7,90 €
Staff Pick
Detective
Beard available in 6 colors
14,90 €
Disco Shoes
Shoes
69,90 €
Dollar Sign Medallion
Jewelry
11,90 €
70's Platform Shoes Men silver
Shoes
69,90 €
Staff Pick
-33%
Seventies Wig
Wig
44,90 €
29,90 €
Mr. Flower Inferno
Costume
54,90 €
Payment & Support
✓ Fast and secure payment
✓ Payment options incl. PayPal and invoice
✓ 24/7 service and ordering
Orders & Shipping
✓ Free of charge on orders of €30 or more within Germany
✓ We deliver worldwide
✓ Super speedy express shipping
Claims & Returns
✓ Free return shipping on orders of €40 or more within Germany
✓ 14 days right of return
✓ Easy and hassle-free
Reviews
1970s Hair black Wig and Moustache
(7)
4.4 out of 5 stars
back to top