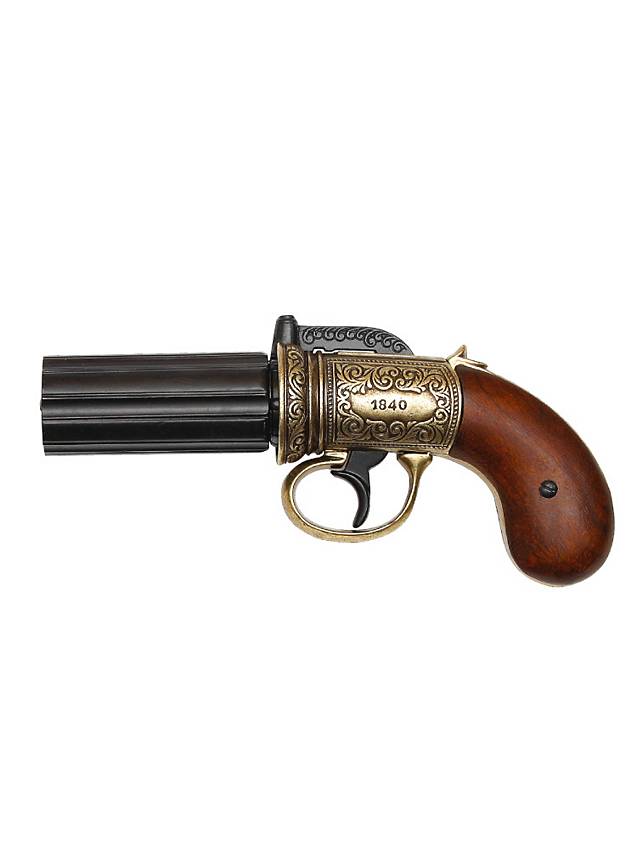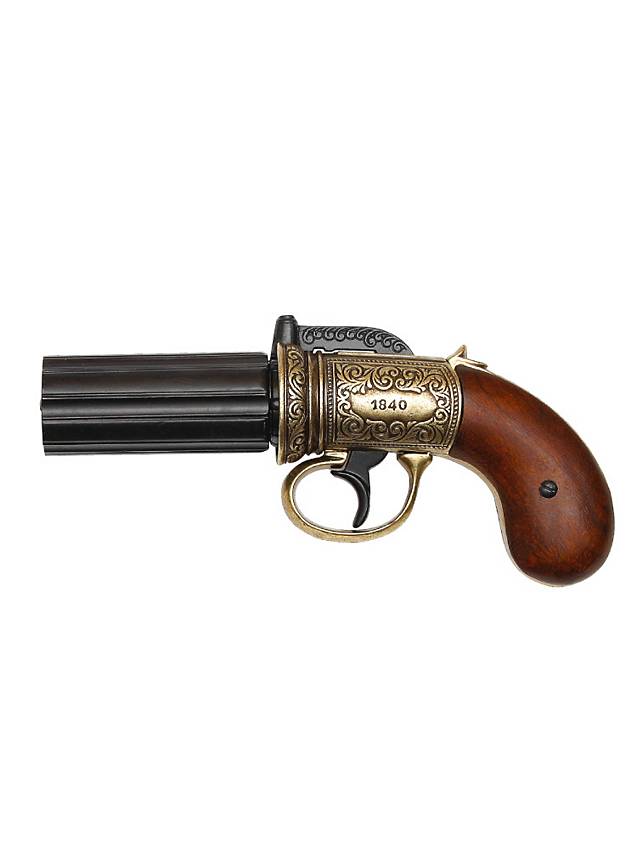 Pepperbox Revolver Replica Weapon
Historical replica handgun for collectors
Included in delivery
Pepperbox RevolverReplica Weapon, 1-piece
Product Description
The historical bridge between the classic muzzleloader and revolver – authentic replica of a pepperbox revolver from 1840 with functional trigger.
Muzzleloaders had one decisive disadvantage: you only had one shot before you had to waste your valuable time reloading. Since the advent of the gunpowder weapon, resourceful armorers were hard at work on possible solutions to the problem, and the 19th century pepperbox revolver was an important break-through. The forerunners of later, more complicated revolvers, these had a cylindrical barrel of chambers that revolved around a pin.
Our pepperbox revolver from 1840 is a particularly handsome model of the kind. This particular handgun got its nickname because it resembled the popular household pepper mills of the time. Made of brass and wooden plates that have been bolted to the grip, this replica features a functional trigger. Pulling the trigger activates the percussion lock while simultaneously turning the six-chamber barrel one position further. The trigger and barrel are blackened, whereas the remaining brass parts of the pepperbox revolver are antiqued and richly decorated. All of our replica handguns have functional, moving parts. However, they do not fire, which is why we can sell them in our web shop. In the tradition of the armorers and gunsmiths of the past, these replicas have been painstakingly handcrafted in consultation with well preserved pieces in armory collections and historical drawings and prototypes.
Length: 21.5 cm
Weight: 0.96 kg
Pepperbox RevolverReplica Weapon, 1-piece
Material
Brass, wood
You may also like:
Leather corset - Bonny
Costume Part
from 99,90 €
Coat - Ulster
Costume Part
129,90 €
Steampunk Armband with Brass Telescope
Jewelry
54,90 €
Flintlock pistol with revolving double barrel
Replica Weapon
89,90 €
Steampunk Wrist Navitron
Jewelry
49,90 €
Leather cap - Timmy
Accessory
64,90 €
Vest - Engineer
Costume Part
79,90 €
Pocket pistol - Kumbley & Brum
Replica Weapon
29,90 €
Cattle Baron Cowboy Hat
Accessory
16,90 €
Larp Weapon Sword Belt
Accessory
79,90 €
Shirt - Engineer
Costume Part
54,90 €
-14%
Wild West Lady
Costume
69,90 €
59,90 €
Cowboy Boots Men black
Shoes
79,90 €
-25%
Shirt - Rio Grande, brown
Costume Part
39,90 €
from 29,90 €
-8%
Cowboy Pants brown
Costume Part
64,90 €
from 59,90 €
-33%
Mississippi Gambler
Costume
149,00 €
99,90 €
Payment & Support
✓ Fast and secure payment
✓ Payment options incl. PayPal and invoice
✓ 24/7 service and ordering
Orders & Shipping
✓ Free of charge on orders of €30 or more within Germany
✓ We deliver worldwide
✓ Super speedy express shipping
Claims & Returns
✓ Free return shipping on orders of €40 or more within Germany
✓ 14 days right of return
✓ Easy and hassle-free
Reviews
Pepperbox Revolver Replica Weapon
(1)
5 out of 5 stars
verified purchase

Excellent quality from a known Spanish supplier.

Michael
back to top