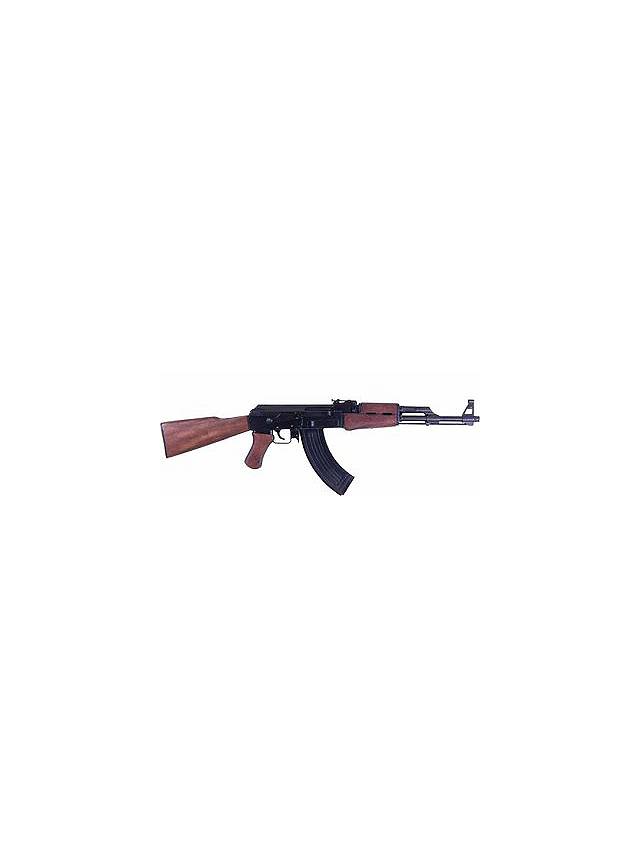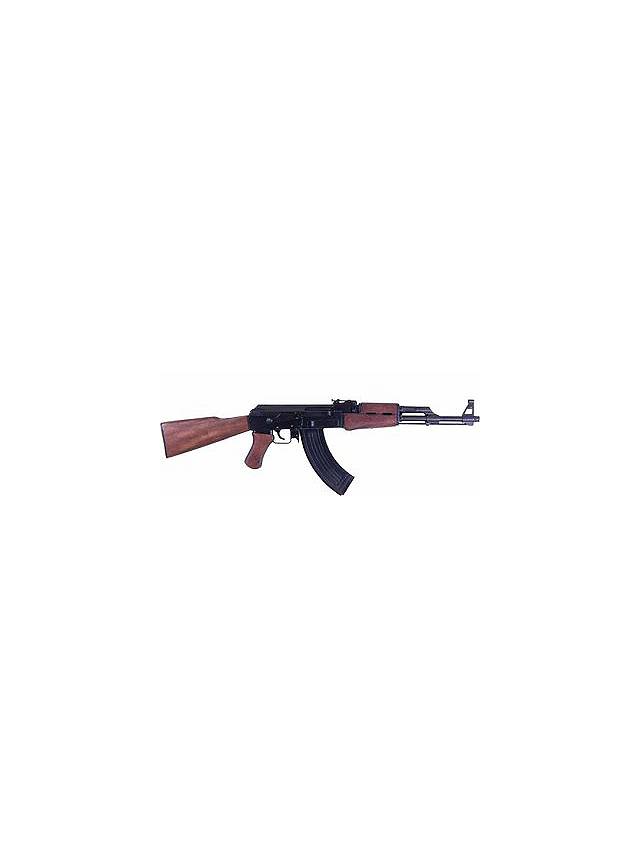 Machine gun "Kalashnikov AK47" decorative weapon
Included in delivery
Product Description
The AK-47 is the most-produced and most widely used intermediate fire weapon in the world. "AK" stands for "Avtomat Kalashnikova" and "47" is the year the first series went into production. This assault rifle has earned its popularity by being sturdy, simple and effective. Our replica is made of wood and metal – no plastic allowed. It weighs approx. 4.5 kg and is 87 cm long. The selector level, trigger and safety mechanism all move and the magazine can be changed. But the AK-47 does not fire and is not dangerous.
You may also like:
-43%
Sexy Guardian Angel
Costume
69,90 €
from 39,90 €
Lady Law
Costume
69,90 €
Yakuza
Special Effect
12,90 €
Golden Eagle Medallion
Jewelry
11,90 €
Arabian Prince
Costume
79,90 €
-25%
Clone Trooper "Cody"
Kids Costume
79,90 €
from 59,90 €
Orc
3-Month Lenses
14,90 €
Staff Pick
Pistol "Luger Parabellum P08"
Replica Weapon
129,00 €
-33%
Ninja
Kids Costume
59,90 €
39,90 €
-25%
Clone Trooper "Rex"
Kids Costume
79,90 €
from 59,90 €
-23%
Tribal
Special Effect
12,90 €
9,90 €
Deliverance
Teeth
11,90 €
Staff Pick
Colt Python
Replica Weapon
99,90 €
-41%
Bite & Bleed Blood Capsules
Special Effect
4,90 €
2,90 €
Knee Socks
Accessory
9,90 €
Staff Pick
Kalashnikov AK47 Machine Gun
Replica Weapon
229,00 €
Staff Pick
MP 40 with Strap
Replica Weapon
219,00 €
Staff Pick
Deutsche Polizeipistole
Replica Weapon
99,90 €
-23%
Gangsta
Special Effect
12,90 €
9,90 €
Staff Pick
Sawn-off Shotgun
Replica Weapon
169,00 €
Sporran
Accessory
24,90 €
Voice Changer
Accessory
16,90 €
Payment & Support
✓ Fast and secure payment
✓ Payment options incl. PayPal and invoice
✓ 24/7 service and ordering
Orders & Shipping
✓ Free of charge on orders of €30 or more within Germany
✓ We deliver worldwide
✓ Super speedy express shipping
Claims & Returns
✓ Free return shipping on orders of €40 or more within Germany
✓ 14 days right of return
✓ Easy and hassle-free
Reviews
Machine gun "Kalashnikov AK47" decorative weapon
(1)
5 out of 5 stars
back to top