Double-bladed lightsaber with 7 LED colours (red, blue, green, yellow, purple, light blue, white) & sound effects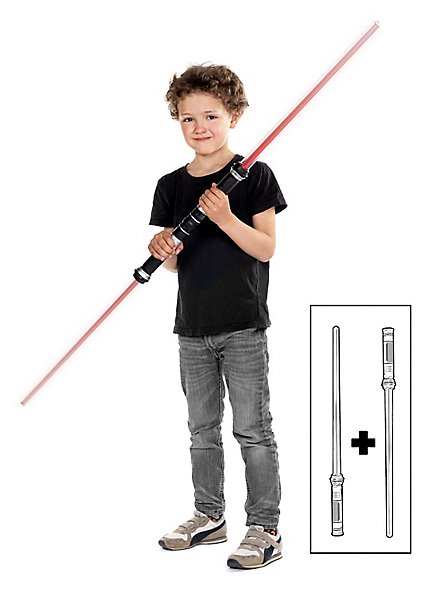 Double-bladed lightsaber with 7 LED colours (red, blue, green, yellow, purple, light blue, white) & sound effects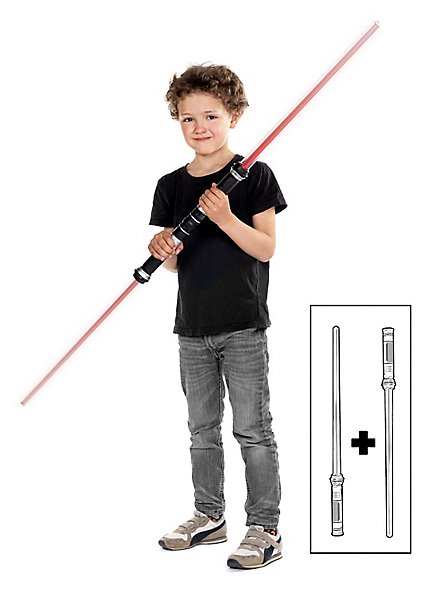 Double-bladed lightsaber with 7 LED colours (red, blue, green, yellow, purple, light blue, white) & sound effects
Set of 2 lightsabers with adjustable LED colours and sound effects incl. connector
Included in delivery
2 LED lightsabers with adjustable colours
Lightsaber Connector
without batteries
Product Description
2 LED lightsabers with adjustable colour
7 great colours - red, green, blue, purple, yellow, light blue, white
Change the colour depending on the mode you are in by pressing a button or tapping the blade
With cool sound effects ...
... and even greater no-sound mode
Compatible with standard AAA batteries or rechargeable batteries (3 pcs each, 6 pcs overall)
Battery life: depending on modes and batteries used, more than 12h continuous operation
Combine the 2 swords with the included adapter to form a 132cm long double blade!
No electronics inside the blades
Batteries not included in delivery
Dimensions:
Overall length incl. both blades and grips: 132cm
Blade length: 46.5cm each
Handle length: 19.5 cm each
Weight: 201g (incl. connector, without batteries)
Our double-bladed LED lightsaber is the perfect costume accessory - and when you're not in costume, just a great toy too!
Gone are the days when you had to choose a single colour - our lightsaber can do them (almost) all! Whether blue, yellow, light blue, red, purple, green, yellow, dark blue, white - you can change the colour at any time simply by pressing a button making our lightsaber the perfect choice for every kid that can't agree on their favourite colour quite yet. And you can even do them all at once: with the colour change mode, the colour of your laser sword changes every time you tap it. It feels like magic!
The cool sound effects make your sword feel even more realistic - and while your parents will be happy to know that you can turn the sounds off, you can use the integrated silent mode to sneak up on your friends without getting noticed.
This set consists of two standalone lightsabers that can be combined to a full double-bladed lightsaber with the included connector. While connected you are retaining control of each side individually - both blades in the same colour? No problem! Different colours? Just as well!
The lightsabers draw their power from three standard AAA batteries - we recommend using rechargeable batteries for ecological reasons. With one set of batteries, the swords light up for several hours of continuous operation and when they runs out, the batteries can be changed quickly so your adventure never ends.
Get your double-bladed lightsaber today and feel the power!
Material
Plastic
Payment & Support
✓ Fast and secure payment
✓ Payment options incl. PayPal and invoice
✓ Service Mo-Fr from 9 am to 5 pm
Orders & Shipping
✓ Free of charge on orders of €50 or more within Germany
✓ We deliver worldwide
✓ Super speedy express shipping
Claims & Returns
✓ Free return shipping on orders of €40 or more within Germany
✓ 14 days right of return
✓ Easy and hassle-free
Reviews
Double-bladed lightsaber with 7 LED colours (red, blue, green, yellow, purple, light blue, white) & sound effects
(1)
4 out of 5 stars
back to top