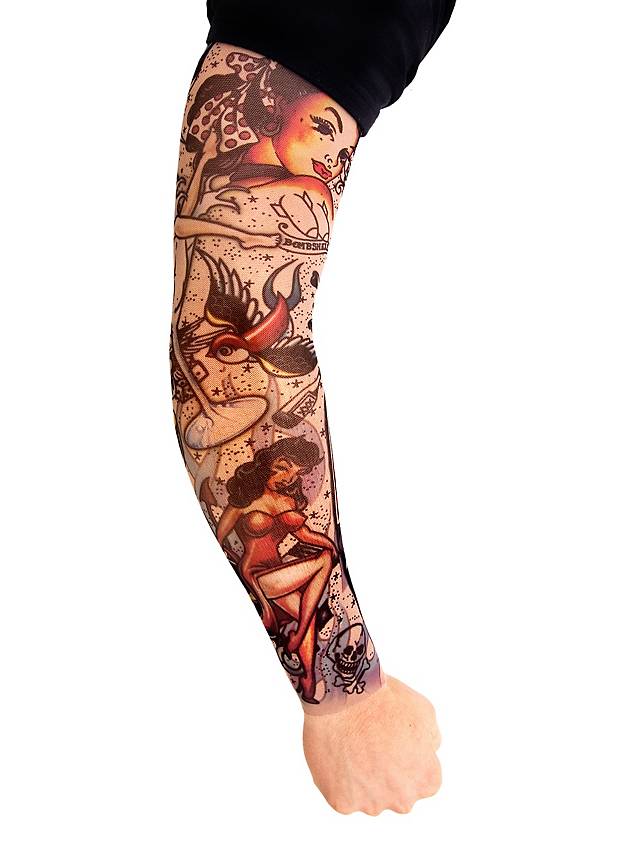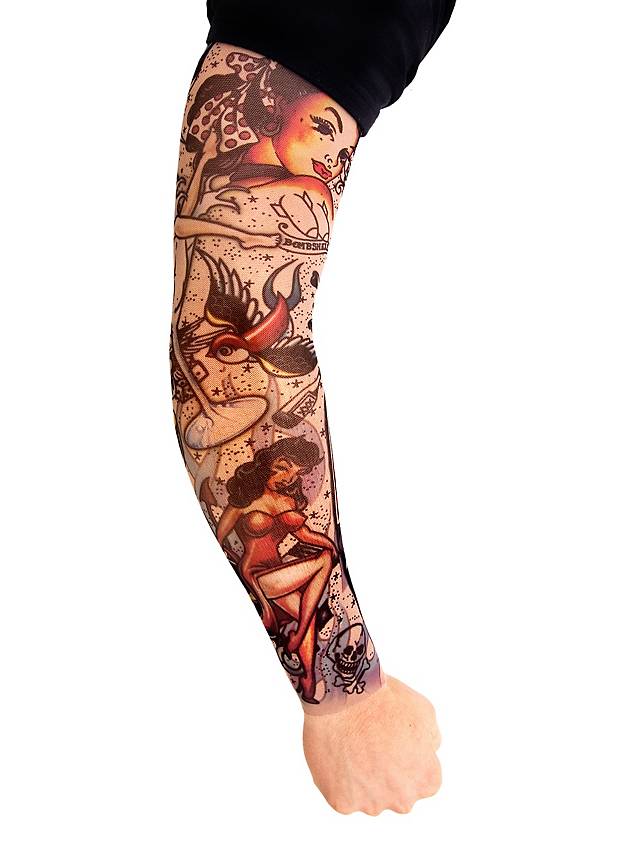 Rockabilly Tattoo Sleeve
Included in delivery
Upper arm circumference
S: 24 - 36 cm
M: 26 - 38 cm
L: 28 - 40 cm
Product Description
maskworld proudly presents the Hollywood original: pull-on tattoo sleeves. Realistic look, needle-sharp detail, and a skin tight fit! Our Tattoo Sleeves are easy to wear. Just pull one onto your arm like you would do with an arm warmer – and that's it! Choose from a wide range of motifs depending on your style and your mood – from biker to hard rocker and from classic seaman to trendy tribal.
For the perfect skin tight fit, we recommend the following sizes: big men = L and slender women and all children = S. Size M should fit everyone else.
Care tip: Hand wash cold, do not iron.
Material
80% polyester, 20% elastane
You may also like:
Sailor Pin Up Girl Temporary Tattoo
Special Effect
4,90 €
-23%
hot rod
Special Effect
12,90 €
9,90 €
Brush-On Mastix Spirit Gum
Special Effect
4,90 €
-23%
Heavy Metal
Special Effect
12,90 €
from 9,90 €
Skeleton Candle
Decoration
2,90 €
-20%
Sunglasses "Cop"
Accessory
9,90 €
7,90 €
Private Investigator
Beard available in 6 colors
14,90 €
-23%
Jailbird
Special Effect
12,90 €
from 9,90 €
Gloves white
Accessory
3,90 €
Pimp
Beard available in 6 colors
14,90 €
-23%
Dragon Master
Special Effect
12,90 €
9,90 €
-23%
Classic
Special Effect
12,90 €
9,90 €
-75%
Rock a Billy Jacket
Costume Part
119,00 €
29,90 €
-11%
King of Rock
Wig
44,90 €
39,90 €
King Size Sideburns
Beard available in 6 colors
29,90 €
Cowboy Boots Men black
Shoes
79,90 €
-23%
Biker
Special Effect
12,90 €
from 9,90 €
-23%
Tribal
Special Effect
12,90 €
9,90 €
-23%
Player
Special Effect
12,90 €
9,90 €
-23%
Skulls
Special Effect
12,90 €
9,90 €
-23%
Killer
Special Effect
12,90 €
9,90 €
Yakuza
Special Effect
12,90 €
-23%
Octopus Tattoo Sleeves
Special Effect
12,90 €
9,90 €
Payment & Support
✓ Fast and secure payment
✓ Payment options incl. PayPal and invoice
✓ 24/7 service and ordering
Orders & Shipping
✓ Free of charge on orders of €30 or more within Germany
✓ We deliver worldwide
✓ Super speedy express shipping
Claims & Returns
✓ Free return shipping on orders of €40 or more within Germany
✓ 14 days right of return
✓ Easy and hassle-free
Reviews
Rockabilly Tattoo Sleeve
(11)
4.4 out of 5 stars
verified purchase

It is a little bit faded but I like it. I would recommend this product to anyone who wants to have a tattoo before getting a new one The quality is better than the other on the market, very soft and good.

david
back to top