Zombie Pirate Complete Costume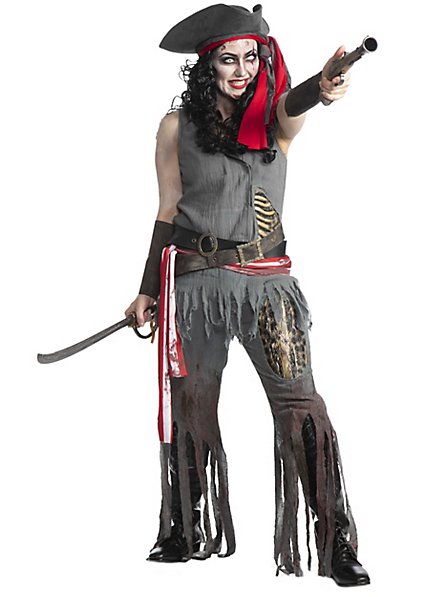 Zombie Pirate Complete Costume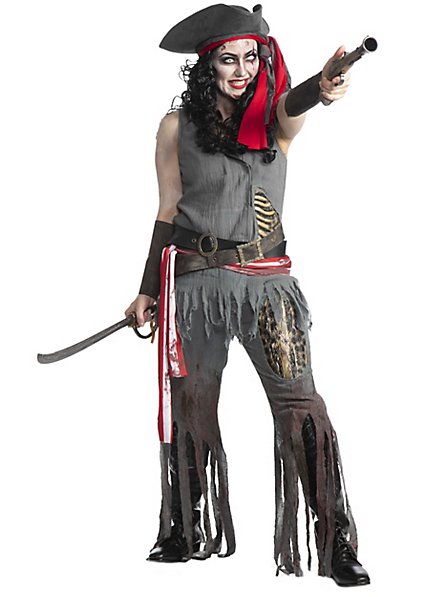 Zombie Pirate Complete Costume
The Curse of the Seven Seas: undead pirate costume, complete with wig and make-up set!
Included in delivery
Zombie Pirate Costume 18- piece
with top
with trousers
with tricorn
with two headbands
with two belts
with hip scarf
with necklace
with one pair of arm warmers
with wig
Made by MASKWORLD
with horror skin
with wound cream make- up
with Aqua Make-up black
with Aqua Make-up white
with Aqua Make-up cherry
with Kryolan Eye Shadow black
Product Description
Fresh from our own development: the MASKWORLD Zombie Pirate costume! With this costume you can dance on two weddings at the same time: as a terror of the seven seas and as an unkillable walking corpse! The extremely practical skills as a zombie pirate include mobility on water (what undead can claim that?) and easy access to the coveted brains using boarding tactics. In addition, one is a welcome guest on all ghost ships, but also fits well into an ensemble of buccaneers of more modern pirate films, who may have to deal with a curse or the like.
This zombie pirate set includes the high quality wig and a complete make-up kit!
Zombie Pirate Costume with Wig and Make-. make-up set
consisting of a total of 18 pieces
high-quality workmanship
improved fit
top
short-sleeved shirt with torn ends
incorporated latex wound in the stomach area
two individual belts and red- white hip cloth included
with additional arm cuffs made of imitation leather
pants
in the same fabric as the shirt
dyed in dirt and bloodstains
incorporated latex wound on one thigh
round the head
easy to shape tricorn hat
two separate headbands
a pirate necklace with Jolly Roger- pendant
includes high quality zombie pirate wig
Zombie Pirate Make-up Set
with horror skin
with wound cream make- up
with aqua make-up black
with aqua make-up white
with aqua make-up cherry
with tooth varnish nicotine
Brain to port, Ahoy!
Material
Costume & Wig: 100% Polyester
Payment & Support
✓ Fast and secure payment
✓ Payment options incl. PayPal and invoice
✓ Service Mo-Fr from 9 am to 5 pm
Orders & Shipping
✓ Free of charge on orders of €50 or more within Germany
✓ We deliver worldwide
✓ Super speedy express shipping
Claims & Returns
✓ Free return shipping on orders of €40 or more within Germany
✓ 14 days right of return
✓ Easy and hassle-free
Reviews
Zombie Pirate Complete Costume
(1)
5 out of 5 stars
back to top