Sold out
Don't be sad. You might like these alternatives: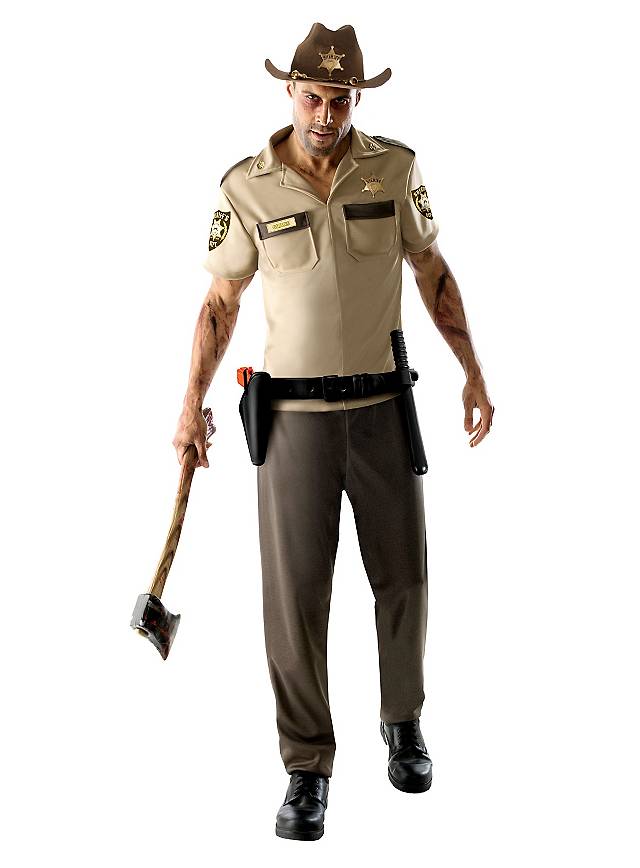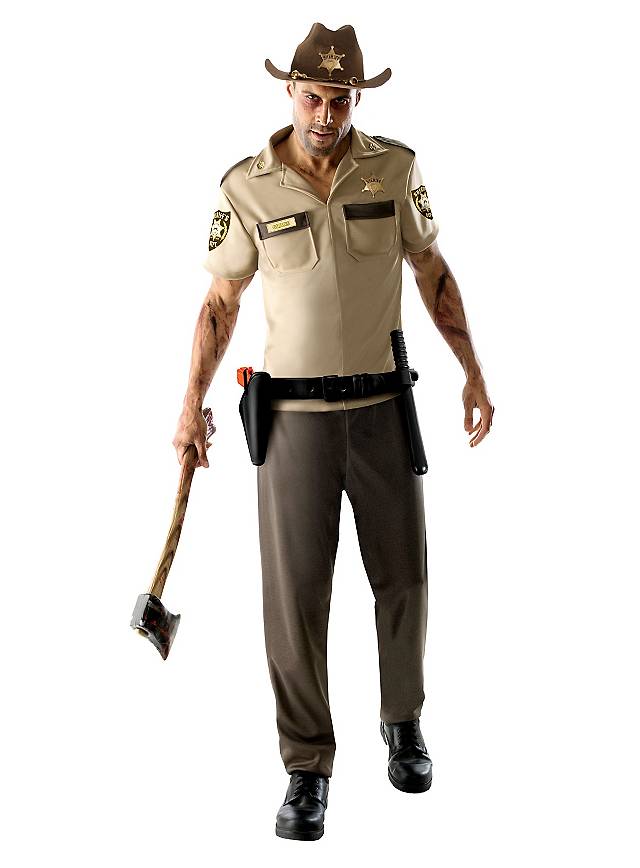 The Walking Dead Rick Grimes Costume
Original, licensed costume from "The Walking Dead" cult TV series
Included in delivery
The Walking Dead Rick Grimes costume, 4-piece
With sheriff shirt
With trousers
With belt including plastic accessories
With hat
Without any other costume pieces or accessories shown
Product Description
Wake up to a living nightmare: Rick Grimes sheriff costume from The Walking Dead with hat, sheriff shirt, utility belt, and more! Original licensed costume from the cult TV series!
The hero that slept through the apocalypse: Sheriff Rick Grimes is the hero in cult TV series "The Walking Dead." A shoot-out with criminals puts him in a coma. He wakes up and the world has changed dramatically: the living dead have taken over the streets and they are obsessed with eating the handful of survivors. All alone, Rick starts searching for his family... taking down zombies whenever he can. Sheriff Rich Grimes is a true modern hero. With this original, licensed The Walking Dead Rick Grimes costume, you can become the zombie-slaughtering sheriff. Put on the hat, sheriff shirt with star, trousers, and belt – and wake up to a living nightmare. The utility belt is equipped with a club, a pistol, and Rick's walkie-talkie made of plastic. The name tag on the shirt says it all!
The sheriff star on his shirt may have lost its meaning in the wake of the apocalypse, but to Rick Grimes it still stands for duty and a promise to protect the living with his life, if necessary.
Material
100% polyester
You may also like:
Teenage Mutant Hero Turtles
Costume
69,90 €
Indian Pipe Tomahawk
Toy Weapon
9,90 €
-13%
Vampire Fangs Classic
Teeth
14,90 €
12,90 €
-22%
Classical Snow White
Costume
89,90 €
69,90 €
-44%
Demon Bride
Costume
89,90 €
from 49,90 €
-58%
Vampire Bride
Costume
119,00 €
from 49,90 €
Zombie Brain
Accessory
14,90 €
-29%
Watchmen Comedian
Costume
69,90 €
from 49,90 €
-14%
Sexy Policeman
Costume
69,90 €
59,90 €
Morphsuit Mummy
Costume
49,90 €
-14%
Ghostbusters
Costume
69,90 €
from 59,90 €
Greaves - Assassin brown
Armor Piece
29,90 €
Long Hair black
Wig
16,90 €
-66%
Cleopatra
Costume
119,00 €
from 39,90 €
-18%
Mr. Flower Inferno
Costume
54,90 €
44,90 €
-29%
Tube of Blood
Special Effect
6,90 €
4,90 €
Bloody Vampire Fingernails
Special Effect
4,90 €
-43%
Conjurer Lady
Costume
69,90 €
39,90 €
-43%
Disco Indian
Costume
69,90 €
39,90 €
-20%
Steampunk Armband copper
Jewelry
24,90 €
19,90 €
-25%
Zombie
12-Month Lenses
19,90 €
14,90 €
-14%
Original Flash
Costume
69,90 €
59,90 €
Spiderweb Goblet
Decoration
4,90 €
Payment & Support
✓ Fast and secure payment
✓ Payment options incl. PayPal and invoice
✓ 24/7 service and ordering
Orders & Shipping
✓ Free of charge on orders of €30 or more within Germany
✓ We deliver worldwide
✓ Super speedy express shipping
Claims & Returns
✓ Free return shipping on orders of €40 or more within Germany
✓ 14 days right of return
✓ Easy and hassle-free
back to top