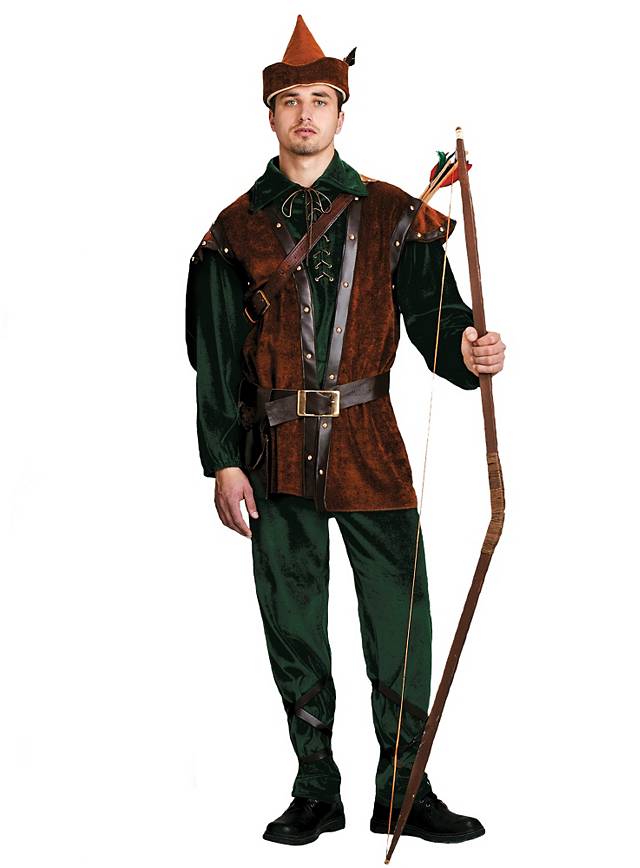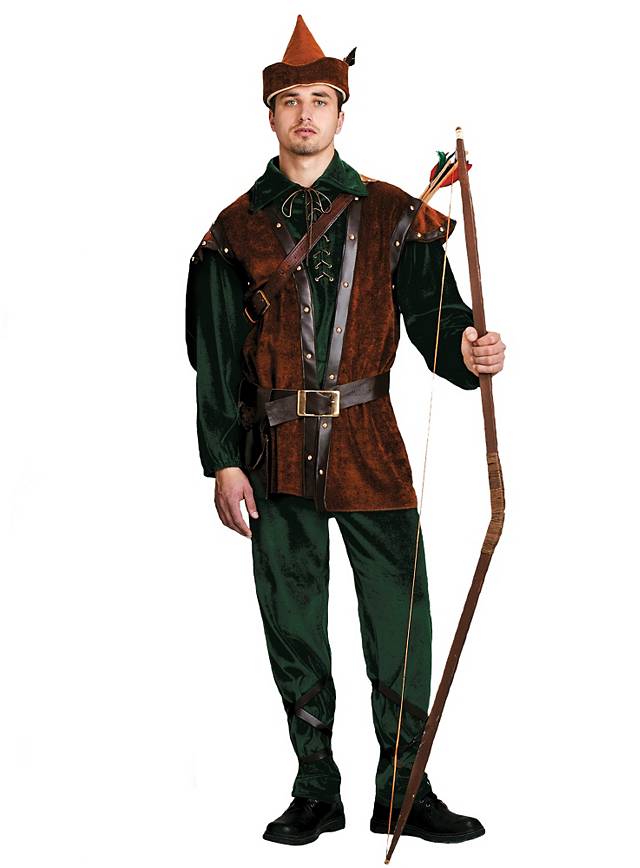 Robin Hood Costume
Included in delivery
Costume, 5-piece
With shirt
With trousers
With jerkin
With hat
With shin lacing
Without shoes, bow, quiver or belt
Product Description
When Robin Hood draws his bow, he needs a steady hand. Otherwise his arrow won't hit its mark. The man who robbed the rich to give to the poor – as legend has it – was also a legendary marksman with the English longbow. His lightweight, forest green shirt laces up the front, and the matching trousers have lacing at the shins. When he's wearing his brown jerkin with imitation leather edging and metal studs and his signature, pointed cap, Robin Hood is perfectly dressed for a day in the forest. Wear this costume and turn every party into your own, personal hunting ground!
Costume, 5-piece
With shirt
With trousers
With jerkin
With hat
With shin lacing
Without shoes, bow, quiver or belt
Material
100% polyester
You may also like:
Roman
Costume
from 49,90 €
-33%
Little Red Riding Hood
Kids Costume
44,90 €
29,90 €
-33%
Gypsy Dress
Costume
119,00 €
79,90 €
Celtic Chemise
Costume Part
69,90 €
Robin of Locksley Complete
Costume
149,00 €
-29%
Aphrodite
Costume
69,90 €
49,90 €
Assassin's Creed Gambeson "Lionheart"
Costume Part
89,90 €
-58%
Princess Isabella
Costume
119,00 €
49,90 €
-13%
Assassin's Creed Tunic "Lionheart"
Costume Part
79,90 €
from 69,90 €
-57%
Leather jerkin - Victor, black
Costume Part
139,00 €
from 59,90 €
-25%
Floppy Hat
Accessory
39,90 €
29,90 €
-38%
Medieval Lady
Costume
129,00 €
79,90 €
Original Supergirl
Kids Costume
44,90 €
Knight
Beard available in 6 colors
39,90 €
Recurvebow - Ranger, long
Foam Weapon
89,90 €
King Arthur
Costume
from 219,00 €
-72%
Sexy Robin Hood
Costume
69,90 €
from 19,90 €
Robin Hood Classic
Costume
69,90 €
Larp Bow (120cm/26lbs)
Foam Weapon
89,90 €
Padded Arrows - 3 pieces
Foam Weapon
27,90 €
-50%
Mary Ann
Costume
159,00 €
79,90 €
Payment & Support
✓ Fast and secure payment
✓ Payment options incl. PayPal and invoice
✓ 24/7 service and ordering
Orders & Shipping
✓ Free of charge on orders of €30 or more within Germany
✓ We deliver worldwide
✓ Super speedy express shipping
Claims & Returns
✓ Free return shipping on orders of €40 or more within Germany
✓ 14 days right of return
✓ Easy and hassle-free
back to top