Zorro costume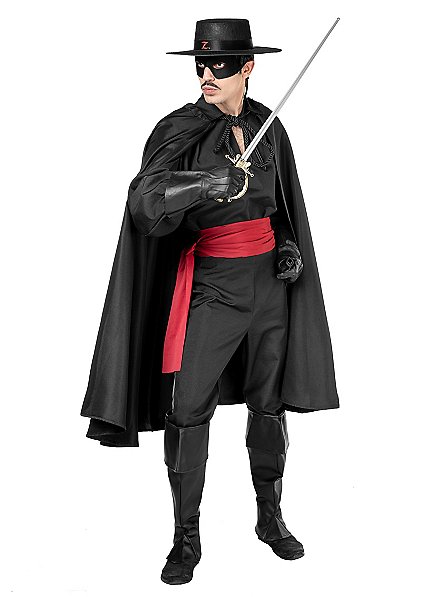 Zorro costume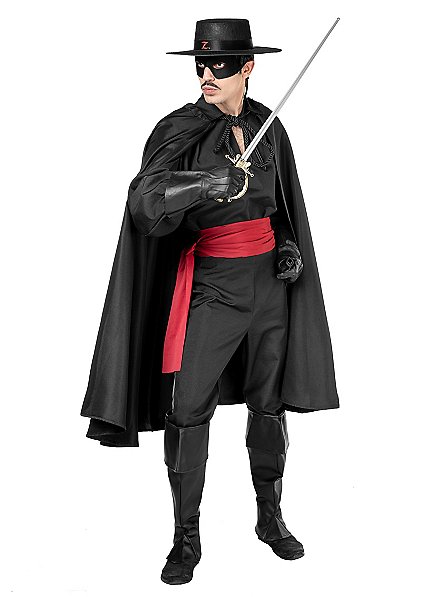 Zorro costume
Official complete costume of the black avenger
Included in delivery
with shirt, trousers, mask, hat, sash and cape with cord
without rapier
Our model is 190 cm tall and wears size L.
Product Description
Officially licensed, complete costume of the black-clad hero from the film and comic! With shirt and pants, hat, mask and cape in black, and a red belly band.
Shirt
long-sleeved, closed shirt in matte black
with gathered elastic at the ends of the sleeves
deep, open worn V-neck and wide collar
Pants
simple, straight-cut trousers in matte black
side stripes in black satin sheen
firm fit thanks to elastic waistband in the hem
Hat
authentic shaped felt hat in matte black
in the style of a classic Spanish hat (also "Sombrero Cordobes")
satin shining Hatband with red "Z" as logo of Zorro
with chin cord for casual wearing on the back
Mask
authentic shaped fabric mask in matte black
firmly shaped face part
long fabric straps for stepless lacing
Cape
robust, well-made cape in matte black
straight, knee-length cut to wear over the shoulder
wide cord to lace at the chest
Sash
about 240 cm long cloth of slightly shiny, red fabric
excellent as a belly bandage
can also be worn across the chest as a sash
Zorro - the avenger with black mask, cape and rapier - is the classic adventure hero and fighter against injustice for over 100 years. First published in 1919 in the story "The Curse of Capistrano", Zorro's adventures have since been filmed several times, making the character internationally famous and immortal. With our official Zorro costumes and accessories, you can now slip into the role of the Californian Don Diego de la Vega yourself quite authentically and leave a "Z" as a trademark as Zorro with the evil, Spanish colonial masters!
The costume is made of high-quality processed, black fabric that is pleasantly skin-friendly. The hem of the sleeves of the shirt is provided with an elastic waistband, through which the openings are gathered. The v-shaped neckline with wide collar is worn open. Matching comfortable trousers with eye-catching lateral longitudinal stripes on the legs, which present a slight satin sheen. The cape is made of thick black fabric that is simply thrown over the shoulder and knotted at the neck hem with a thick cord. The black felt hat is the classic headgear of a nobleman in California under Spanish influence. The distinctive hat shape with the straight brim is known as a "Spanish hat" or "flamenco hat". Around the cap is a black satin fabric hat band with a red "Z" printed on the front. The Zorro costume is perfected by the obligatory eye mask and the long red scarf that you can use as a belly band.
Material
100% polyester
Payment & Support
✓ Fast and secure payment
✓ Payment options incl. PayPal and invoice
✓ Service Mo-Fr from 9 am to 5 pm
Orders & Shipping
✓ Free of charge on orders of €50 or more within Germany
✓ We deliver worldwide
✓ Super speedy express shipping
Claims & Returns
✓ Free return shipping on orders of €40 or more within Germany
✓ 14 days right of return
✓ Easy and hassle-free
back to top