Sold out
You might like these alternatives:
Avatar Neytiri Costume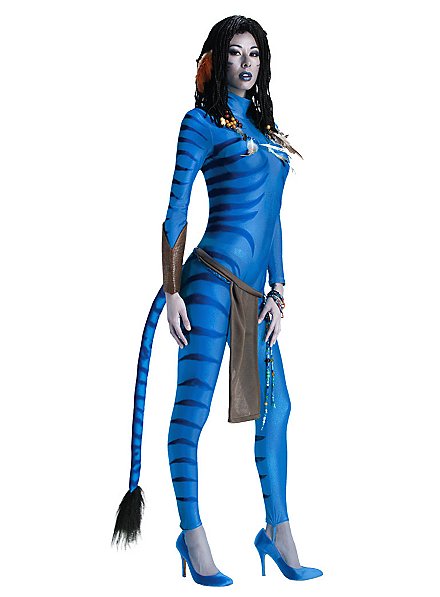 Avatar Neytiri Costume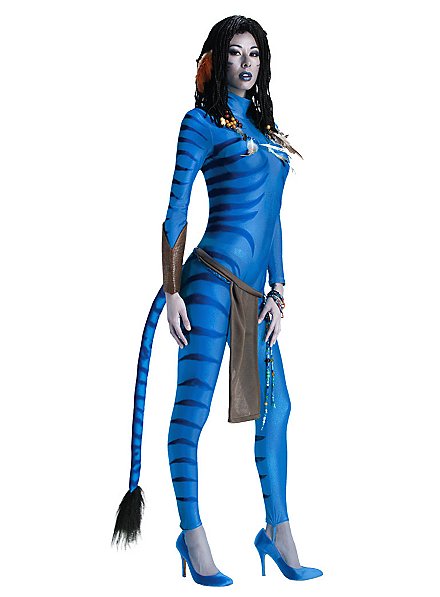 Avatar Neytiri Costume
Original costume from James Cameron's Avatar
Included in delivery
Costume, 5-piece
With bodysuit including loincloth and tail
With 2 bead bracelets
With 1 feather necklace
With bracer
Without wig, other costume pieces or accessories shown
Product Description
Blue striped Neytiri of the Na'vi in the movie Avatar is a type of warrior princess. She has long, beaded tresses, is very tall, and has a tail – and wears nothing but a brown loincloth, a few sparkling beads, and a bracer. Our peacock blue Neytiri jumpsuit has dark stripes, a high collar, and a long, lightweight tail (styrofoam-filled) with a pouff at the end. It has a zipper at the back and elastic stirrups at the bottom of the legs to keep it stretched long. The brown fabric loincloth is attached to the jumpsuit. The bracer is dark brown with a lizard skin pattern and fastens with hook and loop strips. Two strings of plastic beads for the other wrist and a feathered necklace complete the humanoid native look.
Material
92% polyester, 8% elastane
Payment & Support
✓ Fast and secure payment
✓ Payment options incl. PayPal and invoice
✓ Service Mo-Fr from 9 am to 5 pm
Orders & Shipping
✓ Free of charge on orders of €50 or more within Germany
✓ We deliver worldwide
✓ Super speedy express shipping
Claims & Returns
✓ Free return shipping on orders of €40 or more within Germany
✓ 14 days right of return
✓ Easy and hassle-free
Reviews
Avatar Neytiri Costume
(14)
4.4 out of 5 stars
back to top