Sold out
Don't be sad. You might like these alternatives: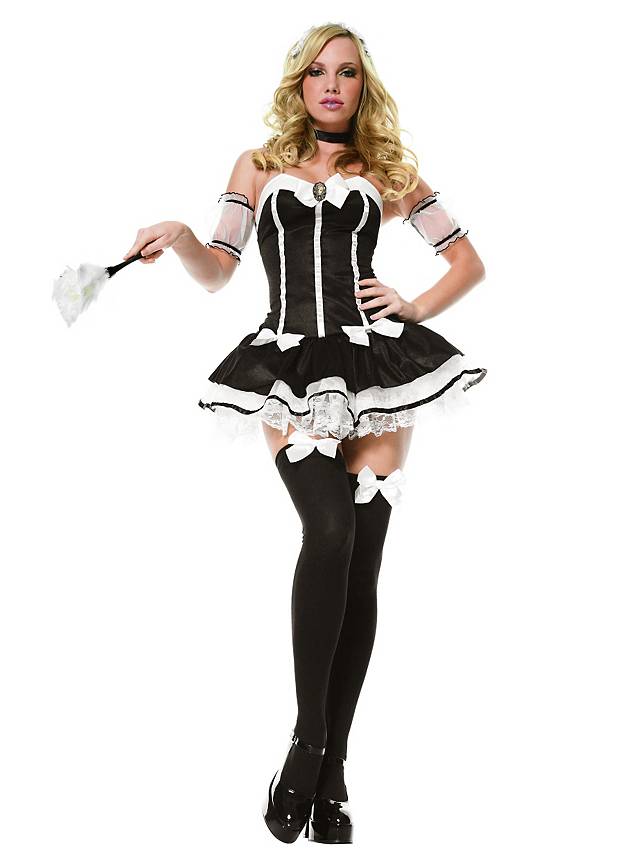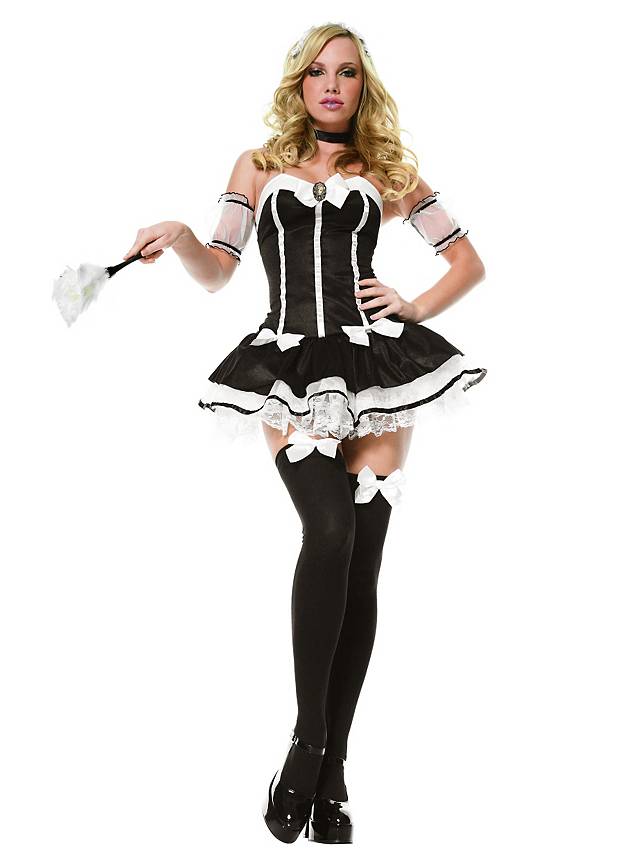 French Maid Costume
Included in delivery
Costume, 6-piece
With hair band and ruffle
With choker
With dress
With separate sleeves
With transparent straps
With stay ups
Without any other costume pieces or accessories shown
Product Description
Maids are actually responsible for keeping things clean, but sometimes their very presence can trigger rather dirty trains of thought. Our French Maid costume could be a real distraction for any ruler of the roost. The sexy mini dress with transparent straps and a long zipper at the back has a drop waist and a gathered, 2-layered skirt. One layer is transparent net trimmed with black satin, and the other is the same black satin stretch the bustier top is made of. Thin white ribbons emphasize the long, shapely front seams and three white satin bows and a cameo in a silvery setting provide exciting accents. Sweet puff sleeves made of white net trimmed in black and the hair band with a playful white ruffle make you whistle while this French Maid works. The attractively snug choker and the black stay ups with white ribbons add an extra touch of class.
Costume, 6-piece
With hair band and ruffle
With choker
With dress
With separate sleeves
With transparent straps
With stay ups
Without any other costume pieces or accessories shown
Material
100% polyester
You may also like:
-17%
Knee High Stockings White
Accessory
5,90 €
4,90 €
-33%
Devil Girl
Costume
59,90 €
39,90 €
-50%
Wonderland Queen
Costume
39,90 €
from 19,90 €
-29%
Sexy Little Red Riding Hood romantic
Costume
69,90 €
49,90 €
Big Petticoat black short
Costume Part
29,90 €
-33%
Sexy Mariner
Costume
59,90 €
39,90 €
Lady Law
Costume
69,90 €
-64%
Sexy Retro Pin Up
Costume
69,90 €
from 24,90 €
Satin Gloves black
Accessory
8,90 €
-33%
Sexy Casino Girl
Costume
89,90 €
from 59,90 €
-25%
Policewoman
Costume
79,90 €
from 59,90 €
-44%
Burlesque Dancer
Costume
89,90 €
from 49,90 €
-14%
Sexy Charwoman
Costume
69,90 €
59,90 €
-15%
Petticoat white short
Costume Part
19,90 €
16,90 €
-15%
Petticoat black short
Costume Part
19,90 €
16,90 €
Double Layer Petticoat
Costume Part
19,90 €
-33%
Sexy Sandals black
Shoes
44,90 €
29,90 €
-25%
Maid Stockings
Accessory
11,90 €
8,90 €
Sexy black Bunny Accessory Kit
Accessory
24,90 €
-20%
White Stockings
Accessory
9,90 €
7,90 €
-45%
Maid Ballerina Shoes
Shoes
44,90 €
from 24,90 €
Gothic Feather Duster
Accessory
9,90 €
-32%
Satin Trimmed Petticoat black & white
Costume Part
24,90 €
16,90 €
Payment & Support
✓ Fast and secure payment
✓ Payment options incl. PayPal and invoice
✓ 24/7 service and ordering
Orders & Shipping
✓ Free of charge on orders of €30 or more within Germany
✓ We deliver worldwide
✓ Super speedy express shipping
Claims & Returns
✓ Free return shipping on orders of €40 or more within Germany
✓ 14 days right of return
✓ Easy and hassle-free
Reviews
French Maid Costume
(2)
4.5 out of 5 stars
back to top