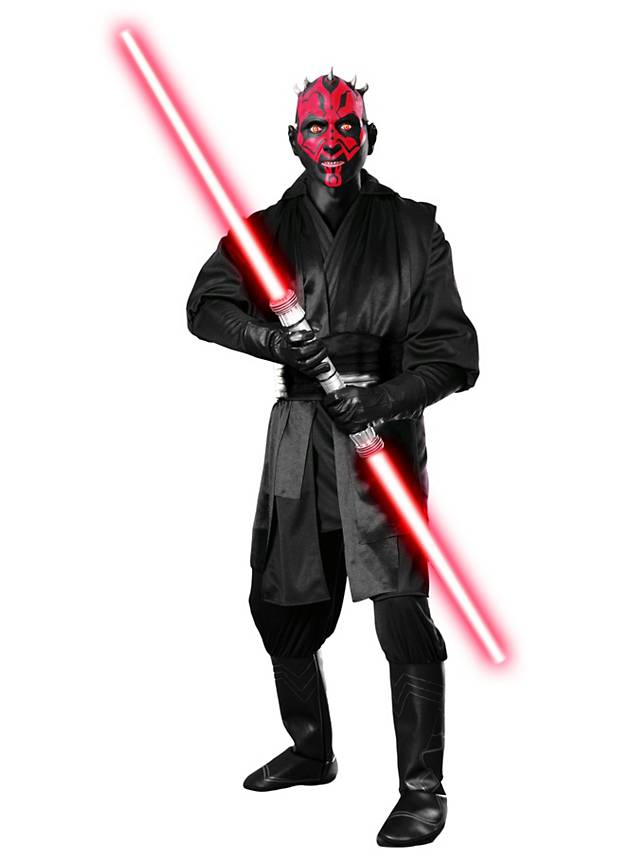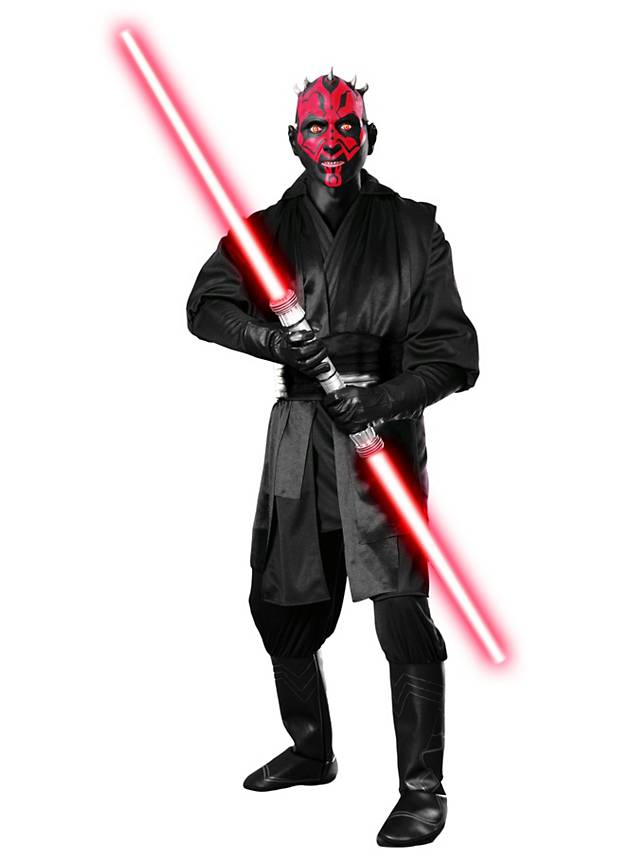 Original Darth Maul Costume
Official Star Wars costume
Included in delivery
Original Darth Maul Costume, 4-piece
With hooded coat
With trousers and attached boot tops
With belt
With half mask
Without light saber or gloves
Product Description
Opinions may differ on Darth Maul, but there is one thing he isn't – an unskilled fighter. On Naboo, he took on Obi-Wan Kenobi and Qui-Gon Jinn at the same time... only to ultimately lose.
With our licensed Original Star Wars costume, you can be this dark Sith who was loyal to Darth Sidious. The costume consists of a shiny, black hooded coat made of lightweight, supple fabric. You won't have any problems moving around during a light saber duel. The roomy hood keeps the devilishly striking, red and black tattooed face of Darth Maul hidden. The mask is a half mask and also has large horns. Slits at the mouth, nose and over the eyes provide the proper amount of ventilation. Boots tops made of imitation leather that completely cover your own shoes are attached to the lower legs of the trousers. A heavy, war-like plastic belt adds the authentic finishing touch this original Darth Maul costume.
Material
Hooded coat, trousers: 100% polyester; boot tops: 70% polyurethane, 30% polyester
You may also like:
-10%
Original Darth Vader
Costume
99,90 €
from 89,90 €
-56%
Clone Trooper "Rex"
Costume
89,90 €
from 39,90 €
Queen Amidala
Costume
59,90 €
Spikes
Horns
24,90 €
Black Cream Make-Up
Make-up
4,90 €
Red Cream Make-Up
Make-up
4,90 €
Suede Leather Gloves black
Accessory
29,90 €
Kryolan Synthetic Bald Cap Skin Colour
Special Effect
17,90 €
-33%
Star Wars Sith Robe
Costume Part
59,90 €
39,90 €
Star Wars Darth Maul
Mask
49,90 €
Star Wars Miss Darth Vader
Costume
79,90 €
-25%
Star Wars Miss Stormtrooper
Costume
79,90 €
59,90 €
Make-Up Sponge circle
Make-up
1,50 €
Gloves black
Accessory
4,90 €
-20%
Star Wars Darth Vader Gloves
Accessory
24,90 €
19,90 €
-12%
Darth Vader Breathing Device
Accessory
16,90 €
14,90 €
Mastix Spirit Gum Remover
Special Effect
4,90 €
-40%
Bladebuilders Darth Vader Lightsaber
Toy Weapon
24,90 €
14,90 €
Voice Changer
Accessory
16,90 €
-33%
Princess Amidala Jumpsuit
Costume
59,90 €
from 39,90 €
-25%
Demon
12-Month Lenses
19,90 €
14,90 €
-21%
Star Wars Sexy Princess Leia
Costume
69,90 €
from 54,90 €
Orc
3-Month Lenses
14,90 €
Payment & Support
✓ Fast and secure payment
✓ Payment options incl. PayPal and invoice
✓ 24/7 service and ordering
Orders & Shipping
✓ Free of charge on orders of €30 or more within Germany
✓ We deliver worldwide
✓ Super speedy express shipping
Claims & Returns
✓ Free return shipping on orders of €40 or more within Germany
✓ 14 days right of return
✓ Easy and hassle-free
Reviews
Original Darth Maul Costume
(3)
5 out of 5 stars
back to top