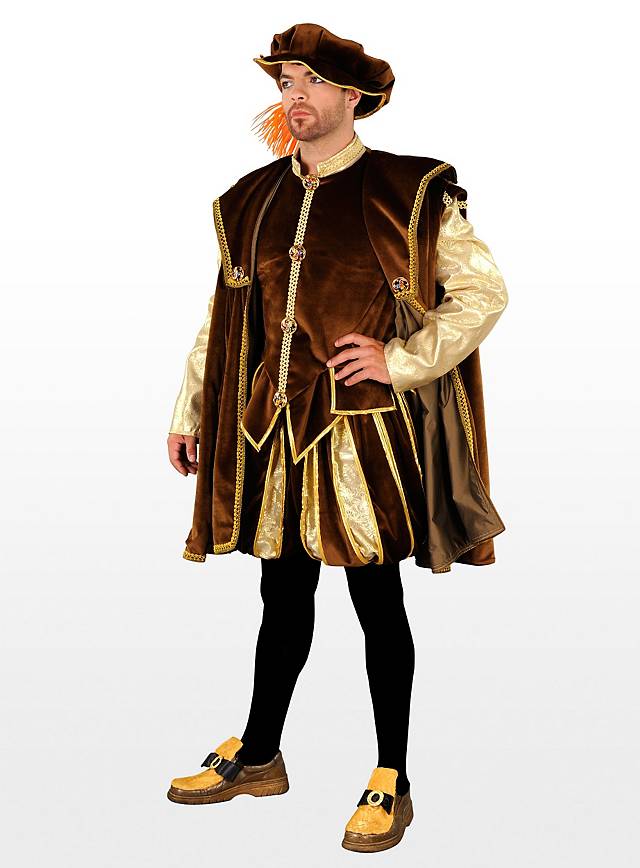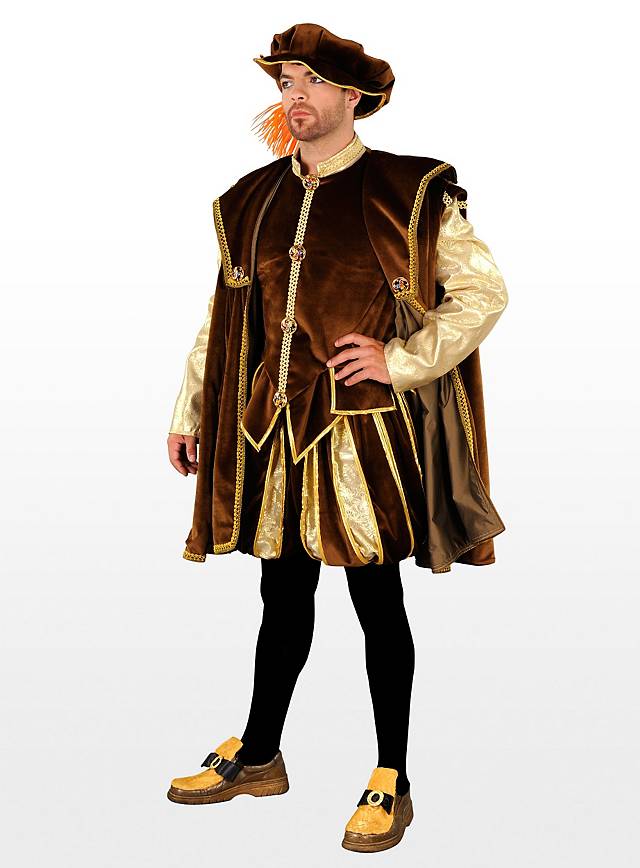 Venetian Lord Costume
Included in delivery
Costume, 4-piece
With beret
With cape
With doublet
With breeches
Without hose or shoes
Product Description
How do we know that this costume represents a Venetian lord? Because it is made of the sumptuous fabric the city was known for during the Renaissance!
The cape and doublet harmonize perfectly, for example. Both are made of nut brown velvety soft fabric trimmed with rich gold braid. The cape has a very generous collar with colorful jewels gleaming in a round setting at the chest. It is fully lined in brick red satin and gathers and pleats at the back make it dramatically full. Fully lined in wine red satin, the doublet has a standing collar and long, full sleeves in textured golden fabric. Golden trim underscores the shoulder wings, and the dagges of the skirt are outlined in gold. Three matching jewels at the front hide the snap fasteners that keep the doublet closed at the front. The fully lined brown breeches are slashed to reveal gleaming gold fabric framed by the gold trim that outlines the slashes. The breeches are elasticized at the knees and the waistline for a good fit and wearing comfort. A matching beret with gold trim and wine red lining tops off this extravagant Venetian Lord costume. Perfect with a mask for your next Venetian masked ball!
PLEASE NOTE: The orange plume is not included.
Costume, 4-piece
With beret
With cape
With doublet
With breeches
Without hose or shoes
Material
100% polyester
You may also like:
Elevator boy
Costume
89,90 €
-38%
Court Damsel
Costume
129,00 €
79,90 €
-24%
Baywatch Blow-up Lifesaver
Accessory
16,90 €
12,90 €
Waiting-Maid green
Costume
from 69,90 €
Staff Pick
Zannino scacchi musica
Mask
39,90 €
-20%
White Stockings
Accessory
9,90 €
7,90 €
Pirate Boots Men brown
Shoes
69,90 €
-56%
Sexy Evil Queen
Costume
89,90 €
39,90 €
Fairy Tale Prince
Costume
189,00 €
Baywatch Lifeguard
Costume
39,90 €
-33%
Sexy Queen
Costume
29,90 €
19,90 €
Staff Pick
Wood Elf Ears
Ears
12,90 €
-17%
Empress Theodora
Costume
59,90 €
49,90 €
Lennon Glasses
Accessory
9,90 €
Baywatch Lifeguard Girl
Costume
59,90 €
-72%
Sexy Tea Party Hostess
Costume
69,90 €
19,90 €
Highwayman
Costume
199,00 €
-40%
Lady Marie costume peach
Costume
99,90 €
from 59,90 €
-25%
Sexy Goddess of War
Costume
79,90 €
59,90 €
-16%
Dress - Queen Elisabeth I.
Costume
119,00 €
from 99,90 €
Aristocrat Shoe Buckles gold
Accessory
7,90 €
Breeches
Costume Part
29,90 €
Shirt - Lorenzo
Costume Part
49,90 €
Payment & Support
✓ Fast and secure payment
✓ Payment options incl. PayPal and invoice
✓ 24/7 service and ordering
Orders & Shipping
✓ Free of charge on orders of €30 or more within Germany
✓ We deliver worldwide
✓ Super speedy express shipping
Claims & Returns
✓ Free return shipping on orders of €40 or more within Germany
✓ 14 days right of return
✓ Easy and hassle-free
Reviews
Venetian Lord Costume
(1)
5 out of 5 stars
back to top