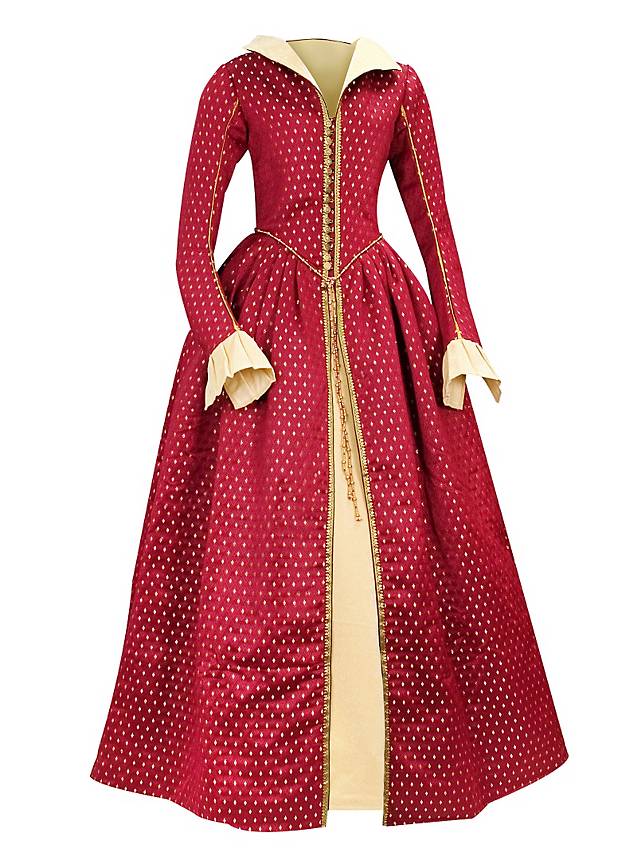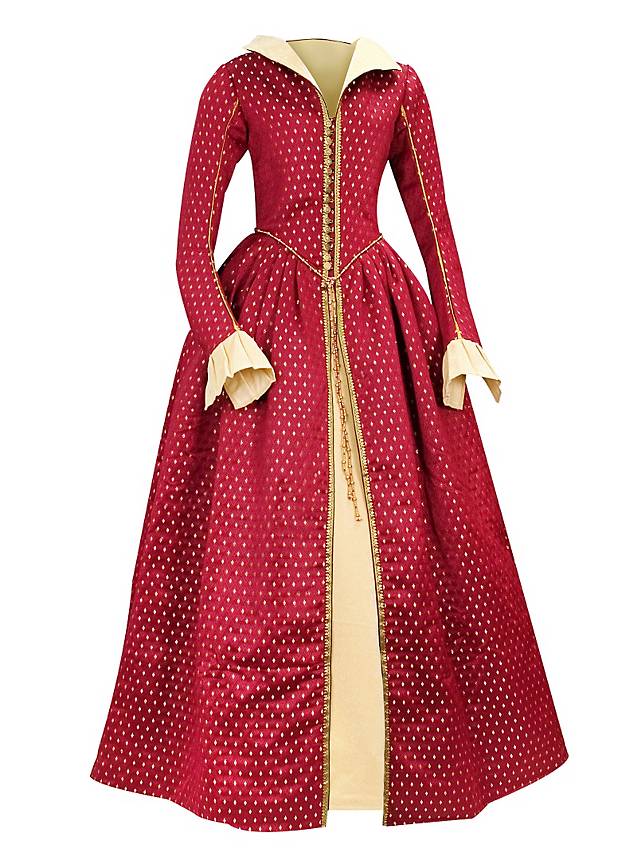 Dress - Scot's Queen burgundy
Included in delivery
Product Description
This elegant court dress made of heavy, red fabric looks like dresses that were worn in the era of the Stuarts – in England and Scotland in the 1550s and 1560s. The vivid red of this satiny overdress is woven with black lozenges with shimmering golden centers. The skirt is open at the front. The waist is reinforced with boning to give this court dress the straight silhouette of the Late Renaissance. The bodice closes with a row of metal buttons and loops from the waist to the point of the V-neckline. Golden piping emphasizes the curved cut of the long sleeves, which button at the flaring cuffs that match the collar lining. Our splendid Late Renaissance red court dress comes with a chain of gold and red beads to wear at the waistline.
Our court skirt (sold separately) is ideal for wearing underneath this court dress. Combine it with a hoop skirt (sold separately) for a perfect period look.
Material
100% polyester
You may also like:
-19%
Queen Of The Night
Costume
159,00 €
from 129,00 €
Tudor Hood gold
Accessory
39,90 €
-38%
Courtly Dress
Costume
79,90 €
from 49,90 €
-27%
Court Lady
Costume
109,00 €
79,90 €
Pirate Parrot
Accessory
11,90 €
Staff Pick
Spanish Collar - Ruff
Accessory
69,90 €
Suede Pouch - Heller dark brown
Accessory
19,90 €
Musketeer Collar
Accessory
19,90 €
-25%
Gown Queen Maria Stuart
Costume
199,00 €
149,00 €
Bandit's Daughter
Costume
99,90 €
Gown "Queen of England"
Costume
259,00 €
Robin of Locksley Complete
Costume
149,00 €
Geisha Umbrella
Accessory
14,90 €
Staff Pick
-40%
Rococo
Wig
49,90 €
29,90 €
Extravagant Shift
Costume Part
49,90 €
-18%
Emerald Dress green
Costume
84,90 €
from 69,90 €
Dress - Highlands
Costume
99,90 €
Gothic Man's Robe
Costume Part
69,90 €
Tudor Hood burgundy
Accessory
44,90 €
Courtier
Costume
179,00 €
Staff Pick
Marie Antoinette
Wig
49,90 €
Payment & Support
✓ Fast and secure payment
✓ Payment options incl. PayPal and invoice
✓ 24/7 service and ordering
Orders & Shipping
✓ Free of charge on orders of €30 or more within Germany
✓ We deliver worldwide
✓ Super speedy express shipping
Claims & Returns
✓ Free return shipping on orders of €40 or more within Germany
✓ 14 days right of return
✓ Easy and hassle-free
Reviews
Dress - Scot's Queen burgundy
(3)
4.3 out of 5 stars
back to top