Sold out
Don't be sad. You might like these alternatives: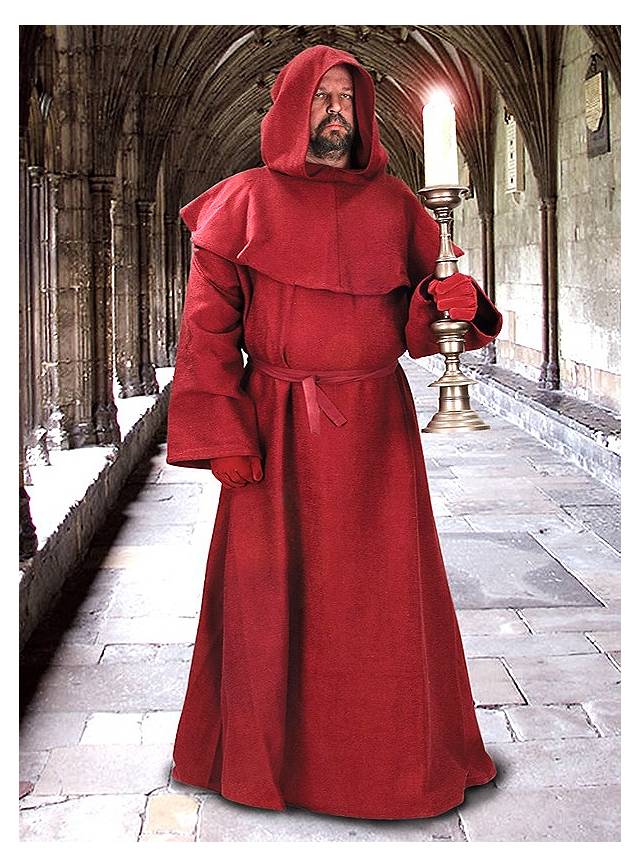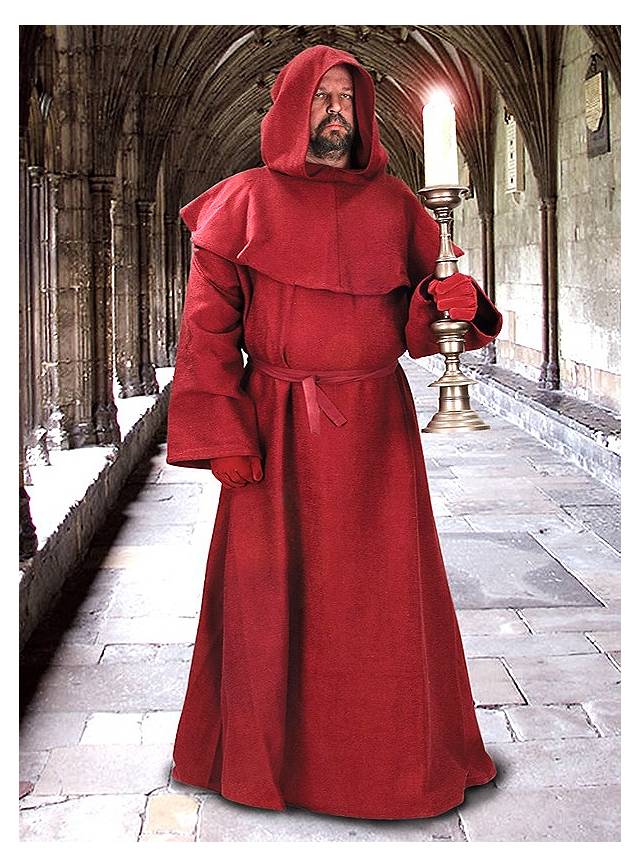 Monk's habit - Dominus, red
Included in delivery
Costume, 3-piece
With robe
With cowl
With belt
Without any other accessories shown
Product Description
The roomy monk's robe is made of thick, coarsely woven cotton dyed rusty red – to symbolize guilt and sin – to contrast with the gray and black usually associated with monk's habits. The simple look underscores the power and religious superiority of its wearer, and the generously cut cowl adds a touch of mystery. The very wide, long robe (length approx. 152 cm from the shoulder seam to the hem) is belted with a matching red sash. The monk`s costume also provides protection from unpleasant weather.
Material
100% cotton
You may also like:
Inflatable tricorn hat
Accessory
4,90 €
Gloves black
Accessory
4,90 €
Your Favourite
White Cream Make-Up
Make-up
4,90 €
Voice Changer
Accessory
16,90 €
Belt Pouch wine red
Accessory
19,90 €
Monk's habit - Dominus, brown
Costume
119,00 €
Suede Pouch - Heller dark brown
Accessory
19,90 €
Your Favourite
Make-Up Foundation white
Make-up
3,90 €
-34%
Rough Stitches
Special Effect
14,90 €
9,90 €
Suede Leather Gloves burgundy
Accessory
29,90 €
-25%
Zombie
12-Month Lenses
19,90 €
14,90 €
-33%
Red Monster Hands
Accessory
29,90 €
19,90 €
Staff Pick
Monk
Wig
39,90 €
Decorated Ruby Ring
Jewelry
14,90 €
Cross Medallion
Jewelry
7,90 €
Payment & Support
✓ Fast and secure payment
✓ Payment options incl. PayPal and invoice
✓ 24/7 service and ordering
Orders & Shipping
✓ Free of charge on orders of €30 or more within Germany
✓ We deliver worldwide
✓ Super speedy express shipping
Claims & Returns
✓ Free return shipping on orders of €40 or more within Germany
✓ 14 days right of return
✓ Easy and hassle-free
Reviews
Monk's habit - Dominus, red
(5)
4.6 out of 5 stars
verified purchase

this is well made, decent quality and sturdy. It comes at a bit of a price, but it is worth it. Don't wear too much underneith...You'll sweat like a horse..

Kurt
back to top