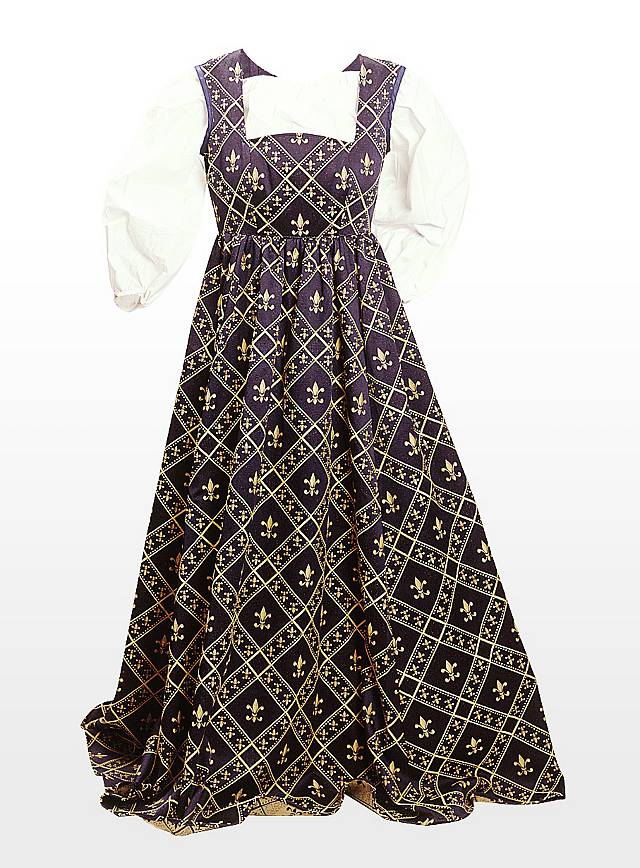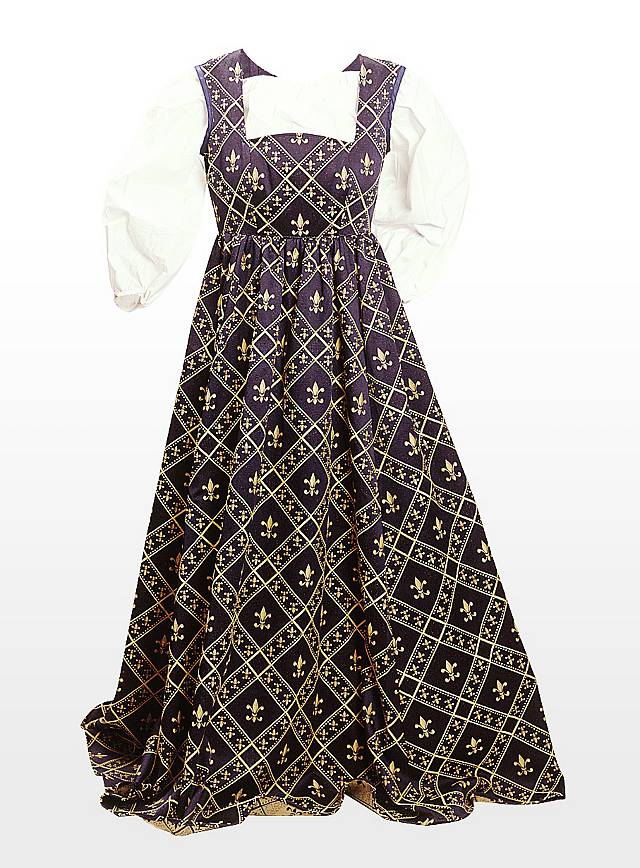 Dress - Fleur de Lis, blue
Included in delivery
Costume, 1-piece
With dress
Without chemise or jewelry
Product Description
This graceful princess dress in the style of the 15th century is made of heavyweight fabric with a French lily pattern in blue and gold damask. An inner "modesty panel" makes the lacing at the rear exceptionally adjustable. A more than suitable gown for an evening at court.
Length from shoulder seam: size S/M 155 cm; size L/XL 158 cm
Also available in red.
Costume, 1-piece
With dress
Without chemise or jewelry
Material
80% polyester, 20% cotton
You may also like:
Tudor Hood black
Accessory
44,90 €
Queen of Hearts Deluxe
Costume
from 179,00 €
Superboy
Kids Costume
39,90 €
Old West Sheriff
Kids Costume
from 49,90 €
Valkyrie
Wig
24,90 €
Tudor Hood blue
Accessory
39,90 €
Nobleman's Garment
Costume
149,00 €
Goddess
Costume
69,90 €
-16%
Dress - Queen Elisabeth I.
Costume
119,00 €
from 99,90 €
Your Favourite
Spiderweb Goblet
Decoration
4,90 €
Chemise Princess gold
Costume Part
139,00 €
-23%
Twill Bodice
Costume Part
64,90 €
49,90 €
Maid green
Costume
69,90 €
-40%
Medieval Skirt
Costume Part
49,90 €
29,90 €
-22%
Peasant's Daughter
Costume
89,90 €
69,90 €
-8%
Traditional Chemise
Costume Part
64,90 €
59,90 €
-13%
Dress - Fleur-De-Lis, red
Costume
79,90 €
from 69,90 €
Celtic Chemise
Costume Part
69,90 €
Payment & Support
✓ Fast and secure payment
✓ Payment options incl. PayPal and invoice
✓ 24/7 service and ordering
Orders & Shipping
✓ Free of charge on orders of €30 or more within Germany
✓ We deliver worldwide
✓ Super speedy express shipping
Claims & Returns
✓ Free return shipping on orders of €40 or more within Germany
✓ 14 days right of return
✓ Easy and hassle-free
back to top