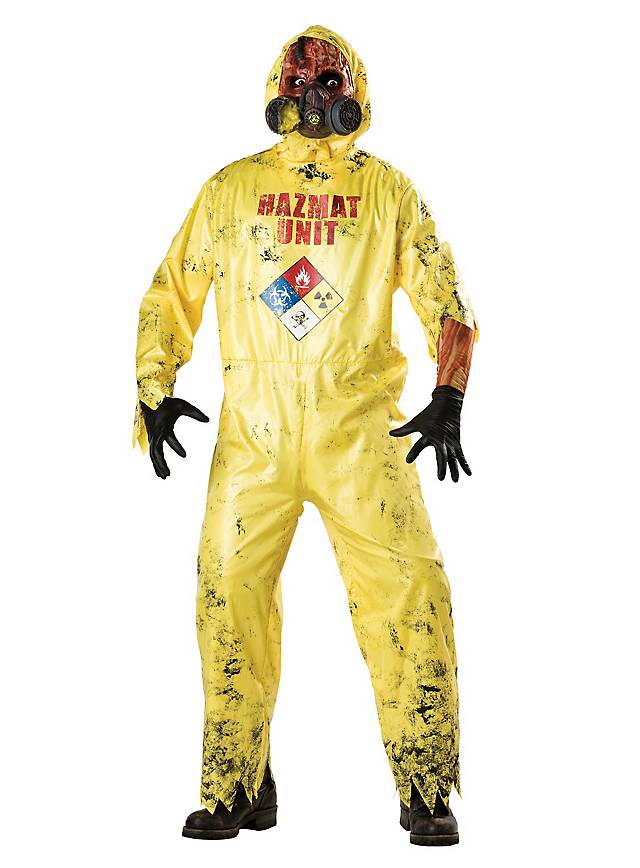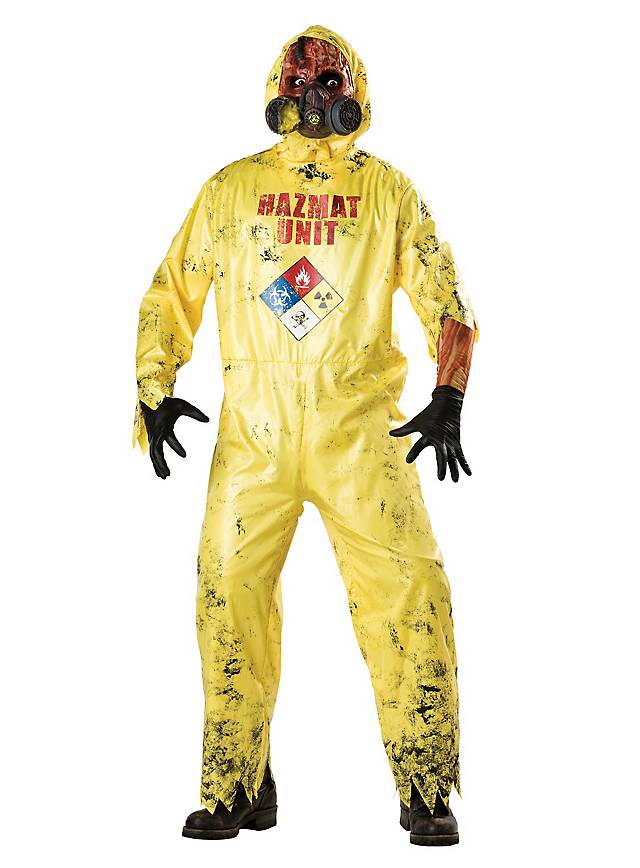 Contaminated Worker
Included in delivery
Costume, 6-piece
With jumpsuit
With hood
With mask
With burn prosthetic
With a pair of gloves
Without boots
Product Description
Bright yellow and set for horror: our Contaminated Worker. Hazmat suit costume with matching hood, half mask and much more.
Lax enforcement of occupational safety standards is rampant these days. And a simple half mask provides zero protection against hazardous materials that can absorbed through the skin. The person in our Contaminated Worker costume had to learn this the hard way.
This hazmat suit looks like it has seen some particularly heavy duty. Covered with oil stains and shredded at the edges, one sleeve of this bright yellow jumpsuit is shorter than the other one. Climb in and fasten it with the hook and loop strip at the nape of your neck. The matching hood with shoulder protection has elastic at the cutout around your face to keep hazardous materials out. It also fastens at the back with a hook and loop strip. Approx. 30 cm long, the fake burn is printed onto a semi-transparent, skin tone sleeve – simply pull it on! The shorter hazmat suit sleeve hides the top edge and the bottom edge disappears underneath the black glove. The very detailed half mask made of flexible plastic has a melting face and shows the other effects of what our Contaminated Worker was exposed to. An elastic band at the back keeps it firmly on your face. We wish you a speedy recovery!
Costume, 6-piece
With jumpsuit
With hood
With mask
With burn prosthetic
With a pair of gloves
Without boots
Material
100% polyester
You may also like:
Morphsuit Mummy
Costume
49,90 €
-11%
Halloween Jelly Mould Brain
Decoration
8,90 €
7,90 €
Voice Changer
Accessory
16,90 €
-40%
Sexy Fortune Teller
Costume
49,90 €
from 29,90 €
-64%
Sexy Retro Pin Up
Costume
69,90 €
from 24,90 €
-25%
Genie
Costume
79,90 €
from 59,90 €
Skull Bandanna black & white
Accessory
5,90 €
-29%
Bloody Scab
Special Effect
6,90 €
4,90 €
-20%
Top Gun Pilot
Costume
74,90 €
59,90 €
Mastix Spirit Gum Remover
Special Effect
4,90 €
-38%
Sucker Punch Sweet Pea
Costume
79,90 €
49,90 €
-13%
Scream
Costume
39,90 €
34,90 €
-41%
Bite & Bleed Blood Capsules
Special Effect
4,90 €
2,90 €
-16%
Gorilla
Costume
119,00 €
99,90 €
-24%
Bottle of Fake Blood
Special Effect
16,90 €
12,90 €
Nun Devil
Costume
49,90 €
Skeleton Zombie
Costume
64,90 €
Complete Zombie
Costume
69,90 €
-29%
Horror Skin
Special Effect
6,90 €
4,90 €
Glow in the Dark Cream
Make-up
5,90 €
-30%
Toxic Radiation
Special Effect
16,90 €
11,90 €
-29%
Tube of Blood
Special Effect
6,90 €
4,90 €
-29%
Scary Skin white
Special Effect
6,90 €
4,90 €
-17%
Lich
Make-up
5,90 €
4,90 €
Payment & Support
✓ Fast and secure payment
✓ Payment options incl. PayPal and invoice
✓ 24/7 service and ordering
Orders & Shipping
✓ Free of charge on orders of €30 or more within Germany
✓ We deliver worldwide
✓ Super speedy express shipping
Claims & Returns
✓ Free return shipping on orders of €40 or more within Germany
✓ 14 days right of return
✓ Easy and hassle-free
Reviews
Contaminated Worker
(2)
4 out of 5 stars
verified purchase

Okay

Benjamin
back to top