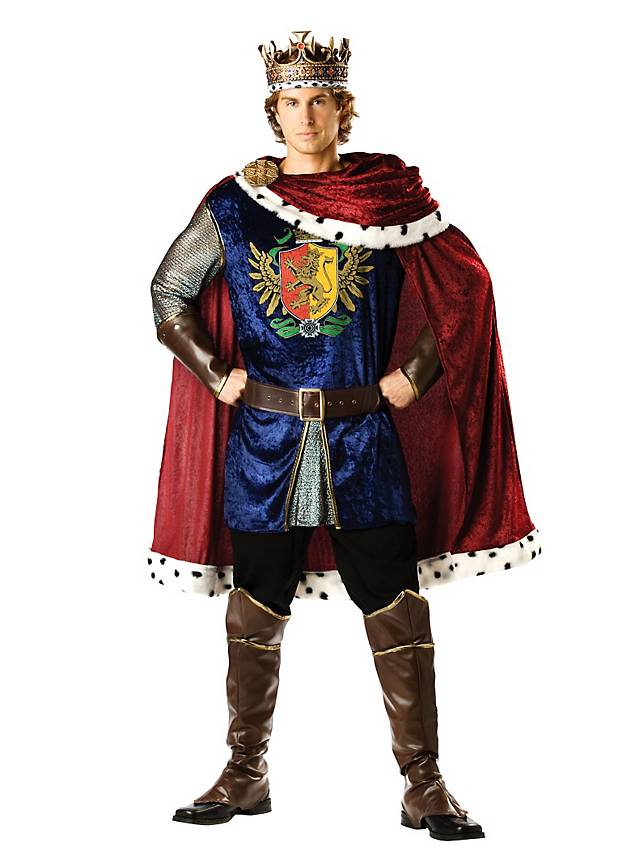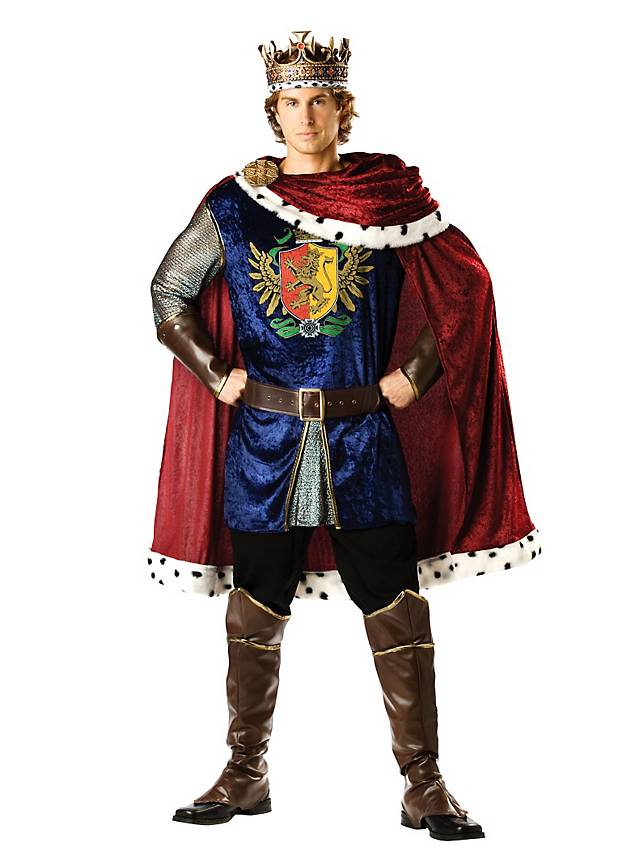 Fairy Tale Prince Costume
Included in delivery
Costume, 6-piece
With long sleeve surcoat
With cape
With boot tops
With belt
With latex crown
With metal brooch
Without shoes
Product Description
Once upon a time, there was a fairy tale prince whose clothes reflected all the facets of his power and prestige. This prince was not only loved by his subjects because of his gentle temperament – he had such good taste in clothes that the entire court waited in the throne room every morning to see what the prince was wearing that day.
Today, he is wearing a surcoat in royal blue crushed velvet printed with a coat of arms that shows a lion rampant, a crown, and eagle wings on a background of yellow and red. The front insert and sleeves are made of silver & black stretch imitation chain mail, and the sleeve cuffs are bracers made of brown imitation leather edged in gold. The boot tops, which are knee high, are made of the same brown imitation leather as the sleeve cuffs.
On the one hand, it look like this fairy tale prince is ready for battle. On the other, you can't get much more romantic than a dashing, velvety red cape with fake ermine trim on the collar and hem. The cape fastens with a button at the shoulder, and you can cover it over with the brooch of golden metal. A brown imitation leather belt with metal eyelets and a metal buckle, and an imposing crown of molded latex featuring crosses and fleurs de lis and set with red rhinestones are the crowning glory for any fairy tale prince.
Costume, 6-piece
With long sleeve surcoat
With cape
With boot tops
With belt
With latex crown
With metal brooch
Without shoes
Material
100% polyester
You may also like:
Royal Honor Medallion
Jewelry
14,90 €
Staff Pick
Pirate Pistol
Replica Weapon
44,90 €
Musketeer Boot Tops
Accessory
24,90 €
Long Hair strawberry
Wig
16,90 €
-8%
Sexy Dirndl Snow White
Costume
59,90 €
54,90 €
Buccaneer
Wig
24,90 €
-10%
Little Red Riding Hood
Costume
99,90 €
from 89,90 €
-33%
Sexy Queen
Costume
29,90 €
19,90 €
Buccaneer
Costume
99,90 €
-15%
Petticoat white short
Costume Part
19,90 €
16,90 €
-20%
Sexy Snow White
Costume
49,90 €
39,90 €
Your Favourite
-14%
Vixen Pirate
Costume
69,90 €
from 59,90 €
-42%
Sexy Miss Wonderland
Costume
59,90 €
34,90 €
Staff Pick
Kryolan Translucent Powder TL11
Make-up
16,90 €
-23%
Brocade Doublet "Henry VIII"
Costume Part
129,00 €
from 99,90 €
-33%
Wicked Queen
Costume
149,00 €
from 99,90 €
-14%
Sexy Little Red Riding Hood romantic
Costume
69,90 €
59,90 €
Peasant Shoes brown
Shoes
59,90 €
-8%
Crusader Knight
Costume
129,00 €
from 119,00 €
-25%
Princess Brunhild
Costume
79,90 €
59,90 €
Payment & Support
✓ Fast and secure payment
✓ Payment options incl. PayPal and invoice
✓ 24/7 service and ordering
Orders & Shipping
✓ Free of charge on orders of €30 or more within Germany
✓ We deliver worldwide
✓ Super speedy express shipping
Claims & Returns
✓ Free return shipping on orders of €40 or more within Germany
✓ 14 days right of return
✓ Easy and hassle-free
Reviews
Fairy Tale Prince Costume
(3)
5 out of 5 stars
back to top