Sold out
Don't be sad. You might like these alternatives: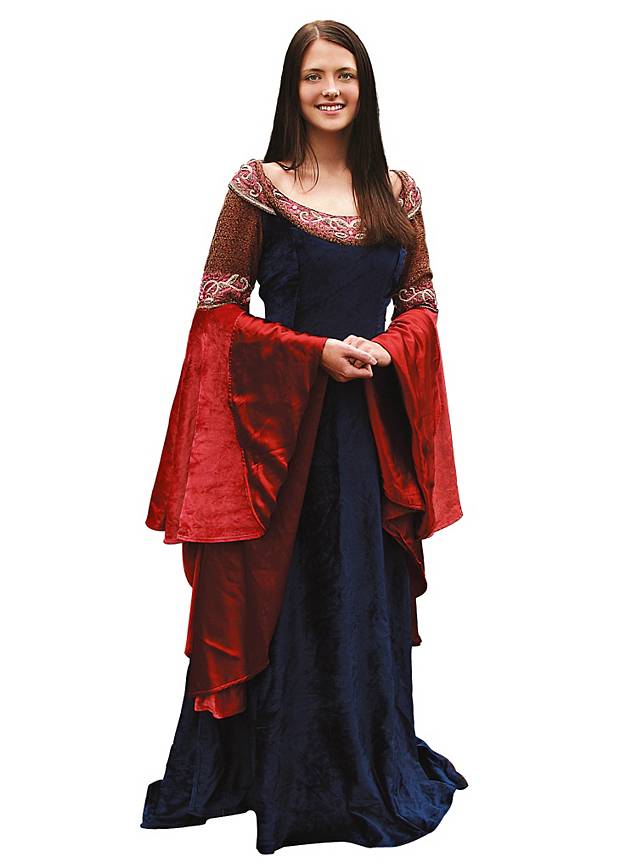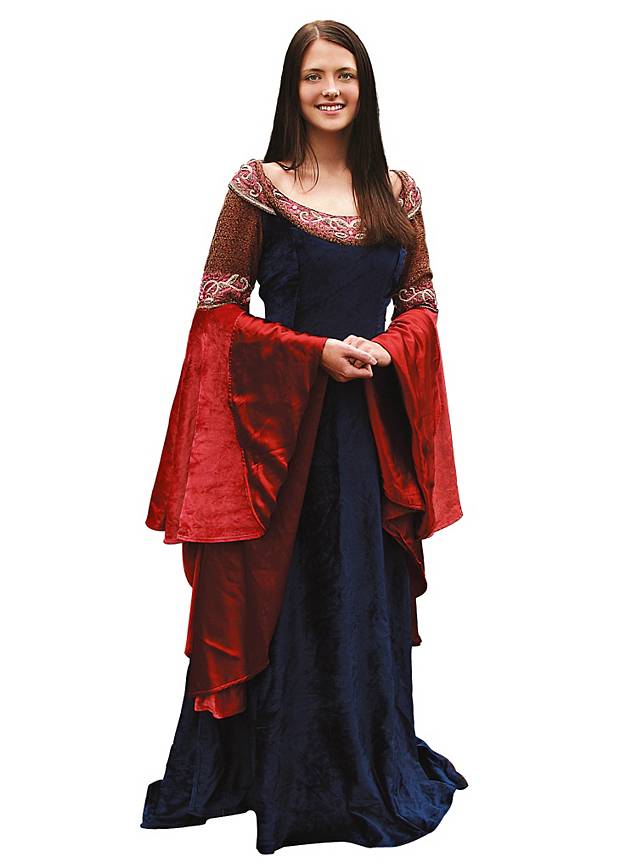 Elven Queen
Included in delivery
One richly embellished gown
No other accessories included
Product Description
This magnificent, houppelande gown has become essential garb for all real Elven Queens. The regal blue gown with coral sleeves is made of airy cotton velveteen. The narrow sleeves sweep into full red satin below the elbows. All of the rich, elaborate details are hand embroidered with bronze effect yarn. This Elven Queen gown laces up the back and has a splendid train.
One richly embellished gown
No other accessories included
Material
100% cotton; padding: 100% polyester
You may also like:
Robe - Sorcerer
Costume
139,00 €
-24%
Gothic Lady
Costume
119,00 €
from 89,90 €
Dress - Princess Berengaria
Costume
139,00 €
Elf Princess
Costume
99,90 €
Boot Tops
Accessory
24,90 €
-28%
Viking Princess
Costume
139,00 €
99,90 €
Dress - Kristina, red
Costume
79,90 €
-40%
Elves Princess
Costume
149,00 €
from 89,90 €
-13%
Vampire Fangs Classic
Teeth
14,90 €
12,90 €
-10%
Magician
Costume
99,90 €
from 89,90 €
Elves Ears
Ears
12,90 €
Wizard
Beard available in 6 colors
39,90 €
Princess
Wig
39,90 €
-38%
Medieval Lady
Costume
129,00 €
79,90 €
Sleeping Beauty
Costume
69,90 €
-25%
Elven Wedding Dress
Costume
199,00 €
149,00 €
Moon Elf Ears
Ears
14,90 €
Brush-On Mastix Spirit Gum
Special Effect
4,90 €
Mastix Spirit Gum Remover
Special Effect
4,90 €
-33%
Black Fairy
Costume
59,90 €
from 39,90 €
Wood Elf Ears
Ears
12,90 €
High Elf Ears
Ears
12,90 €
Payment & Support
✓ Fast and secure payment
✓ Payment options incl. PayPal and invoice
✓ 24/7 service and ordering
Orders & Shipping
✓ Free of charge on orders of €30 or more within Germany
✓ We deliver worldwide
✓ Super speedy express shipping
Claims & Returns
✓ Free return shipping on orders of €40 or more within Germany
✓ 14 days right of return
✓ Easy and hassle-free
(7)
4.4 out of 5 stars
verified purchase

Gorgeous, authentic replica of Arwen's 'blood red dress'. Very well-made product. You can't see in the photo, but the dress is very fitted through the hip. Please note it is also MUCH shorter in the front than it looks in the photo. I am 5'8" (172cm) an
back to top