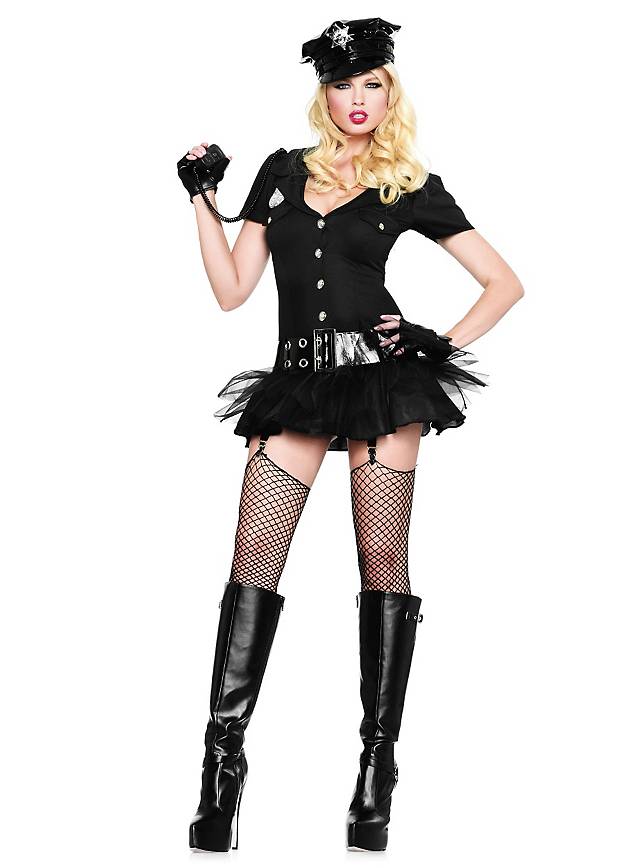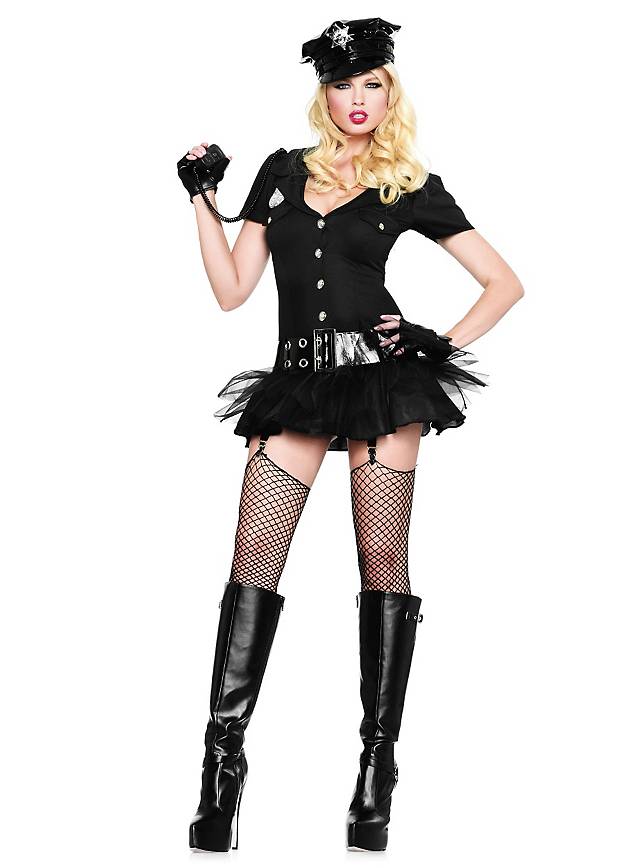 Sexy Police Constable Costume
Included in delivery
Sexy costume, 3-piece
With dress
With walkie talkie
With belt
Without hat, gloves and stockings
Product Description
Police constables are there to uphold law and order. Although a lady police constable could do it just as well, because in our 4-piece Sexy Police Constable costume she would cut a much better figure.
This pillar of the community is wearing a black stretch dress with shapely princess seams, puffy short sleeves, and a very flirtatious skirt. Two perky layers of black net are gathered to the seam at the drop waist. They cover a third layer of stiff, black cloth that is sewn to puff out and lift the net. Practical, elastic garters are sewn to the waist seam at the front and back. The neckline and collar are cut to reveal lots of chest. Four silver buttons fasten the dress at the front, and two smaller silver buttons hold down the breast pocket flaps that are for decoration only. A gleaming plastic police badge is sewn to the dress above the right pocket flap. A shiny patent leather belt with metal grommets and a metal buckle and a plastic walkie-talkie that clips to the belt add the final touch that keeps everything orderly.
Material
100% polyester
You may also like:
Fishnet stockings
Accessory
9,90 €
Police hat
Accessory
9,90 €
-14%
Sexy Policeman
Costume
69,90 €
59,90 €
-25%
Policewoman
Costume
79,90 €
from 59,90 €
Platform Boots with Zipper black
Shoes
59,90 €
-20%
Sunglasses "Cop"
Accessory
9,90 €
7,90 €
Handcuffs
Accessory
4,90 €
-10%
Net stockings black
Accessory
9,90 €
8,90 €
-17%
Sequined Police Hat
Accessory
29,90 €
24,90 €
-12%
Police Badge Necklace
Jewelry
16,90 €
14,90 €
Wallet with Police Badge
Jewelry
12,90 €
Fishnet Stockings with Garter Belt black
Accessory
14,90 €
Whistle
Accessory
2,90 €
SWAT Club
Toy Weapon
4,90 €
Payment & Support
✓ Fast and secure payment
✓ Payment options incl. PayPal and invoice
✓ 24/7 service and ordering
Orders & Shipping
✓ Free of charge on orders of €30 or more within Germany
✓ We deliver worldwide
✓ Super speedy express shipping
Claims & Returns
✓ Free return shipping on orders of €40 or more within Germany
✓ 14 days right of return
✓ Easy and hassle-free
Reviews
Sexy Police Constable Costume
(3)
4.3 out of 5 stars
back to top