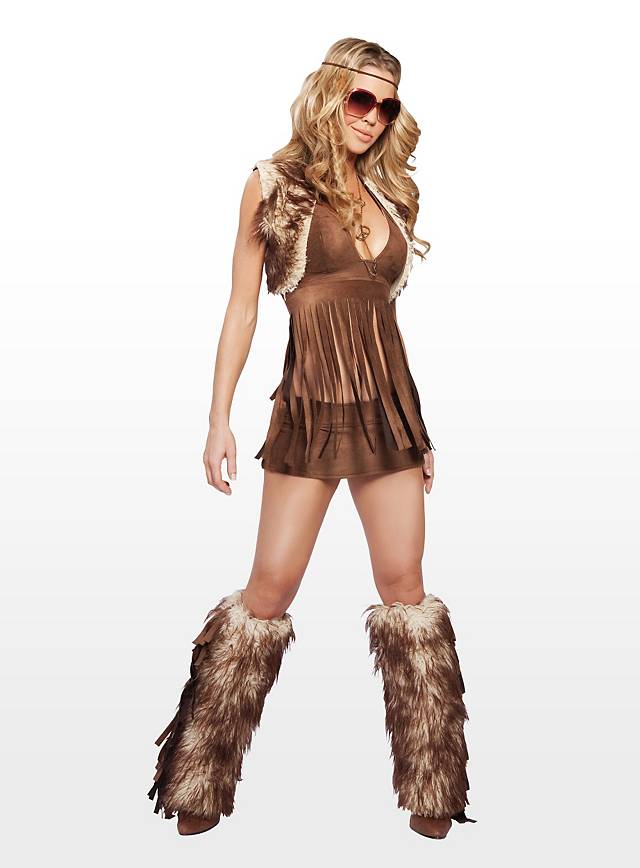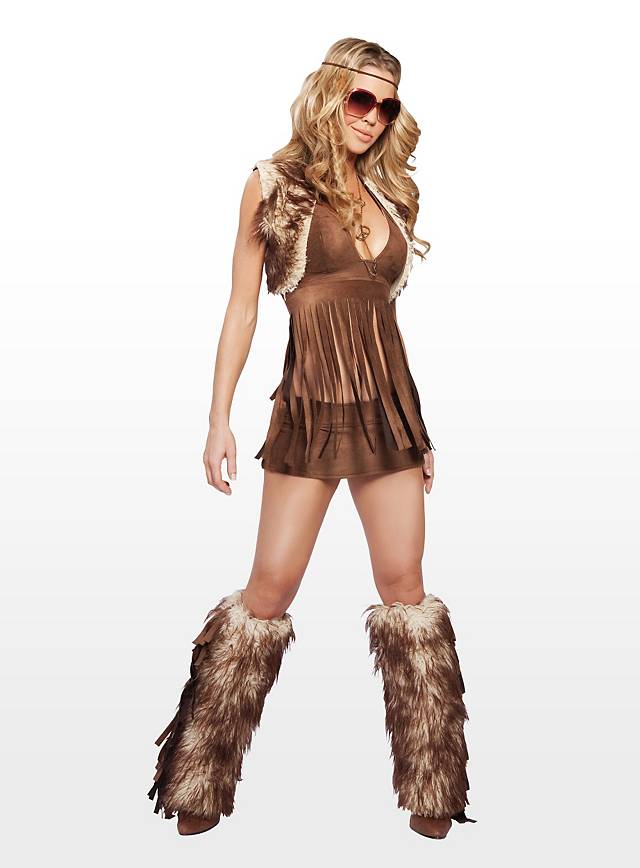 Sexy Hippie Queen Costume
Included in delivery
Costume, 5-piece
With fringed bikini top
With shaggy vest
With leg warmers
With micro mini skirt
Without any other costume pieces or accessories shown
Product Description
"Oh Lord, won't you buy me this sexy costume?" hippie queen Janis Joplin might have howled. Because our Sexy Hippie Queen costume has what it takes to rule the Love Generation.
From top to bottom: a bikini top in lightweight, slightly stretchy imitation suede that ties at the nape of the neck and the back. The approx. 34 cm long fringe swings around the entire width. With a suede look back and long white & brown fake fur front panels, the short,shaggy vest is begging to be stroked. In matching brown stretch imitation suede, the micro mini skirt has a wide waistband and is cut to flare. At the bottom, matching shaggy, white & brown fake fur leg warmers pull the outfit together. They have fringe down the side, and are elasticized at the top to stay in place.
PLEASE NOTE: The leg warmers may be more or less brown than the ones shown.
Costume, 5-piece
With fringed bikini top
With shaggy vest
With leg warmers
With micro mini skirt
Without any other costume pieces or accessories shown
Material
85% polyester, 15% elastane
You may also like:
Platform Boots with Zipper white
Shoes
59,90 €
Peace Pendant with Chain
Jewelry
6,90 €
Retro Boots Stretch Vinyl yellow
Shoes
54,90 €
-50%
Sexy GoGo Girl
Costume
39,90 €
from 19,90 €
Blonde Angel
Wig
49,90 €
-10%
The King's 70's Shades
Accessory
9,90 €
8,90 €
Retro Boots Stretch Vinyl white
Shoes
54,90 €
Hippie Hairband
Accessory
7,90 €
Jewellery Set Hippie
Jewelry
6,90 €
Payment & Support
✓ Fast and secure payment
✓ Payment options incl. PayPal and invoice
✓ 24/7 service and ordering
Orders & Shipping
✓ Free of charge on orders of €30 or more within Germany
✓ We deliver worldwide
✓ Super speedy express shipping
Claims & Returns
✓ Free return shipping on orders of €40 or more within Germany
✓ 14 days right of return
✓ Easy and hassle-free
Reviews
Sexy Hippie Queen Costume
(2)
4.5 out of 5 stars
back to top