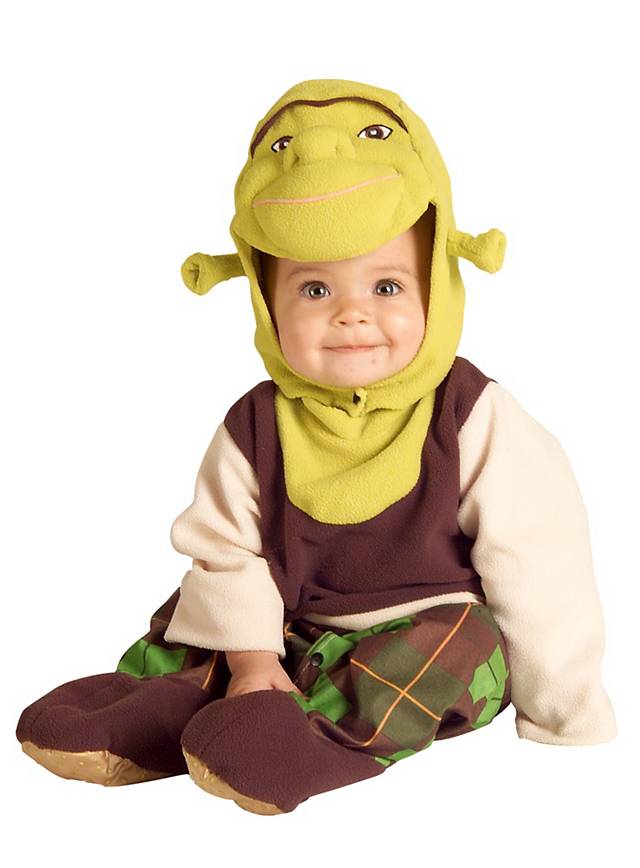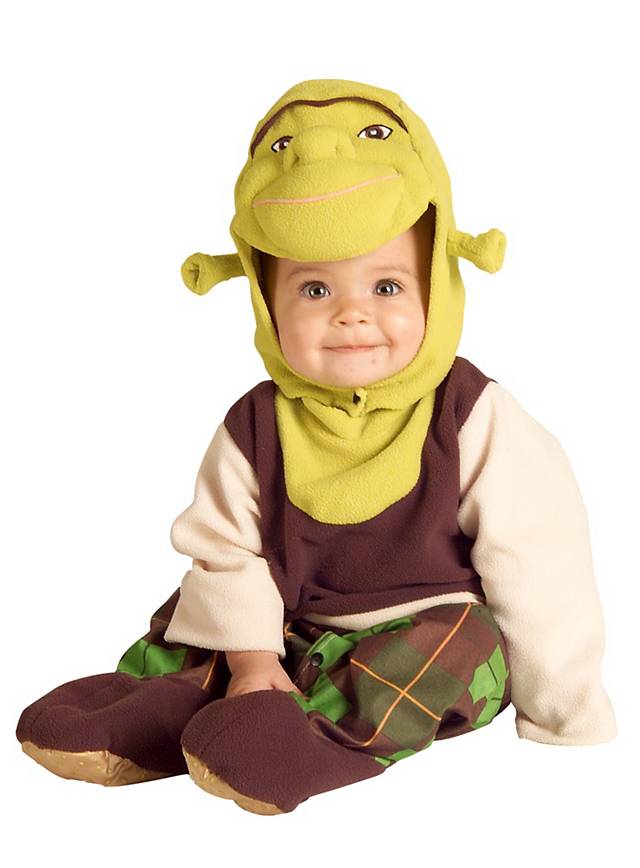 Shrek Shrek Infant Costume
Included in delivery
Costume, 2-piece
With suit with snap fasteners
With cap with snap fastener
Product Description
A sweet, sunny ogre. Does that sound like a paradox? No, of course not. Because the green offspring of Shrek and Princess Fiona was sweet enough to eat – and once you've put your child into this costume, he or she will be too!
This 2-piece Ogre costume for babies consists of a soft, long-sleeve suit with snap fasteners at the back, non-slip cloth soles, practical snap fasteners between the legs and a Shrek head cap that also fastens with snap fasteners. The suit is a real material and color mix: the hero's brown vest, beige shirt and green neck are offset by shiny, Argyle-patterned trousers. The vest ties at the top with matching brown ties.
The only thing that's missing is the enchanted forest.
PLEASE NOTE: The vest differs from the one shown. It is attached at the side seams only and ties at the top.
Costume, 2-piece
With suit with snap fasteners
With cap with snap fastener
Material
100% polyester
You may also like:
-10%
Original Batman
Kids Costume
49,90 €
44,90 €
Bear
Baby Costume
64,90 €
Aladin
Kids Costume
59,90 €
Buccaneer
Kids Costume
54,90 €
Double Layer Petticoat
Costume Part
19,90 €
-8%
Chimp
Baby Costume
59,90 €
from 54,90 €
-57%
Sexy Eskimo brown
Costume
69,90 €
29,90 €
-57%
Koala
Baby Costume
69,90 €
from 29,90 €
Pirate Lady
Wig
29,90 €
-33%
Sexy Warrior Princess
Costume
59,90 €
from 39,90 €
-50%
Gangster
Kids Costume
59,90 €
from 29,90 €
Circle Lenses black
3-Month Lenses
19,90 €
-50%
Sexy Charleston white
Costume
79,90 €
39,90 €
Scream
Mask
14,90 €
Sexy Milk Maid
Costume
59,90 €
-33%
White Bunny
Costume
59,90 €
39,90 €
-33%
Ninja
Kids Costume
59,90 €
39,90 €
-56%
Sequin Shoes silver
Shoes
44,90 €
from 19,90 €
-20%
Dronkey
Baby Costume
24,90 €
19,90 €
Payment & Support
✓ Fast and secure payment
✓ Payment options incl. PayPal and invoice
✓ 24/7 service and ordering
Orders & Shipping
✓ Free of charge on orders of €30 or more within Germany
✓ We deliver worldwide
✓ Super speedy express shipping
Claims & Returns
✓ Free return shipping on orders of €40 or more within Germany
✓ 14 days right of return
✓ Easy and hassle-free
back to top