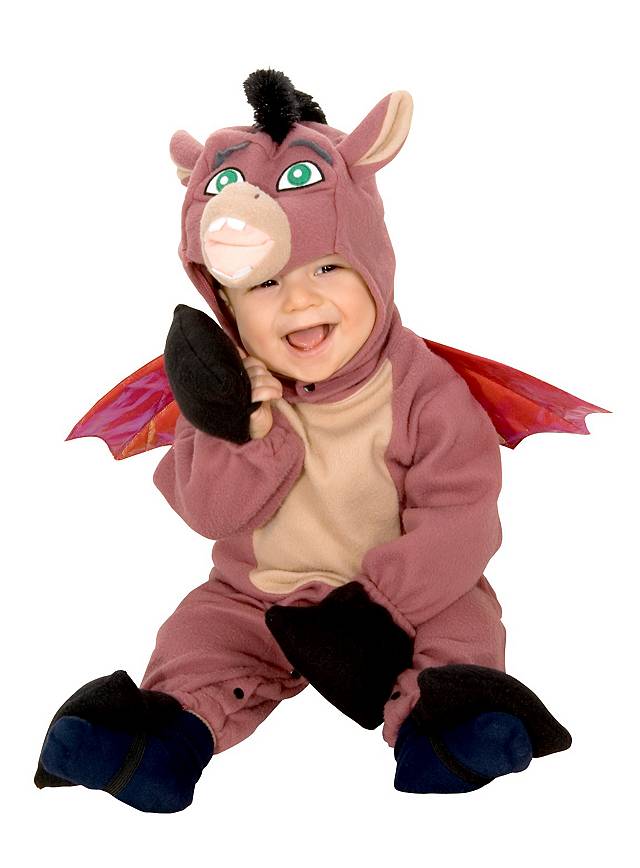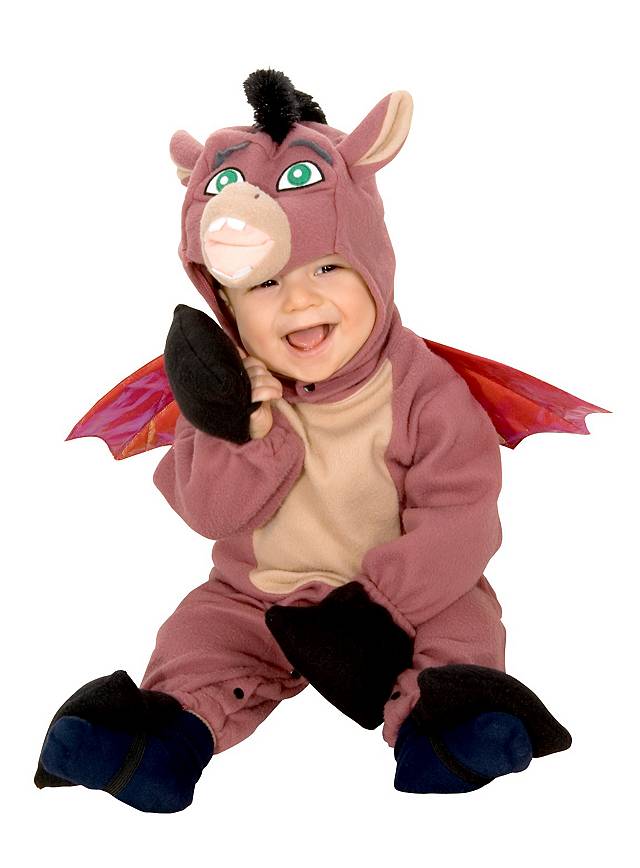 Dronkey Shrek Infant Costume
Included in delivery
Costume, 2-piece
With suit with snap fasteners
With cap with hook and loop fastener
With cloth bootees
Product Description
What do you call the cute, fire-breathing offspring of the dragon and donkey, the unusual couple from the popular Shrek films? Dronkey, of course!!
This 2-piece, cuddly soft Original Shrek Dronkey costume for babies consists of a long-sleeve suit with snap fasteners at the back, practical snap fasteners between the legs, and a cap that closes with snap fasteners as the dronkey's head. The shimmering pink dragon's wings and soft dragon's tail at the back are adorable details, and just what you'd expect from a dronkey. The four dronkey feet slip onto hands and feet with elastic bands so they are easy to put on and are comfortable to wear.
In our Original Shrek Dronkey costume for babies, your kids won't be able to breathe fire but they will brighten up your day.
Costume, 2-piece
With suit with snap fasteners
With cap with hook and loop fastener
With cloth bootees
Material
100% polyester
You may also like:
Al Capone Shoes
Shoes
54,90 €
-13%
Wild West Lady Bandit
Costume
79,90 €
from 69,90 €
-40%
Sexy Snow White
Costume
49,90 €
from 29,90 €
Handcuffs
Accessory
4,90 €
-66%
Cleopatra
Costume
119,00 €
from 39,90 €
-29%
Maidservant
Costume
69,90 €
49,90 €
-8%
Chimp
Baby Costume
59,90 €
from 54,90 €
-39%
Two Front (Special Item)
Accessory
12,90 €
7,90 €
-13%
Western Girl
Costume
79,90 €
69,90 €
-64%
Gangster Dress
Costume
69,90 €
24,90 €
-40%
Miss Dracula
Costume
49,90 €
from 29,90 €
-9%
Zombie Doctor
Costume
54,90 €
49,90 €
Gangster Net Stockings
Accessory
14,90 €
Supergirl
Baby Costume
29,90 €
Shrek
Baby Costume
24,90 €
-25%
Shrek Princess Fiona
Costume
79,90 €
59,90 €
Payment & Support
✓ Fast and secure payment
✓ Payment options incl. PayPal and invoice
✓ 24/7 service and ordering
Orders & Shipping
✓ Free of charge on orders of €30 or more within Germany
✓ We deliver worldwide
✓ Super speedy express shipping
Claims & Returns
✓ Free return shipping on orders of €40 or more within Germany
✓ 14 days right of return
✓ Easy and hassle-free
Reviews
Dronkey Shrek Infant Costume
(1)
5 out of 5 stars
back to top