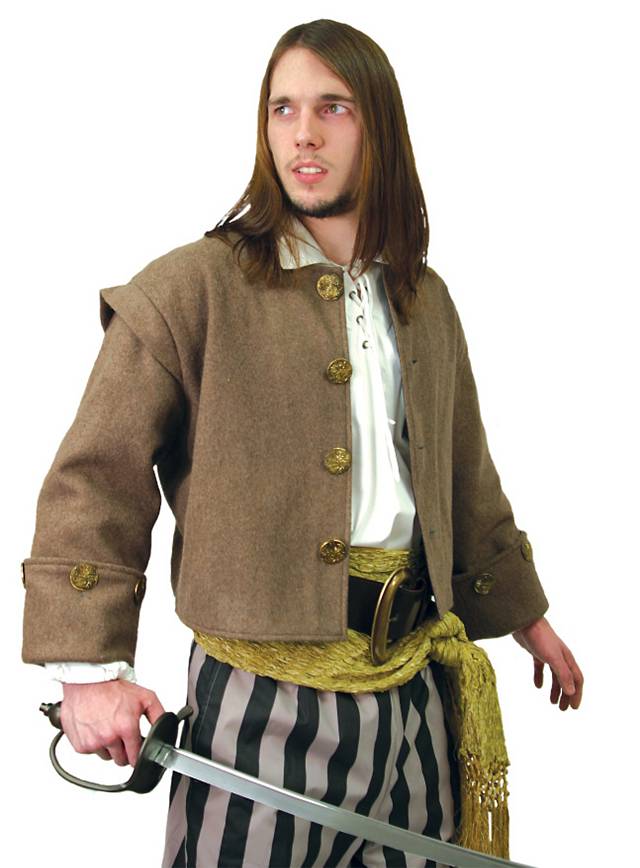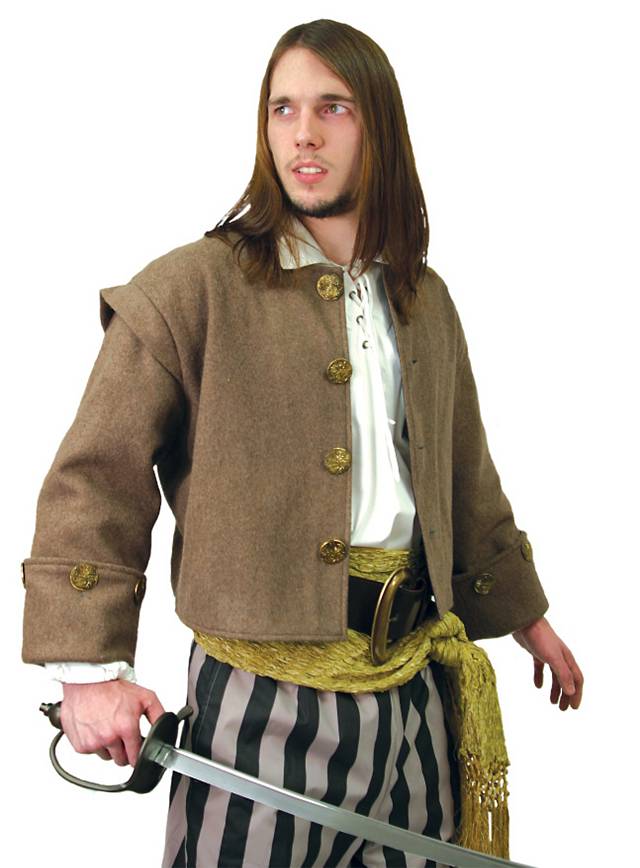 Jacket - Ernando
Whether as a sailor or pirate jacket. With Ernando you cut an apperance on deck.
Included in delivery
Jacket - Ernando, 1-piece
Without any other costume pieces shown
Product Description
In the Jacket - Ernando, whether you're sailing the seas or swashbuckling on land you will look like an authentic pirate. This square-cut jacket with 3/4 sleeves, shoulder wings and wide cuffs gives you plenty of room to swing your sword arm and it is robust enough to resist the freshest sea breeze. The large round metal buttons at the front and on the cuffs look like they've weathered many an escapade.
Care tip: dry clean
Jacket - Ernando, 1-piece
Without any other costume pieces shown
Material
69% wool, 19% polyester, 7% polyamid, 5% acrylic, padding: 100% polyester
You may also like:
Pirate Sash gold
Accessory
34,90 €
Pirate Boots Men black
Shoes
79,90 €
-14%
Pirate Sash burgundy
Accessory
34,90 €
29,90 €
Pirate Bandanna
Accessory
7,90 €
Frock - Silver, grey
Costume Part
from 139,00 €
Musketeer Boot Tops
Accessory
24,90 €
Pirate Pistol
Replica Weapon
44,90 €
Tricorn Hat brown with gold trim
Accessory
from 29,90 €
Medieval Half-Boots
Shoes
69,90 €
Medieval Shirt
Costume Part
from 29,90 €
-40%
Chevalier's Knee Breeches
Costume Part
49,90 €
from 29,90 €
Brocade Waistcoat
Costume Part
159,00 €
-7%
Sexy Frigate Commander
Costume
139,00 €
from 129,00 €
Historical Buckle Shoes
Shoes
49,90 €
Nobles Shirt black
Costume Part
59,90 €
Breeches
Costume Part
29,90 €
-14%
Pirate Shirt
Costume Part
34,90 €
from 29,90 €
-33%
Colonial Military Overcoat
Costume Part
149,00 €
99,90 €
-9%
Pirate Bandana
Accessory
32,90 €
from 29,90 €
Boot Tops
Accessory
24,90 €
-25%
Sailor's trousers striped - Johnny
Costume Part
39,90 €
29,90 €
Pirate Boots Men brown
Shoes
79,90 €
-33%
Poet Shirt black
Costume Part
59,90 €
from 39,90 €
Payment & Support
✓ Fast and secure payment
✓ Payment options incl. PayPal and invoice
✓ 24/7 service and ordering
Orders & Shipping
✓ Free of charge on orders of €30 or more within Germany
✓ We deliver worldwide
✓ Super speedy express shipping
Claims & Returns
✓ Free return shipping on orders of €40 or more within Germany
✓ 14 days right of return
✓ Easy and hassle-free