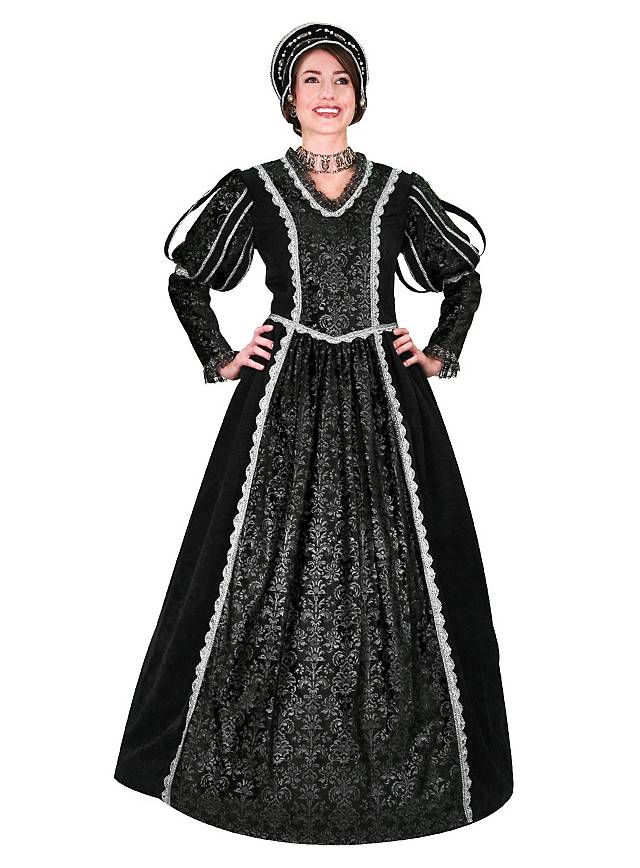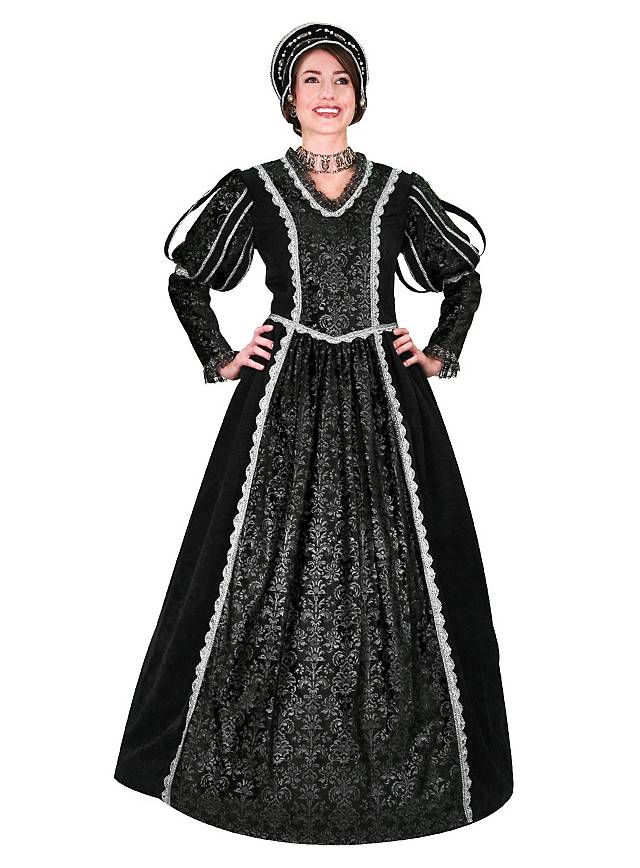 Costume - Lady Anne Boleyn
Princess dress of the Renaissance for queen or noble lady in the style of Tudor Queen Anne Boleyn.
Included in delivery
Costume - Lady Anne Boleyn
Product Description
Anne Boleyn, the second wife of King Henry VIII, is not only known for her refusal to give herself to the king as a mistress. Above all, her ambition and self-confidence made her a fascinating historical personality.
The elaborately crafted, one-piece dress made of black cotton velvet captivates with its simple elegance. A special weaving technique gives the back and sides of the fabric a smoother surface, which is contrasted by the sleeves and the opening on the front. Here the velvety shine of the cotton comes to full bloom and is also printed with a rich floral pattern. The neckline, longitudinal dart and waist are lined with a silver-coloured sequined border that provides a noble sheen. The black and silver stripes on the upper arm are extremely striking and the frills on the collar and cuffs have their own special charm. The costume - Anne Boleyn is laced on the back for the optimal fit and is worn in combination with a crinoline, best to show off.
Material
100% cotton
You may also like:
Medieval tights man black
Costume Part
39,90 €
-11%
Mozart
Wig
44,90 €
39,90 €
Goddess
Costume
69,90 €
-20%
Shirt - Lorenzo
Costume Part
49,90 €
39,90 €
Sleeping Beauty
Costume
69,90 €
Monk's habit - Dominus, brown
Costume
119,00 €
Long Hair blond
Wig
16,90 €
-13%
Devil's Bride
Costume
149,00 €
from 129,00 €
-11%
Gipsy Queen
Wig
44,90 €
39,90 €
-6%
Venetian Lord
Costume
169,00 €
159,00 €
-20%
Madame Pompadour
Wig
49,90 €
39,90 €
Crinoline
Costume Part
74,90 €
Medieval Half-Boots
Shoes
69,90 €
Pearl Medallion
Jewelry
14,90 €
Leather Cavalier Hat
Accessory
89,90 €
-30%
Leather Boots "King"
Shoes
99,90 €
from 69,90 €
-20%
Baroque
Wig
49,90 €
39,90 €
Ruby Medallion
Jewelry
14,90 €
Tabard - Musketeer
Costume Part
129,00 €
-16%
Prince Doublet
Costume Part
119,00 €
from 99,90 €
Payment & Support
✓ Fast and secure payment
✓ Payment options incl. PayPal and invoice
✓ 24/7 service and ordering
Orders & Shipping
✓ Free of charge on orders of €30 or more within Germany
✓ We deliver worldwide
✓ Super speedy express shipping
Claims & Returns
✓ Free return shipping on orders of €40 or more within Germany
✓ 14 days right of return
✓ Easy and hassle-free
Reviews
Costume - Lady Anne Boleyn
(4)
4.3 out of 5 stars
back to top