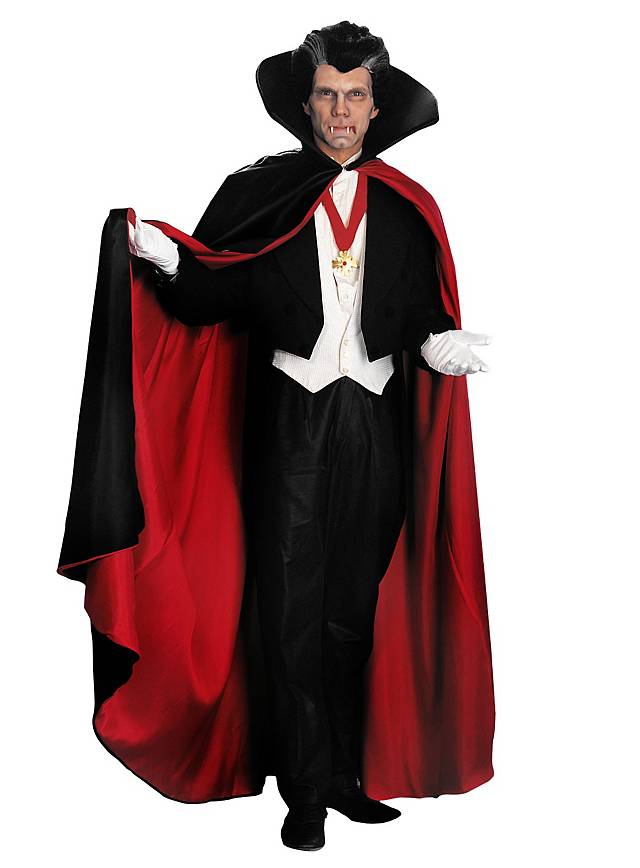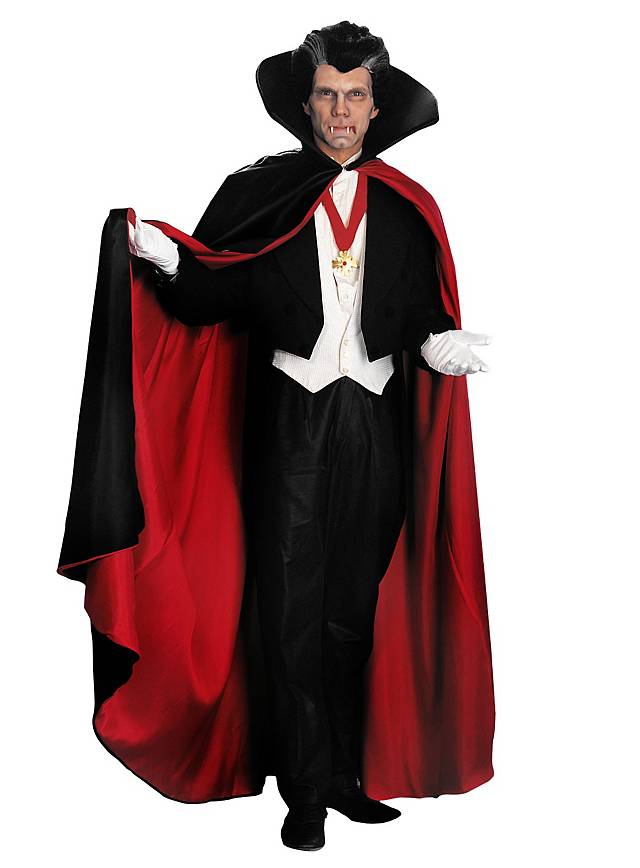 Vampire Cape Deluxe
Included in delivery
Vampire cape, 1-piece
PLEASE NOTE: The satin lining of this deluxe Vampire Cape is purple, NOT blood red as shown here.
Product Description
When they have the choice, vampires wrap themselves in high quality fabric so they can move in the best circles when the mood strikes them. With our 2-layer deluxe vampire cape, you will also be a welcome guest at the receptions and opera balls of the underworld. The mystically shimmering cape is made of black satin and has a fully lined collar that stands up for a very authentic effect. A Gothic-style patterned loop fastens the billowing cape at the throat. The cape is lined with purple satin to provide opulent volume and pleasant warmth. It's hard to keep warm when there is no blood of your own coursing through your veins.
Length: 140 cm (measured from the shoulder); collar height: 20 cm; collar width: 48 cm
Material
100% polyester
You may also like:
Queen of Black Hearts
Costume
29,90 €
Hand Fan black
Accessory
9,90 €
-17%
Postilion Hat
Accessory
29,90 €
24,90 €
Staff Pick
Kryolan Eye Shadow black
Make-up
5,90 €
Werewolf Hands gray
Accessory
44,90 €
Spray-on Blood
Special Effect
8,90 €
Your Favourite
-13%
Morticia
Costume
79,90 €
69,90 €
Alice in Wonderland White Rabbit
Accessory
29,90 €
UV Hair & Body Spray white
Make-up
6,90 €
Hair Spray White
Make-up
2,90 €
Colombina Liscia black
Mask
29,90 €
-29%
Conjurer Lady
Costume
69,90 €
49,90 €
Your Favourite
Mastix Spirit Gum Remover
Special Effect
4,90 €
-25%
Demon
12-Month Lenses
19,90 €
14,90 €
Staff Pick
Make-Up Sponge circle
Make-up
1,50 €
Your Favourite
-13%
Vampire
Costume
149,00 €
from 129,00 €
Vampire Cape
Costume Part
49,90 €
Your Favourite
Brush-On Mastix Spirit Gum
Special Effect
4,90 €
Your Favourite
Make-Up Foundation white
Make-up
3,90 €
Vampire Fangs Chrome
Teeth
14,90 €
Your Favourite
-43%
Theatre Blood
Special Effect
6,90 €
3,90 €
Payment & Support
✓ Fast and secure payment
✓ Payment options incl. PayPal and invoice
✓ 24/7 service and ordering
Orders & Shipping
✓ Free of charge on orders of €30 or more within Germany
✓ We deliver worldwide
✓ Super speedy express shipping
Claims & Returns
✓ Free return shipping on orders of €40 or more within Germany
✓ 14 days right of return
✓ Easy and hassle-free
back to top