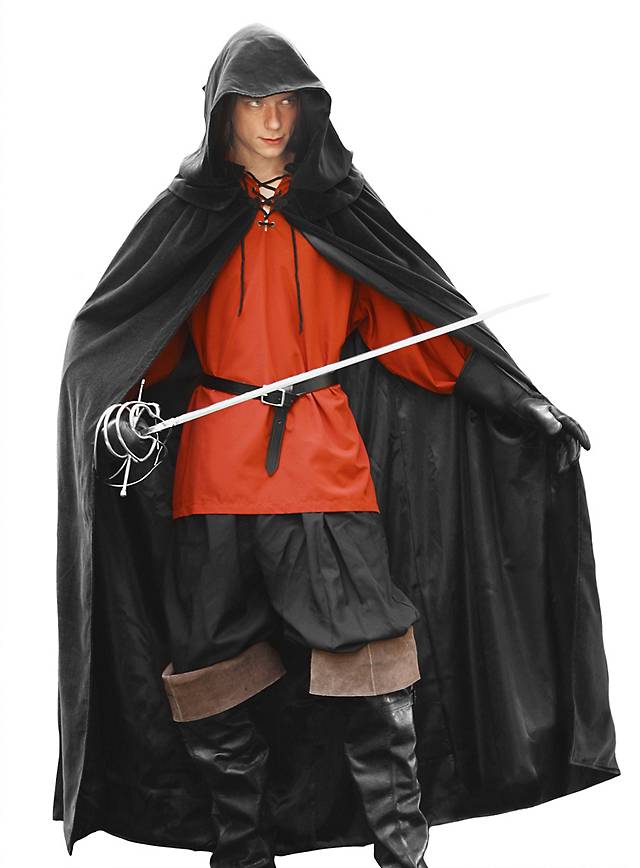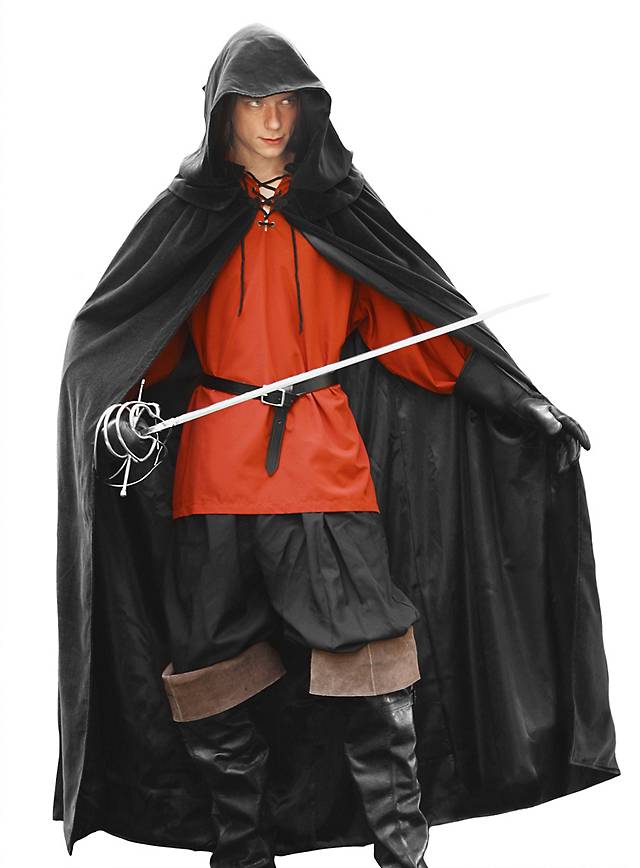 Cloak - Malatesta, black
Included in delivery
Cloak - Malatesta, black, 1-piece
Without any other costume pieces or accessories shown
Product Description
With our cloak - Malatesta, black, you will be able to transform into the legendary malefactor of your choice – at least on the outside. The long cape (approx. 156 cm from the shoulder seam to the hem) is completely lined in smooth black satin. It has an elasticized neckline that gives the collar a dramatic ruffle. The attached hood is very deep and also completely lined. A decorative, black frog closure fastens the cape at the throat. Of course other beings – even ones that are out to do good – will wear our cloak - Malatesta, black to advantage. Your fantasy is unlimited!
Cloak - Malatesta, black, 1-piece
Without any other costume pieces or accessories shown
Material
100% cotton; padding: 100% polyester
You may also like:
Phantom black
Mask
59,90 €
Fingerless Lace Mesh Gloves
Accessory
8,90 €
Staff Pick
-17%
Volto 1/2 bianco 1/2 nero
Mask
59,90 €
from 49,90 €
Satin Gloves black
Accessory
7,90 €
Staff Pick
Colombina scacchi oro cuoio musica
Mask
34,90 €
Carnival in Venice
Costume Part
99,90 €
Gloves white
Accessory
3,90 €
Venetian Coat black
Costume Part
49,90 €
Long Petticoat
Costume Part
34,90 €
Clone Trooper "Fox"
Kids Costume
69,90 €
Staff Pick
Colombina veluto bianco oro
Mask
49,90 €
Staff Pick
Kryolan Eyelash Adhesive
Eyelashes
6,90 €
-13%
Toy Story Buzz Lightyear
Costume
79,90 €
69,90 €
-23%
Dairymaid
Costume
129,00 €
from 99,90 €
Colombina Liscia black
Mask
29,90 €
Staff Pick
Kryolan Fixation Lacquer
Make-up
16,90 €
Colombina Stella
Mask
49,90 €
Lace Fan
Accessory
12,90 €
Velvet Cape Venetian Lady
Costume Part
99,90 €
Pirate Boots Men black
Shoes
79,90 €
Staff Pick
Colombina nera
Mask
29,90 €
Vampire Fangs Classic
Teeth
14,90 €
Payment & Support
✓ Fast and secure payment
✓ Payment options incl. PayPal and invoice
✓ 24/7 service and ordering
Orders & Shipping
✓ Free of charge on orders of €30 or more within Germany
✓ We deliver worldwide
✓ Super speedy express shipping
Claims & Returns
✓ Free return shipping on orders of €40 or more within Germany
✓ 14 days right of return
✓ Easy and hassle-free
back to top