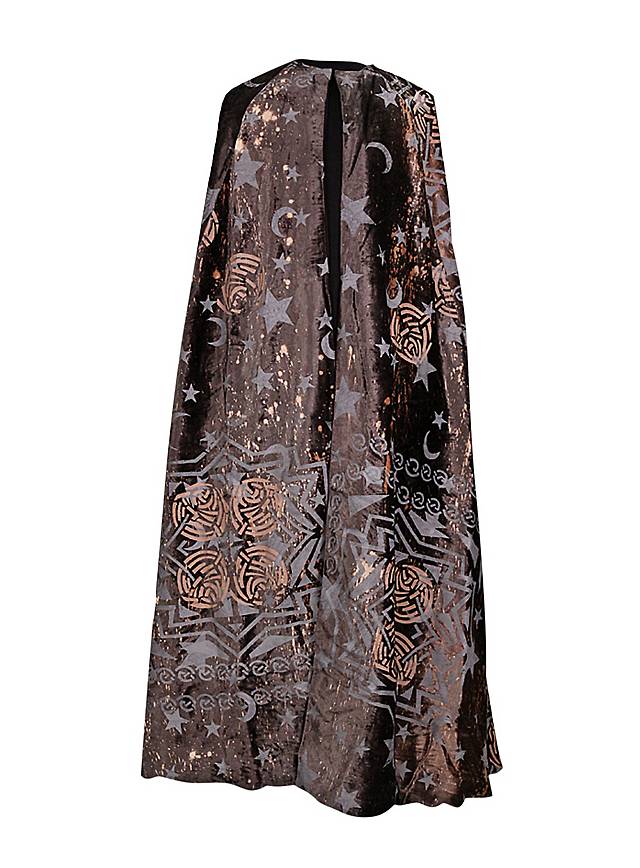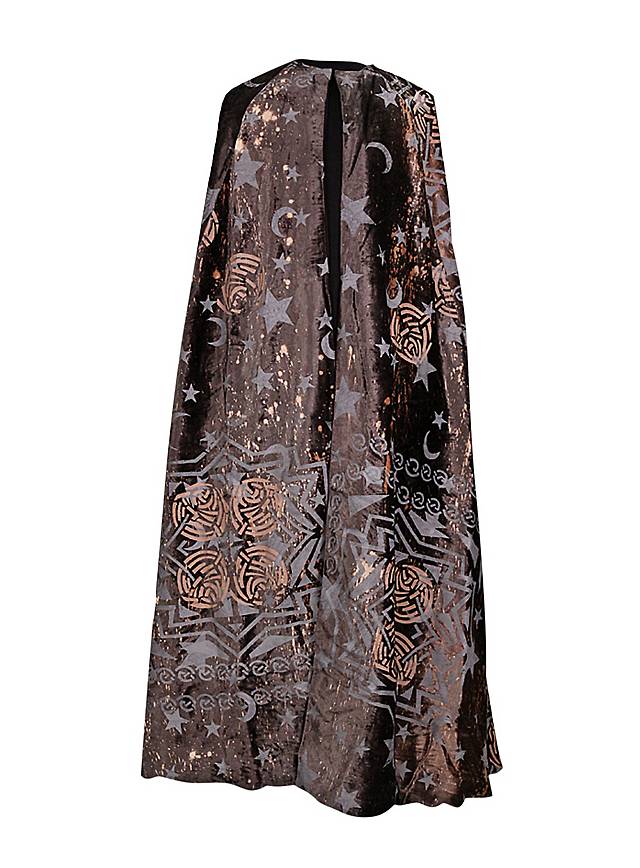 Harry Potter Cloak of Invisibility
Original, licensed costume reproduction from the Harry Potter movie series
Included in delivery
Harry Potter Cloak of Invisibility, 1-piece
Without any other garb or accessories shown
Product Description
Original, licensed costume reproduction from the Harry Potter film series. Made of smooth velveteen and hand printed with magical symbols. Lined with shiny satin, a splendid cloak for all Muggles interested in magic!
What did you get for Christmas last year? Harry Potter ended up with the best present of all: a cloak of invisibility! Our original, licensed Harry Potter Cloak of Invisibility is an exact costume reproduction from the film series. it is a cloak of magical beauty, but we cannot guarantee that it will make you invisible. Actually, this cloak is too splendid to entirely disappear from view!
It was made from meters and meters of 100 percent cotton velveteen in shadowy gray. The soft outer surface has a metallic shimmer and is painted with a variety of magical symbols. Stars, moons and other symbols in silver and gold are painted onto the cloak by hand. This makes each Harry Potter Cloak of Invisibility a one-of-a-kind piece. The lining shines in elegant black satin, and a hook at the throat makes sure that you will be able to close this cloak of invisibility. Simply throw it around your shoulders and transform from a Muggle into a magician in the wink of an eye!
Harry Potter Cloak of Invisibility, 1-piece
Without any other garb or accessories shown
Material
100% cotton; padding: 100% polyester
You may also like:
-14%
Vampire Countess
Costume
219,00 €
from 189,00 €
-21%
Sissi
Costume
189,00 €
from 149,00 €
Witch Shoes black
Shoes
44,90 €
Harry Potter Robe Gryffindor
Costume Part
149,00 €
-17%
Magician
Beard
29,90 €
24,90 €
Stovepipe Hat black
Accessory
69,90 €
Cowboy Boots Men black
Shoes
79,90 €
-11%
Schoolgirl Pumps black
Shoes
44,90 €
39,90 €
Large Ruby Ring
Jewelry
14,90 €
Death Eater Skull Wand Character Edition
Accessory
34,95 €
Harry Potter Death Eater Trousers
Costume Part
54,90 €
-14%
Harry Potter Hogwarts Skirt gray
Costume Part
69,90 €
from 59,90 €
Harry Potter
Costume
49,90 €
Harry Potter Wand and Glasses
Accessory
19,90 €
Harry Potter Sweater Slytherin with Tie
Costume Part
69,90 €
Payment & Support
✓ Fast and secure payment
✓ Payment options incl. PayPal and invoice
✓ 24/7 service and ordering
Orders & Shipping
✓ Free of charge on orders of €30 or more within Germany
✓ We deliver worldwide
✓ Super speedy express shipping
Claims & Returns
✓ Free return shipping on orders of €40 or more within Germany
✓ 14 days right of return
✓ Easy and hassle-free
back to top