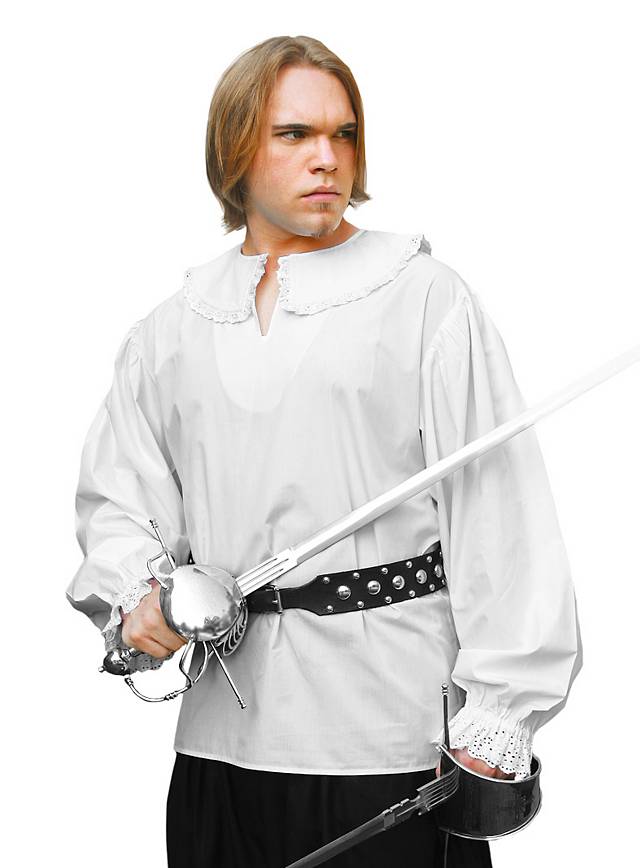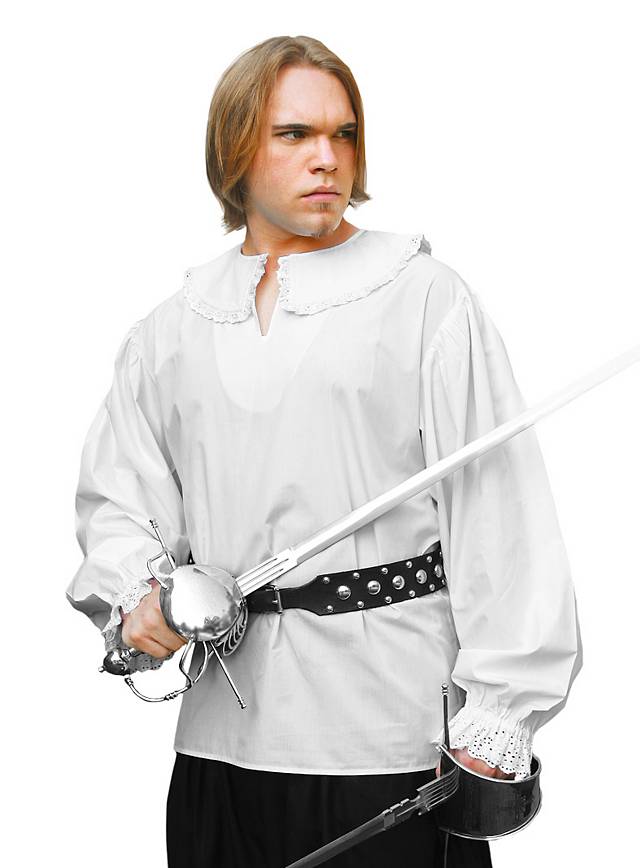 Shirt - Musketeer
Included in delivery
Musketeer shirt, 1-piece
Without belt or dagger
Product Description
Musketeers are the embodiment of honorable attributes like valor, bravery, and loyalty. And they hit it off quite well with the ladies. They say the shirt makes the man – and this lightweight Musketeer Shirt in noble white adds a flourish to any figure. The broad cavalier collar trimmed with white eyelet lace and the hip-length shirt has a simple slit at the neckline for easy access. The extra-wide sleeves have elasticized cuffs trimmed with white eyelet lace to give you freedom of movement when fencing. One for all and all for one!
Musketeer shirt, 1-piece
Without belt or dagger
Material
70% polyester, 30% cotton
You may also like:
Leather tricorn hat - Hawkins
Accessory
89,90 €
Your Favourite
-67%
Luxurious Pirate
Costume
89,90 €
from 29,90 €
-8%
Traditional Chemise
Costume Part
64,90 €
59,90 €
-16%
Dress - Queen Elisabeth I.
Costume
119,00 €
from 99,90 €
-25%
Floppy Hat
Accessory
39,90 €
29,90 €
Legwarmer pink glitter
Accessory
12,90 €
Knight
Beard available in 6 colors
39,90 €
-23%
Musketeer Athos
Costume
129,00 €
99,90 €
Your Favourite
Brush-On Mastix Spirit Gum
Special Effect
4,90 €
Tabard - Musketeer, red
Costume Part
129,00 €
King Arthur
Costume
from 219,00 €
Renaissance shirt long
Costume Part
39,90 €
-38%
Fencing Master's Sleeve Shirt
Costume Part
39,90 €
from 24,90 €
Royal Musketeer
Costume
249,00 €
Knee Socks
Accessory
9,90 €
Suede Leather Gloves black
Accessory
29,90 €
-25%
Musketeer Suede Leather Boots black
Shoes
199,00 €
149,00 €
Historical Buckle Shoes
Shoes
49,90 €
Musketeer Boot Tops
Accessory
24,90 €
Musketeer Hat
Accessory
29,90 €
Medieval Shirt
Costume Part
from 29,90 €
Leather gloves - Tristan
Accessory
49,90 €
Musketeer Boots Men black
Shoes
89,90 €
Breeches
Costume Part
29,90 €
Payment & Support
✓ Fast and secure payment
✓ Payment options incl. PayPal and invoice
✓ 24/7 service and ordering
Orders & Shipping
✓ Free of charge on orders of €30 or more within Germany
✓ We deliver worldwide
✓ Super speedy express shipping
Claims & Returns
✓ Free return shipping on orders of €40 or more within Germany
✓ 14 days right of return
✓ Easy and hassle-free