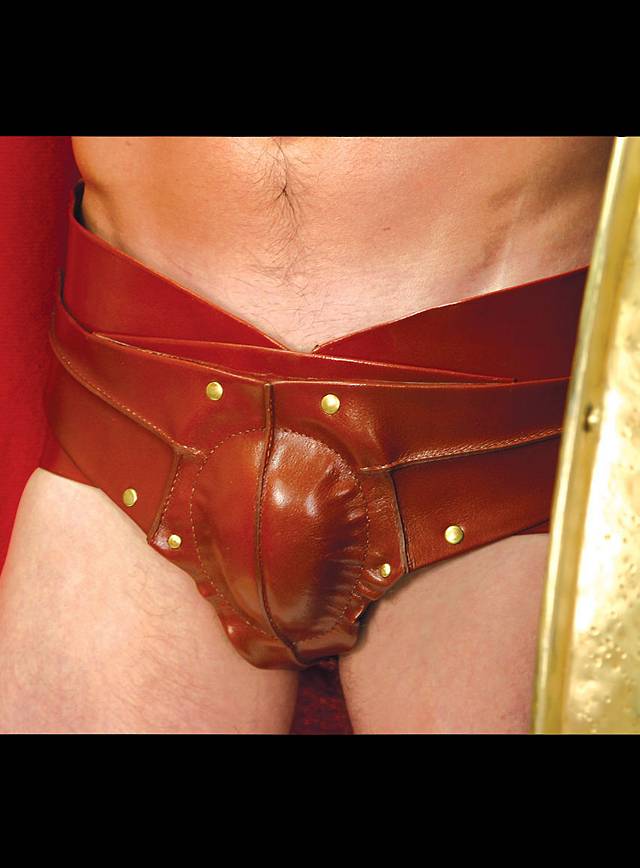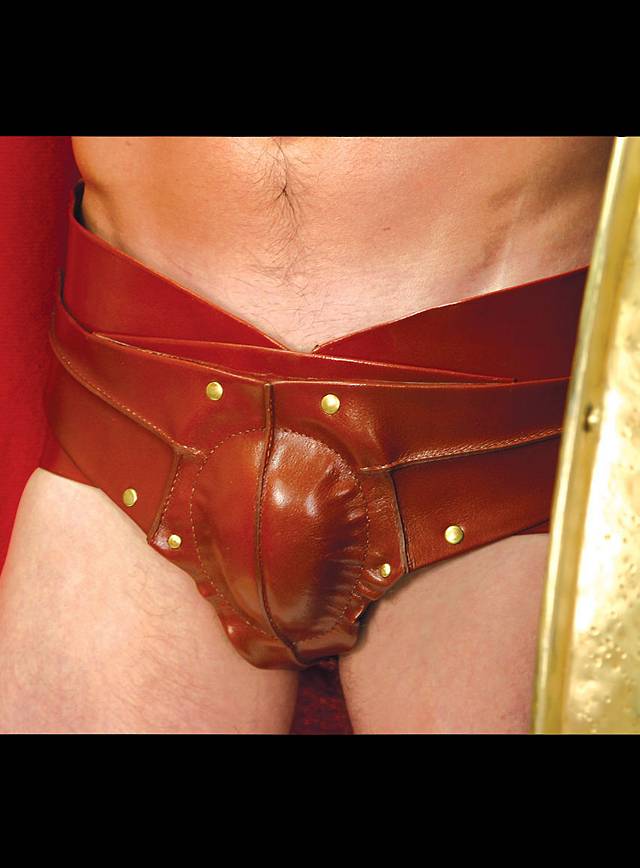 Frank Miller's 300 Spartan Leather Briefs Costume
Included in delivery
Original Frank Miller's 300 Spartan leather briefs in brown
Product Description
The term "Spartan" is a perfect description for these fantasy leather briefs. On the one hand, because their scant cut and its focus are very obvious. On the other, because this is exactly the type of leather contraption a real Spartan would have used to "gird his loins" for battle. In any case, they are a licensed, accurate replica of the leather briefs the Spartans wore in Frank Miller's "300."
To wear the leather briefs, pull the side straps through the loops at the back like a belt and close them with snap fasteners. Our leather briefs adjust to a variety of widths, so you don't have to be as fit as a Spartan to wear them. The wide straps at the sides also increase your wearing comfort. A cup-like codpiece is attached to protect your crown jewels during LARP battles. The cut and style of these leather briefs also make them ideal for use in fantasy costumes!

PLEASE NOTE: The color differs from the one shown. The leather is not reddish brown, but cool brown instead.
Original Frank Miller's 300 Spartan leather briefs in brown
Material
Genuine leather
You may also like:
-11%
Mail gauntlets - Knight
Accessory
89,90 €
79,90 €
Gorilla Hands
Accessory
34,90 €
Witch Broom
Accessory
11,90 €
-34%
Knife Cuts
Special Effect
14,90 €
9,90 €
-28%
Leather tunic - Primus
Costume Part
139,00 €
99,90 €
Bracers - Hadubrand black
Armor Piece
24,90 €
-38%
Roman sandals - Marius
Shoes
79,90 €
from 49,90 €
-9%
Tunic - Legionnaire
Costume Part
54,90 €
from 49,90 €
Leather Armband - Adventurer
Jewellery
14,90 €
Colombina Incognito brown
Mask
24,90 €
Avatar Neytiri
Costume
59,90 €
Gladiator Sandals brown
Shoes
69,90 €
Frank Miller's 300 Spartan Wolf's Tooth Necklace
Jewelry
19,90 €
Payment & Support
✓ Fast and secure payment
✓ Payment options incl. PayPal and invoice
✓ 24/7 service and ordering
Orders & Shipping
✓ Free of charge on orders of €30 or more within Germany
✓ We deliver worldwide
✓ Super speedy express shipping
Claims & Returns
✓ Free return shipping on orders of €40 or more within Germany
✓ 14 days right of return
✓ Easy and hassle-free
Reviews
Frank Miller's 300 Spartan Leather Briefs Costume
(2)
5 out of 5 stars
back to top