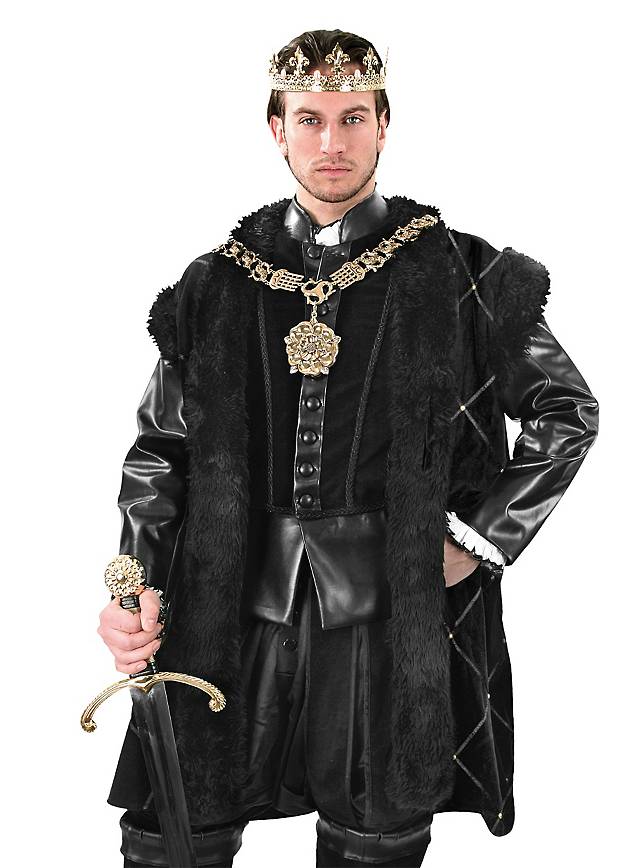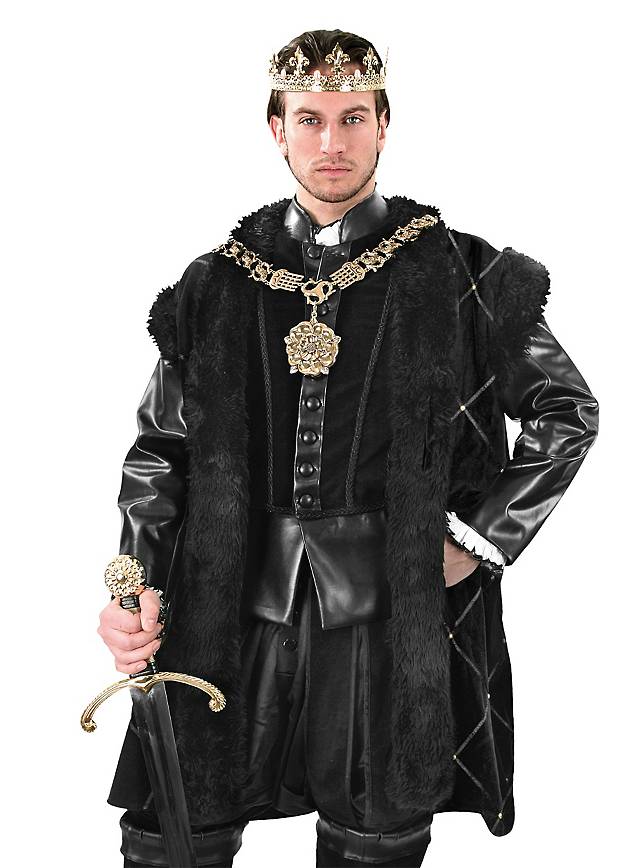 Velveteen Coat Henry VIII
Included in delivery
Velveteen coat Henry VIII, 1-piece
Without any other costume pieces or accessories shown
Product Description
Richly decorated, imposing Tudor-style velveteen coat! Splendid tone-in-tone Henry VIII velveteen coat with golden studs and generous fake fur trim. Fully lined in shining, black satin. Regal dazzle for all!
This imposing coat is made of soft, top quality black velveteen. A network of lozenges created by black satin ribbon with golden studs at the points adds a lustrous shine to the fabric. Lush fake fur trim decorates the arm holes of the sleeveless coat as well as the front opening and collar. Worn over a doublet, our Henry VIII velveteen coat in black creates the square silhouette popular in the Tudor era.
Since this velveteen coat was designed to be worn open, its wide cut and the generous amount of material that went into it create a truly royal look. It billows and sways like a luxury liner! Even the lining is radiant in black satin. Your royal highness can strut your stuff in this rich article of clothing. With the Velveteen Coat Henry VIII, you can radiate power and opulence.
Velveteen coat Henry VIII, 1-piece
Without any other costume pieces or accessories shown
Material
100% cotton; padding: 100% polyester
You may also like:
Breeches
Costume Part
29,90 €
Staff Pick
Lincoln
Beard available in 6 colors
29,90 €
Staff Pick
Sideburns
Beard available in 6 colors
16,90 €
-17%
Postilion Hat
Accessory
29,90 €
24,90 €
Sexy Cat Lady Hair Band
Accessory
14,90 €
Staff Pick
Steampunk Top Hat red
Accessory
49,90 €
Robin of Locksley Gambeson
Costume Part
119,00 €
1970s Hair black
Wig
19,90 €
Staff Pick
Top Hat grey
Accessory
44,90 €
Staff Pick
Tricorn Hat brown with gold trim
Accessory
29,90 €
Staff Pick
Tall Top Hat brown
Accessory
49,90 €
Knee Socks
Accessory
9,90 €
Shirt - Rio Grande, white
Costume Part
34,90 €
Gloves white
Accessory
3,90 €
Stovepipe Hat black
Accessory
69,90 €
King Arthur
Jewelry
99,90 €
Velvet Doublet "King Henry VIII"
Costume Part
139,00 €
Shirt - Lorenzo
Costume Part
49,90 €
Velvet Pants "King Henry VIII"
Costume Part
89,90 €
Payment & Support
✓ Fast and secure payment
✓ Payment options incl. PayPal and invoice
✓ 24/7 service and ordering
Orders & Shipping
✓ Free of charge on orders of €30 or more within Germany
✓ We deliver worldwide
✓ Super speedy express shipping
Claims & Returns
✓ Free return shipping on orders of €40 or more within Germany
✓ 14 days right of return
✓ Easy and hassle-free
back to top