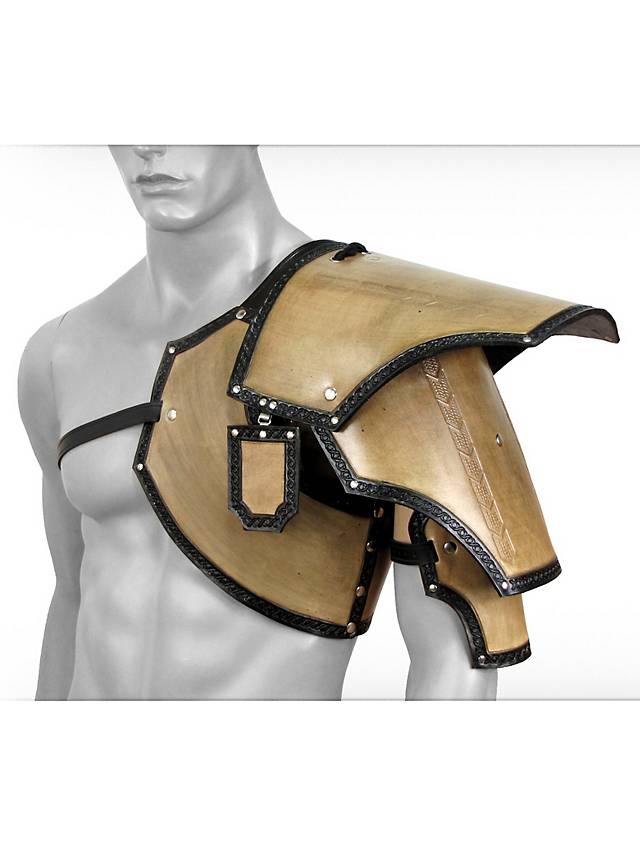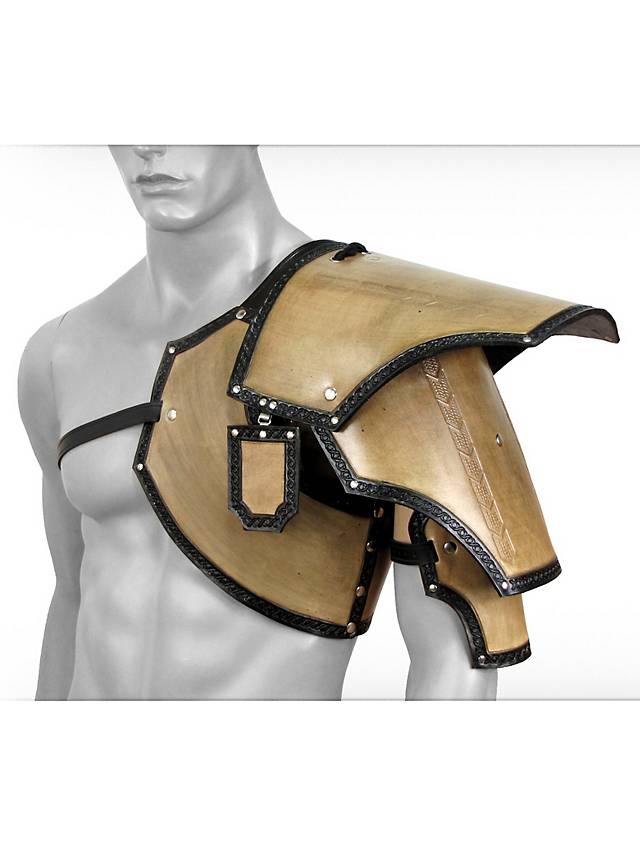 Leather pauldron - Dwarf, beige
Handcrafted, genuine leather LARP armor
Included in delivery
Leather pauldron - Dwarf, beige, 2-pieces
With chest guard
With shoulder guard
Without any other garb or accessories shown
Product Description
Our leather pauldron - Dwarf, beige is designed to protect one shoulder only. Dwarfs usually carry shields when they fight, so they may only need side and shoulder protection for their sword arm.
The articulated shoulder guard itself is made of three plates of 3-4 mm thick leather riveted together in shiny silver. The oak brown leather is stamped with an arrow pattern and has black borders with a stamped meander pattern. The bottom plate has a buckle and strap to fasten it to your upper arm, and the top plate fastens to the shoulder strap of the chest guard. A small leather shield is hinged to the shoulder guard to protect your heart.
The chest guard has a wide shoulder strap that laces together at the shoulder blade and a very long strap and buckle for transverse stability. This leather pauldron - Dwarf, beige provides a tone-in-tone leather accent for all earth- or forest-tone LARP clothing and adds protection to any battlefield.
Leather pauldron - Dwarf, beige, 2-pieces
With chest guard
With shoulder guard
Without any other garb or accessories shown
Material
Genuine leather
Payment & Support
✓ Fast and secure payment
✓ Payment options incl. PayPal and invoice
✓ 24/7 service and ordering
Orders & Shipping
✓ Free of charge on orders of €30 or more within Germany
✓ We deliver worldwide
✓ Super speedy express shipping
Claims & Returns
✓ Free return shipping on orders of €40 or more within Germany
✓ 14 days right of return
✓ Easy and hassle-free
back to top