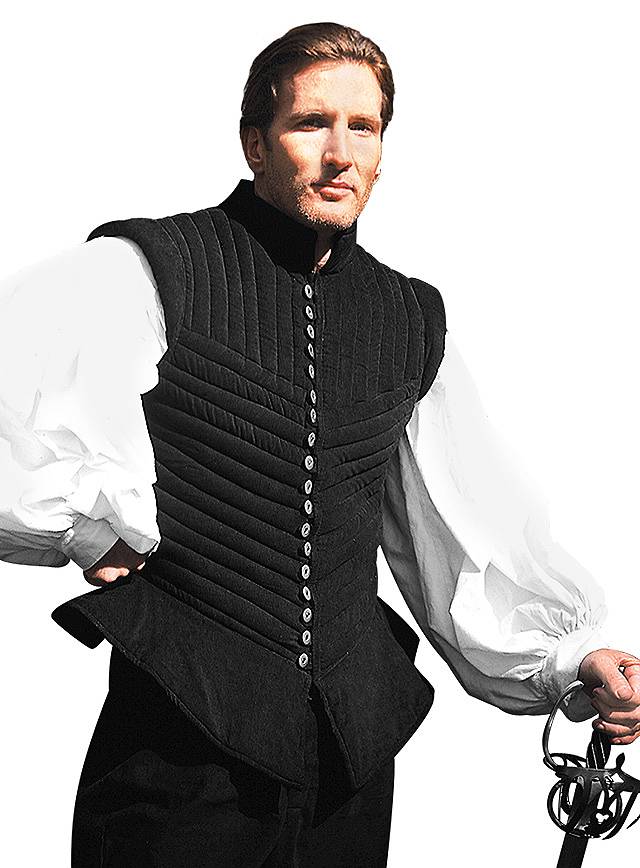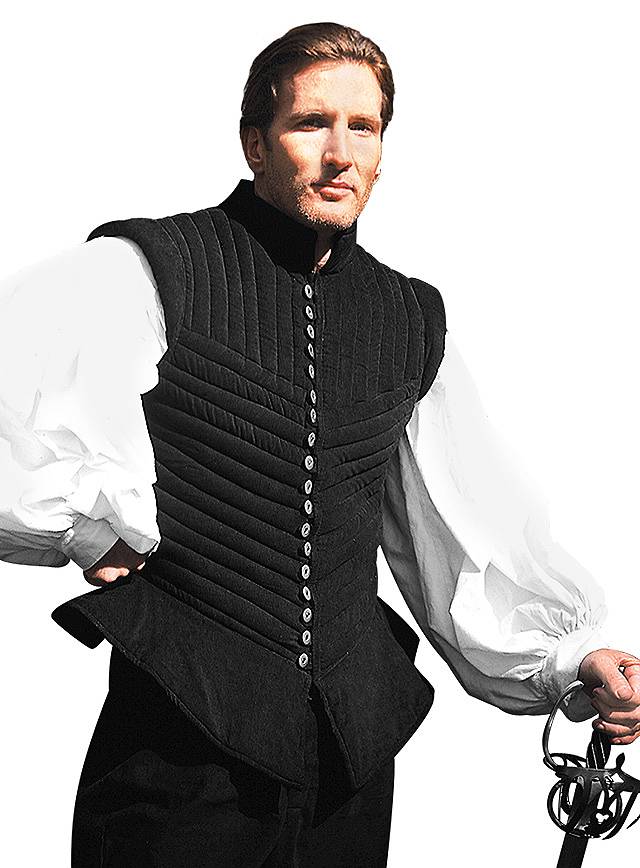 Quilted jerkin - Enrico
Padded doublet as a vest for fencing, for musketeers or noblemen.
Included in delivery
One quilted jerkin - Enrico
No other accessories included
Product Description
Knights originally wore jerkins as padding under their armor. Our Quilted Jerkin is ideal for this purpose. It is made of fine, 100 percent cotton ribbed velvet, which makes it especially soft and comfortable to wear. The row of buttons from the collar seam to the hips securely closes the jerkin in case you are caught unawares by a cold snap. The tailored cut also flatters a man's shape, which means that this Quilted Jerkin can also be worn without armor!
Material
100% cotton
You may also like:
Breeches
Costume Part
29,90 €
Staff Pick
Spanish Collar - Ruff
Accessory
69,90 €
Roughout Vest black
Costume Part
109,00 €
Musketeer Boot Tops
Accessory
24,90 €
Boot Tops
Accessory
24,90 €
Staff Pick
-11%
Mozart
Wig
44,90 €
39,90 €
-20%
Medieval Shirt black
Costume Part
24,90 €
19,90 €
Shirt - Ramius
Costume Part
34,90 €
Suede Leather Gloves black
Accessory
29,90 €
Velvet Pants "King Henry VIII"
Costume Part
89,90 €
Medieval Shirt
Costume Part
from 29,90 €
Medieval Half-Boots
Shoes
69,90 €
-20%
White Stockings
Accessory
9,90 €
7,90 €
Belt with double strap sword hanger
Accessory
54,90 €
Historical Buckle Shoes
Shoes
49,90 €
Leather gloves - Tristan
Accessory
49,90 €
-25%
Floppy Hat
Accessory
39,90 €
29,90 €
Knee Socks
Accessory
9,90 €
Shirt - Lorenzo
Costume Part
49,90 €
Pirate Shirt
Costume Part
34,90 €
-17%
Breeches burgundy
Costume Part
29,90 €
24,90 €
-14%
Arming cap - Erwin
Armor Piece
34,90 €
from 29,90 €
Viking Shoes black
Shoes
79,90 €
Payment & Support
✓ Fast and secure payment
✓ Payment options incl. PayPal and invoice
✓ 24/7 service and ordering
Orders & Shipping
✓ Free of charge on orders of €30 or more within Germany
✓ We deliver worldwide
✓ Super speedy express shipping
Claims & Returns
✓ Free return shipping on orders of €40 or more within Germany
✓ 14 days right of return
✓ Easy and hassle-free
Reviews
Quilted jerkin - Enrico
(1)
4 out of 5 stars
back to top