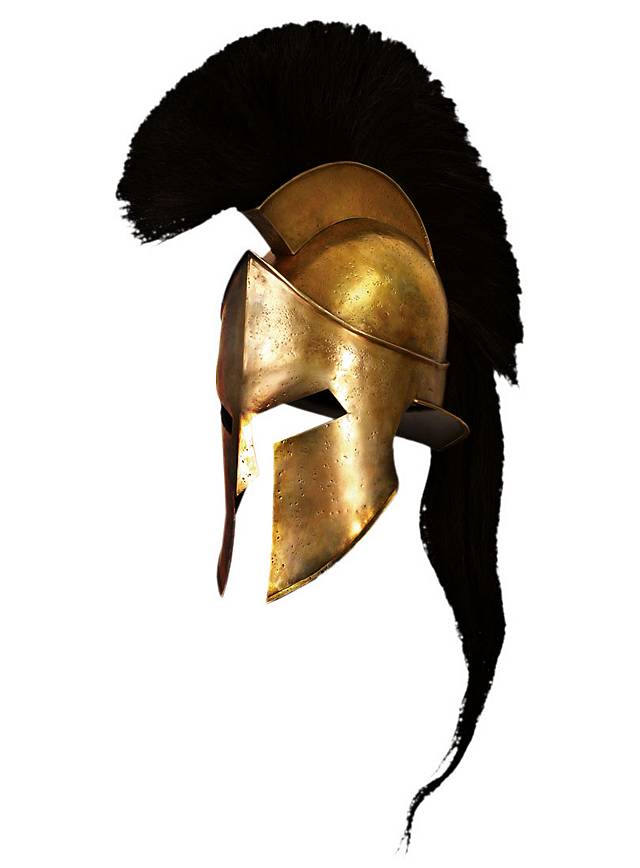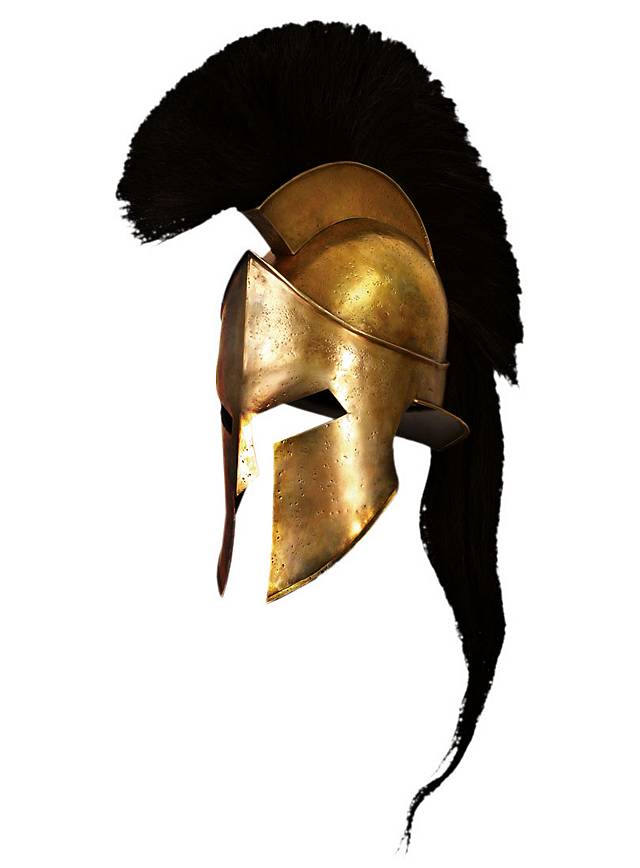 Frank Miller's 300 King Leonidas Helmet
Included in delivery
Original Frank Miller's 300 King Leonidas Helmet
With helmet stand (not shown)
Note
PLEASE NOTE: The crest is detachable. Its attached with screws.
Product Description
Frank Miller's blockbuster movie "300" held as steadily in the upper rank of the movie charts as the 300 Spartans did at Thermopylae. But if you were picking out the historical inaccuracies while watching this visually compelling, epic battle with the Persians, you didn't understand the movie's concept. "300" is not a historical documentation – it's a masterful adaptation of a comic book. Our aesthetically appealing replicas are the original licensed products to Frank Miller's "300." Of course with a certificate of authenticity!
Our "300" King Leonidas Helmet, which is based on Frank Miller's comic of the same name, is a replica of the one Gerard Butler wore when he played King Leonidas in the film. This impressive head protector is made of solid steel with a bronze alloy coating and fastens with a chin strap. The mighty crest made of real horsehair is fit for a king. The genuine leather lining make this King Leonidas Helmet comfortable to wear, and it comes with a helmet stand so you can proudly display it when you're not wearing it.
Material
Steel
You may also like:
Mortal Kombat Sub-Zero
Costume
79,90 €
-6%
Greaves - Leonidas
Armor Piece
159,00 €
149,00 €
Frank Miller's 300 Spartan Sword
Replica Weapon
199,00 €
Frank Miller's 300 Spartan Arm Guards
Armor Piece
89,90 €
-30%
Dragon Warrior
Armor
199,00 €
139,00 €
Mortal Kombat Scorpion
Costume
79,90 €
-14%
Spartan Sandals
Shoes
69,90 €
59,90 €
Scorpion Warrior
Costume
from 149,00 €
Short sword - Leonidas
Foam Weapon
69,90 €
Frank Miller's 300 Spartan Brooch round
Jewelry
24,90 €
Roman Helmet "Pretorian"
Helmet
369,00 €
Slasher
Mask
59,90 €
Frank Miller's 300 Spartan Helmet
Helmet
319,00 €
Frank Miller's 300 Spartan Wolf's Tooth Necklace
Jewelry
19,90 €
Spartan Necklace
Jewelry
24,90 €
-8%
Frank Miller's 300 Spartan Shield
Replica Weapon
359,00 €
329,00 €
-13%
Roman sandals - Marius
Shoes
79,90 €
from 69,90 €
Frank Miller's 300 Spartan
Costume
449,00 €
Payment & Support
✓ Fast and secure payment
✓ Payment options incl. PayPal and invoice
✓ 24/7 service and ordering
Orders & Shipping
✓ Free of charge on orders of €30 or more within Germany
✓ We deliver worldwide
✓ Super speedy express shipping
Claims & Returns
✓ Free return shipping on orders of €40 or more within Germany
✓ 14 days right of return
✓ Easy and hassle-free
Reviews
Frank Miller's 300 King Leonidas Helmet
(2)
5 out of 5 stars
back to top