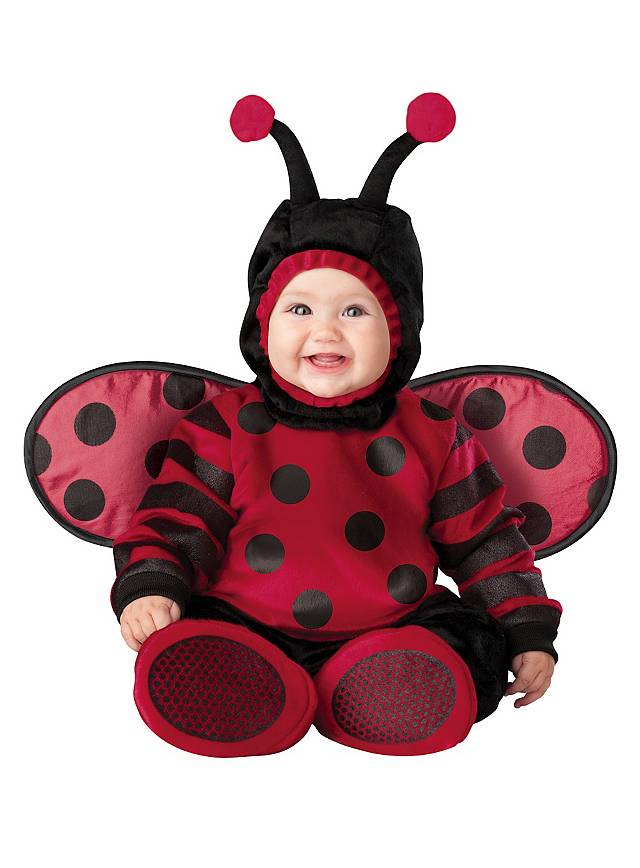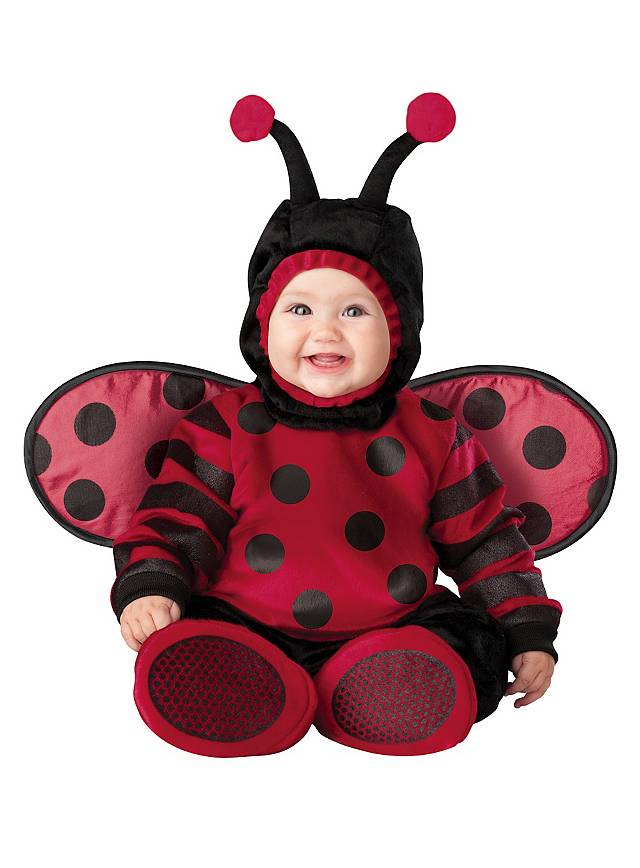 Spotted Bug
Included in delivery
Costume, 4-piece
With hood
With suit
With soft wings
With bootees
Product Description
You don't get to see a sweet spotted bug like this one every day! Baby spotted bug costume with suit, hood, and wings. Baby likes to dress up too.
Baby bugs are unable to do much more than crawl, hum and grumble – but they sure look sweet while doing it!
Our cuddly Spotted Bug baby costume consists of a 1-piece suit in plush black & red with a spotted tummy and striped sleeves. The baby Spotted Bug costume fastens at the back with a hook and loop strip and snaps at the crotch for easy access. The small, soft bootees are made to fit almost every shoe size and they even have an anti-slip sole. The hood with antennae ending in red pom poms encircles baby's face with soft elastic in a casing and fastens with a hook and loop strip at the chin. The wings in red metallic with black spots snap to the suit at the back.
Costume, 4-piece
With hood
With suit
With soft wings
With bootees
Material
100% polyester
You may also like:
-13%
Santa Claus deluxe
Costume
229,00 €
199,00 €
Short Petticoat purple
Costume Part
24,90 €
Kangaroo
Baby Costume
59,90 €
-50%
Monkey
Baby Costume
69,90 €
from 34,90 €
Circle Lenses blue
3-Month Lenses
19,90 €
-38%
Sexy Indian Warrior
Costume
79,90 €
49,90 €
-23%
Dino
Baby Costume
64,90 €
from 49,90 €
-66%
Princess
Costume
119,00 €
39,90 €
-8%
Chimp
Baby Costume
59,90 €
from 54,90 €
Geek Glasses
Accessory
8,90 €
-33%
Polar Bear
Baby Costume
59,90 €
39,90 €
-13%
Toy Story Buzz Lightyear
Costume
79,90 €
69,90 €
Geisha Umbrella
Accessory
14,90 €
-20%
Blonde Angel
Wig
49,90 €
39,90 €
Long Hair black
Wig
16,90 €
Sexy Dragonfly
Costume
89,90 €
Toy Story Buzz Lightyear
Kids Costume
49,90 €
aqua make-up White
Make-up
4,90 €
Gingerbread Man
Baby Costume
49,90 €
-50%
Original Scooby Doo
Kids Costume
59,90 €
29,90 €
Dollar Deluxe Medallion
Jewelry
12,90 €
-14%
Avatar Jake Sully
Costume
69,90 €
59,90 €
Honeybee
Baby Costume
49,90 €
Avatar Neytiri
Costume
59,90 €
Payment & Support
✓ Fast and secure payment
✓ Payment options incl. PayPal and invoice
✓ 24/7 service and ordering
Orders & Shipping
✓ Free of charge on orders of €30 or more within Germany
✓ We deliver worldwide
✓ Super speedy express shipping
Claims & Returns
✓ Free return shipping on orders of €40 or more within Germany
✓ 14 days right of return
✓ Easy and hassle-free