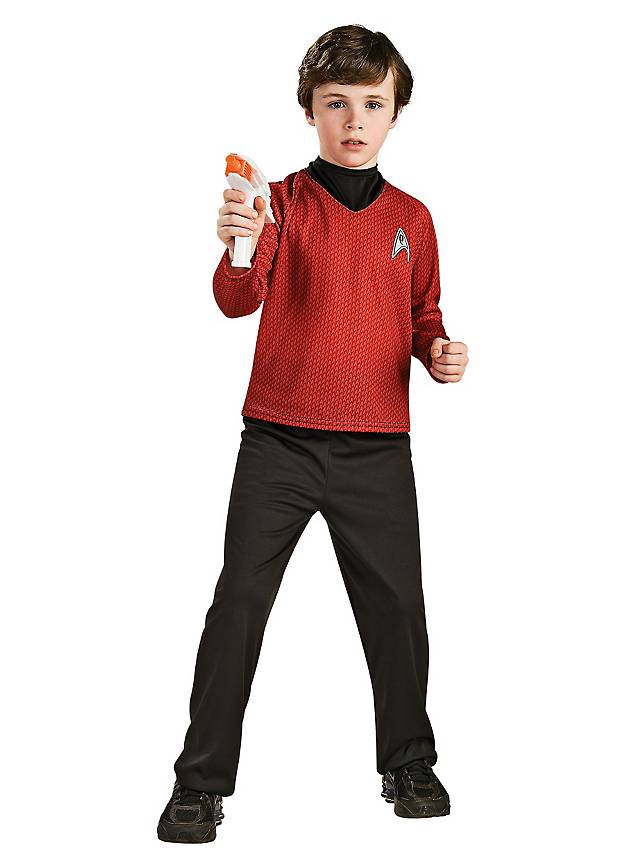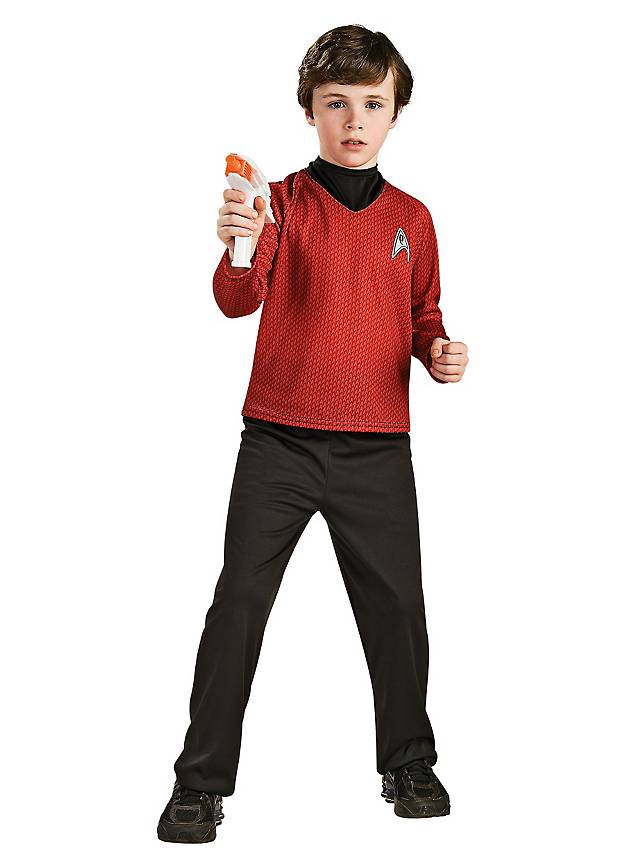 Original Star Trek Uniform red for Children
Included in delivery
Star Trek uniform, 2-piece
With long-sleeve top including embroidered emblem
With trousers including sewn-on boot tops
Without phaser
Product Description
Traditionally, technology, communication, security and data processing officers on the Enterprise wear red uniforms.
And this 1-piece stretch uniform top, part of our Star Trek uniform for children, is Star Trek red. This red Star Trek uniform bears the symbol of the Enterprise's Security and Technology department on the upper left, and the v-neckline has a sewn-in mock turtleneck collar offset in black. This red Star Trek Uniform top is printed in stripes formed by tiny delta logos, the sign of the Federation. The stretchy trousers with sewn-on boot tops are the finishing touch to this costume. Ideal for wearing when you're taking Romulans to the brig!
Star Trek uniform, 2-piece
With long-sleeve top including embroidered emblem
With trousers including sewn-on boot tops
Without phaser
Material
100% polyester
You may also like:
Tailcoat with Cummerbund
Costume Part
119,00 €
Alice in Wonderland
Kids Costume
39,90 €
Top Hat
Accessory
39,90 €
70's Platform Shoes Men silver
Shoes
69,90 €
-38%
Clone Trooper "Rex"
Kids Costume
79,90 €
from 49,90 €
Star Trek Spock
Baby Costume
29,90 €
Austin Powers
Teeth
19,90 €
Gloves white
Accessory
3,90 €
-25%
Original Star Trek Uniform gold
Kids Costume
39,90 €
from 29,90 €
Star Ears
Ears
12,90 €
Star Trek Next Generation Uniform gold
Costume
59,90 €
Star Trek Uniform blue
Costume
54,90 €
Star Trek Uniform gold
Costume
54,90 €
-17%
Star Trek Shirt classic gold
Costume
59,90 €
from 49,90 €
Star Trek Dress blue
Costume
59,90 €
-38%
Beatle
Wig
39,90 €
24,90 €
Wood Elf Ears
Ears
12,90 €
Star Trek Next Generation Uniform red
Costume
from 59,90 €
Star Trek Next Generation Jumpsuit red
Costume
69,90 €
Star Trek Dress red
Costume
69,90 €
-10%
Star Trek Uniform red
Costume
49,90 €
from 44,90 €
Star Trek Shirt classic red
Costume
69,90 €
-20%
Star Trek Dress red
Kids Costume
49,90 €
from 39,90 €
Stark Trek Type-2 Phaser
Toy Weapon
19,90 €
Payment & Support
✓ Fast and secure payment
✓ Payment options incl. PayPal and invoice
✓ 24/7 service and ordering
Orders & Shipping
✓ Free of charge on orders of €30 or more within Germany
✓ We deliver worldwide
✓ Super speedy express shipping
Claims & Returns
✓ Free return shipping on orders of €40 or more within Germany
✓ 14 days right of return
✓ Easy and hassle-free
Reviews
Original Star Trek Uniform red for Children
(2)
3.5 out of 5 stars
back to top