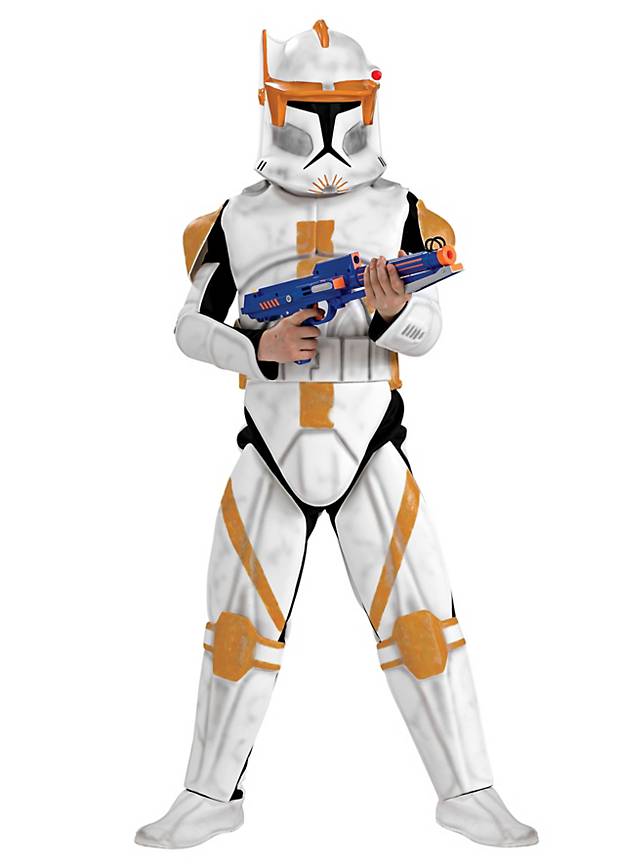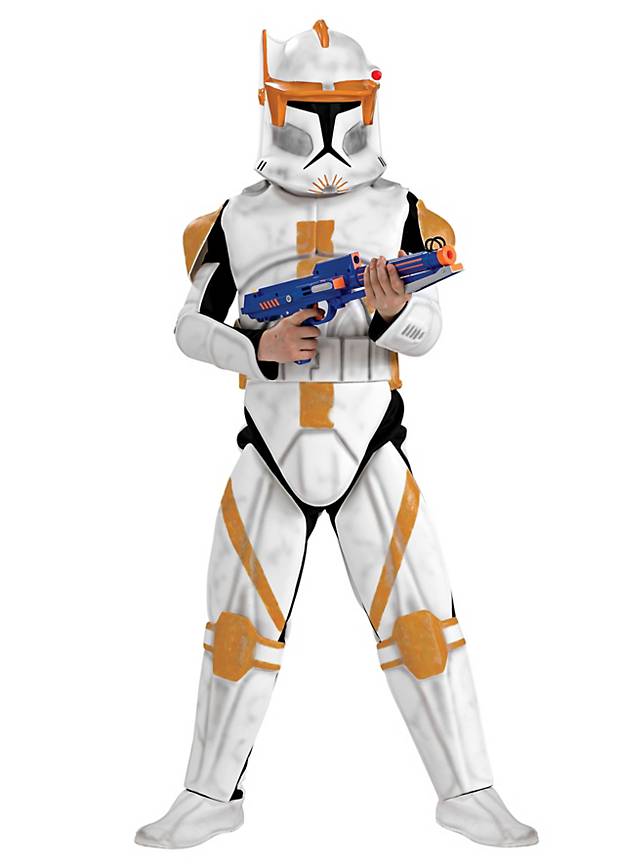 Clone Trooper "Cody"
Included in delivery
Costume, 3-piece
With clone trooper suit
With belt
With 2-part mask
without blaster
Without shoes
Product Description
Clone Trooper Cody was a loyal servant of the Galactic Republic during the Clone Wars. Although Cody developed a close relationship to Obi-Wan Kenobi, when order 66 was enacted Cody did not hesitate to open fire on his former companion-in-arms. Our Cody wears a shiny, black bodysuit that stretches to fit perfectly. Thick plastic panels are sewn to the bodysuit to result in distinctive armor with a lot of wearing comfort. The lightweight, 2-piece clone trooper Cody helmet is held together by hook and loop strips so it is very easy to take off. Shoulder plates and a molded belt add an orange color accent. This original licensed Star Wars clone trooper Cody is armed with an orange blaster, the standard clone trooper weapon.
PLEASE NOTE: The blaster is orange and not blue as shown.
Material
100% polyester; helmet: 100% polyurethane
You may also like:
-10%
Power Ranger red
Kids Costume
49,90 €
44,90 €
-10%
Queen Amidala
Kids Costume
49,90 €
44,90 €
Star Wars Yoda
Mask
49,90 €
Clone Trooper "Fox"
Kids Costume
69,90 €
-44%
Clone Trooper "Rex"
Costume
89,90 €
from 49,90 €
-25%
Clone Trooper "Rex"
Kids Costume
79,90 €
from 59,90 €
-10%
Original Darth Vader
Costume
99,90 €
89,90 €
-8%
Star Wars Darth Vader
Kids Costume
59,90 €
54,90 €
Voice Changer
Accessory
16,90 €
Payment & Support
✓ Fast and secure payment
✓ Payment options incl. PayPal and invoice
✓ 24/7 service and ordering
Orders & Shipping
✓ Free of charge on orders of €30 or more within Germany
✓ We deliver worldwide
✓ Super speedy express shipping
Claims & Returns
✓ Free return shipping on orders of €40 or more within Germany
✓ 14 days right of return
✓ Easy and hassle-free
Reviews
Clone Trooper "Cody"
(3)
5 out of 5 stars
verified purchase

Great costume for my son. Didn't want to take it off!

Ljubov de
back to top