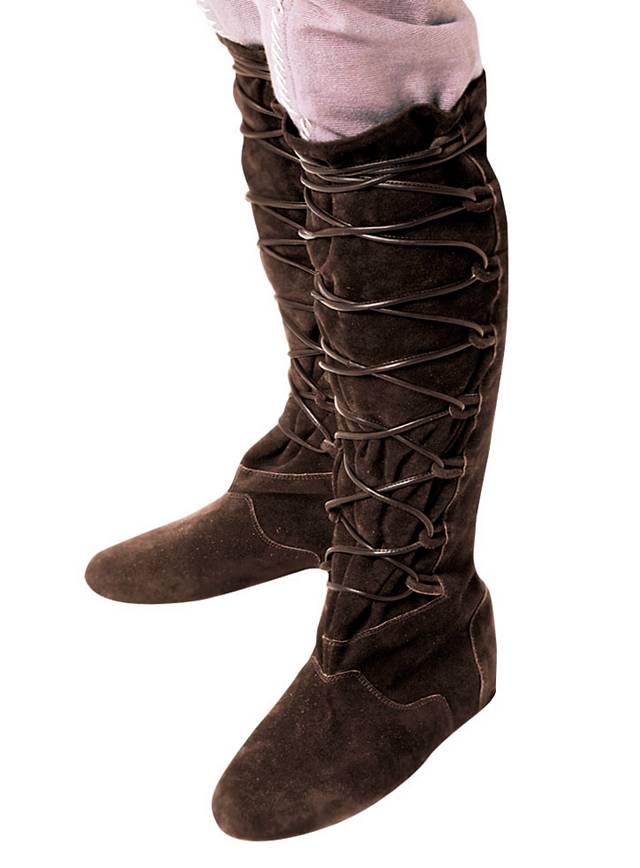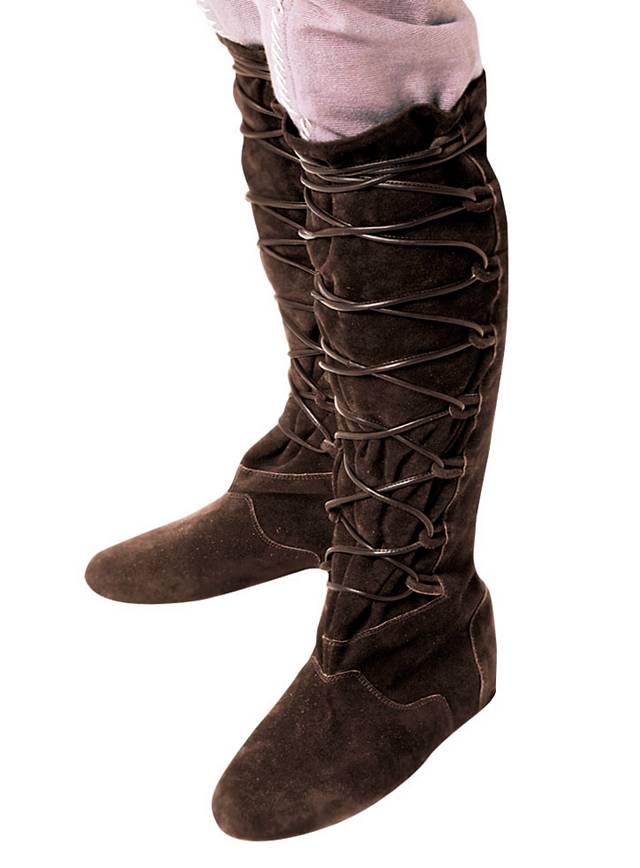 Suede boots - Lanval, brown
Included in delivery
one pair of suede boots - Lanval, brown
Product Description
Our suede boots - Lanval, brown have a shaft height of approx. 36 cm.
Boots are never the center of attention when Hollywood decides to go another round with the legend of Robin Hood. At most, the hats and green tunics are worked on in detail, and Mel Brooks even focused on leg wear in the early 1990s when he directed "Robin Hood: Men in Tights." But Robin and his merry men were surely wearing something on their feet when they were holed up in Sherwood Forest.
And they were not just wearing anything – they had on sturdy boots like our suede boots - Lanval, brown. These slip on boots feature a smooth leather sole are made of high quality suede and lined with brown, bonded knit fabric inside. They lace at the front with a long leather tie and two rows of 8 leather loops each.
Material
Genuine leather
You may also like:
Belt Pouch - Traveller
Accessory
19,90 €
Tunic - Master of the hunt
Costume Part
49,90 €
Medieval tights man black
Costume Part
39,90 €
Robin of Locksley Boots black
Shoes
129,00 €
Suede Pouch - Heller
Accessory
19,90 €
Peasant Shoes brown
Shoes
59,90 €
Wood Elf Ears
Ears
12,90 €
Leather Belt brown
Accessory
19,90 €
Weapon Holder- Page
Weapon holder
16,90 €
Belt - Elfric
Accessory
59,90 €
Suede Leather Gloves brown
Accessory
29,90 €
Padded Shirt
Costume Part
69,90 €
Suede Gauntlets green
Accessory
29,90 €
Robin of Locksley Complete
Costume
149,00 €
Trousers - Robin
Costume Part
44,90 €
Robin of Locksley Gambeson
Costume Part
119,00 €
Payment & Support
✓ Fast and secure payment
✓ Payment options incl. PayPal and invoice
✓ 24/7 service and ordering
Orders & Shipping
✓ Free of charge on orders of €30 or more within Germany
✓ We deliver worldwide
✓ Super speedy express shipping
Claims & Returns
✓ Free return shipping on orders of €40 or more within Germany
✓ 14 days right of return
✓ Easy and hassle-free
back to top