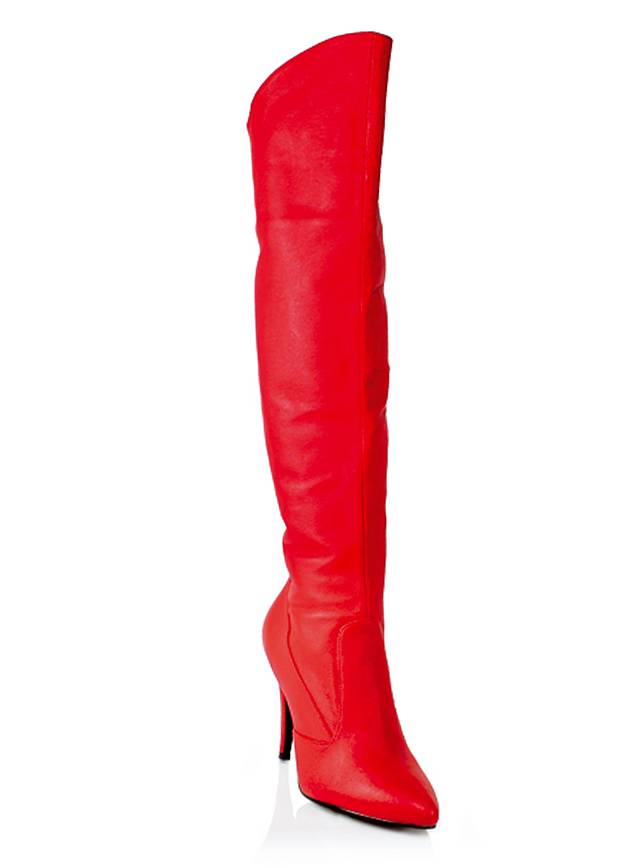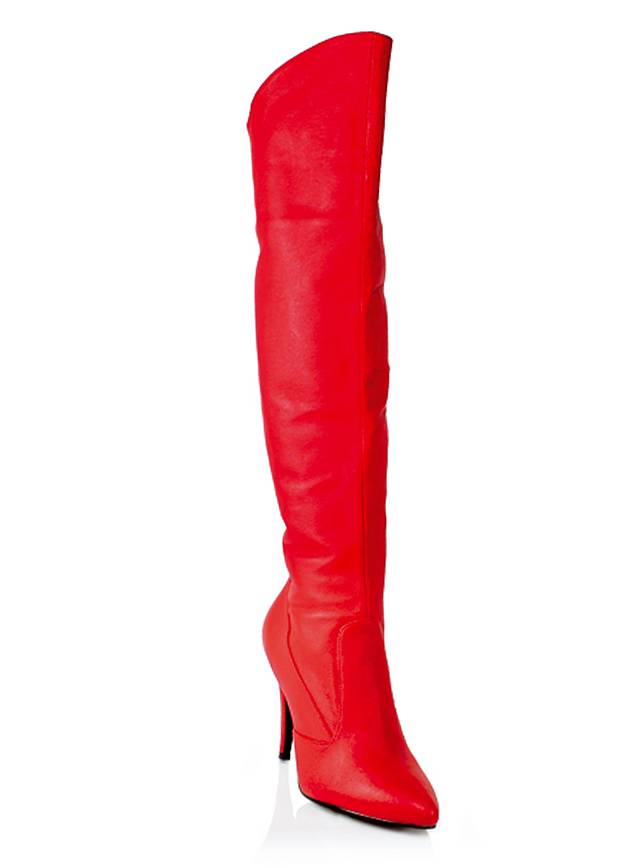 Knee High Boots red
Included in delivery
One pair of deep red knee high boots with heels
Product Description
Pirates, peasants, pagans and princesses all know that the proper shoes or boots can add the convincing final touch to any costume. Do we mourn the passing of leather as the main material for shoes and boots? No, not at all. Modern, man made shoe and boot materials can be processed in a variety of creative ways that all add up to inexpensive FUN, regardless of whether crazy colors, fantastic forms or daring decoration are the main attraction. And if you want historical accuracy, reach into your wallet and then reach out for tried and true leather shoes.
These knee high boots are pure fun in deep, cherry red. They stretch to hug the curves of your calves and go over the knee at the front. Their stiletto heels are approx. 9 cm high. The shaft is approx. 42 cm high and the zipper on the inside is approx. 22 cm long.
PLEASE NOTE: These boots are deep cherry red and not bright, fiery red as shown.
One pair of deep red knee high boots with heels
You may also like:
-33%
Platform Boots with Zipper red
Shoes
59,90 €
from 39,90 €
Ruby Bracelet
Jewelry
14,90 €
Spiderweb Arm Warmer
Accessory
8,90 €
Retro Boots Stretch Vinyl forest green
Shoes
49,90 €
-20%
Groovy Retro Print
Costume
49,90 €
39,90 €
-20%
Feather Fan black-red
Accessory
9,90 €
7,90 €
-13%
Policewoman
Costume
79,90 €
69,90 €
Sexy Policeman
Costume
from 69,90 €
-25%
Sexy Pirate Wench
Costume
79,90 €
59,90 €
-30%
Red Stockings
Accessory
9,90 €
6,90 €
Green Lantern Catsuit
Costume
59,90 €
-17%
Sexy Flash
Costume
59,90 €
from 49,90 €
Your Favourite
Sexy Superhero Batgirl
Costume
59,90 €
Handcuffs
Accessory
4,90 €
-25%
Sexy Herald Angel
Costume
59,90 €
44,90 €
Marabou Garter red with red Bow
Accessory
9,90 €
Satin Gloves red
Accessory
7,90 €
-20%
Sexy Snow White
Costume
49,90 €
39,90 €
-57%
Queen of Hearts
Costume
69,90 €
from 29,90 €
Your Favourite
Sexy Superhero Supergirl Dress
Costume
69,90 €
Payment & Support
✓ Fast and secure payment
✓ Payment options incl. PayPal and invoice
✓ 24/7 service and ordering
Orders & Shipping
✓ Free of charge on orders of €30 or more within Germany
✓ We deliver worldwide
✓ Super speedy express shipping
Claims & Returns
✓ Free return shipping on orders of €40 or more within Germany
✓ 14 days right of return
✓ Easy and hassle-free
Reviews
Knee High Boots red
(1)
3 out of 5 stars
back to top