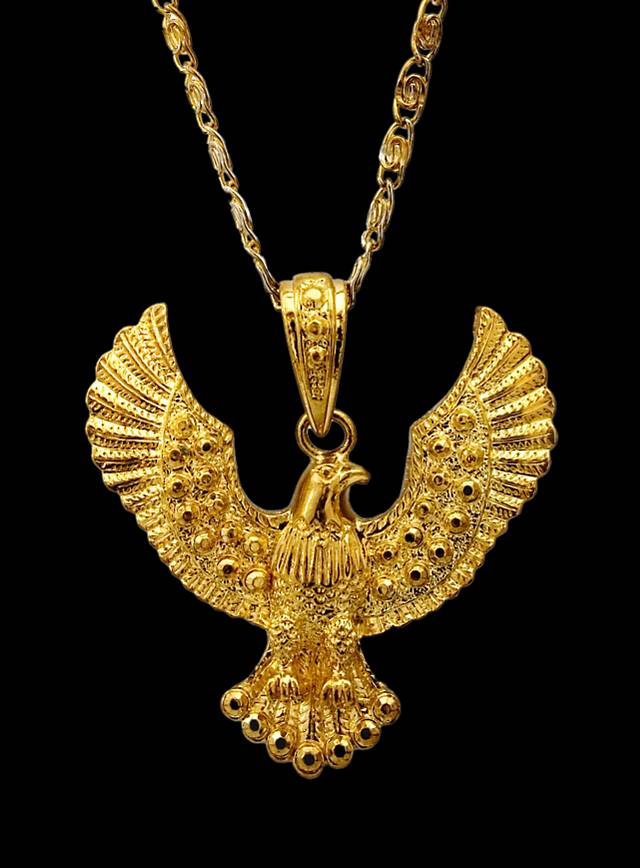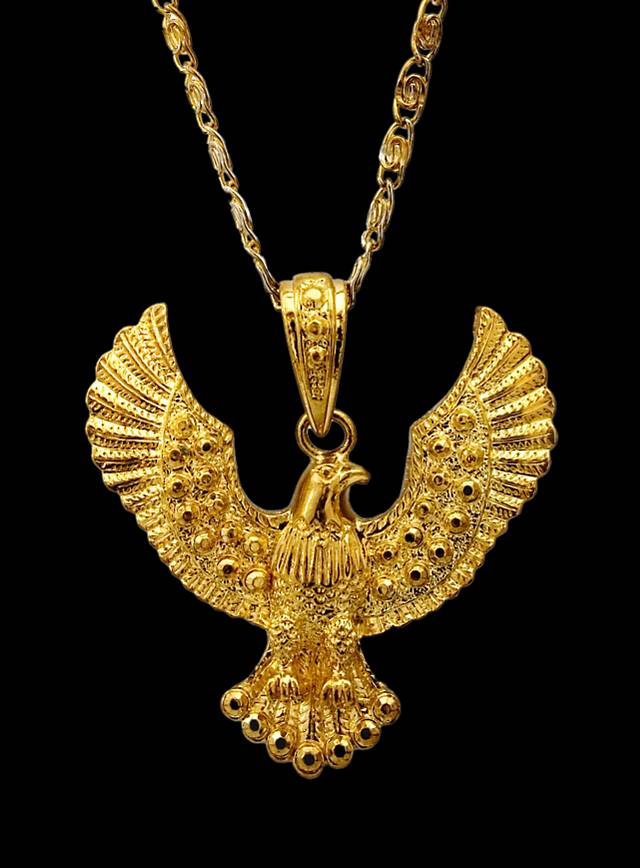 Golden Eagle Medallion
Product Description
With/without the medallion, the chain is approx. 42/34 cm long.
This Golden Eagle is the ideal accessory for characters from Antiquity such as an Egyptian Pricess or Greek Goddess. After all, many of the Egyptian gods of old were depicted as birds. Even the firebird of Greek mythology fame called the Phoenix is based on the ancient Egyptian bird Benu. He appeared every other century or so, burned up at the light of dawn, and arose again – rejuvenated – from his own ashes. This symbol will draw attention to your affinity for ancient mythology!
You may also like:
Your Favourite
Private Investigator
Beard available in 6 colors
14,90 €
-20%
Sunglasses "Cop"
Accessory
9,90 €
7,90 €
Dollar Sign Medallion
Jewelry
11,90 €
Yakuza
Special Effect
12,90 €
Anchor Pendant
Jewelry
7,90 €
-23%
Biker
Special Effect
12,90 €
from 9,90 €
Staff Pick
Gangster
Beard available in 6 colors
16,90 €
-20%
Roman belt - Vitellius
Accessory
49,90 €
from 39,90 €
-17%
Camel
Mask
29,90 €
24,90 €
-23%
Killer
Special Effect
12,90 €
9,90 €
1970s Hair black
Wig
19,90 €
Hair Spray Black
Make-up
2,90 €
Roman Senator
Costume
79,90 €
Staff Pick
-11%
Hard Rock
Wig
44,90 €
39,90 €
-24%
Gold Chain Deluxe
Jewelry
16,90 €
12,90 €
-23%
Gangsta
Special Effect
12,90 €
9,90 €
Oak Leaf Brooch
Jewelry
12,90 €
Roman Consul
Costume
99,90 €
Staff Pick
King Size Sideburns
Beard available in 6 colors
29,90 €
Golden Creme Make-Up
Make-up
4,90 €
Your Favourite
Brush-On Mastix Spirit Gum
Special Effect
4,90 €
Laurel Wreath
Jewelry
24,90 €
-23%
Rockabilly
Special Effect
12,90 €
9,90 €
Staff Pick
Pimp
Beard available in 6 colors
14,90 €
Payment & Support
✓ Fast and secure payment
✓ Payment options incl. PayPal and invoice
✓ 24/7 service and ordering
Orders & Shipping
✓ Free of charge on orders of €30 or more within Germany
✓ We deliver worldwide
✓ Super speedy express shipping
Claims & Returns
✓ Free return shipping on orders of €40 or more within Germany
✓ 14 days right of return
✓ Easy and hassle-free
Reviews
Golden Eagle Medallion
(1)
4 out of 5 stars
back to top