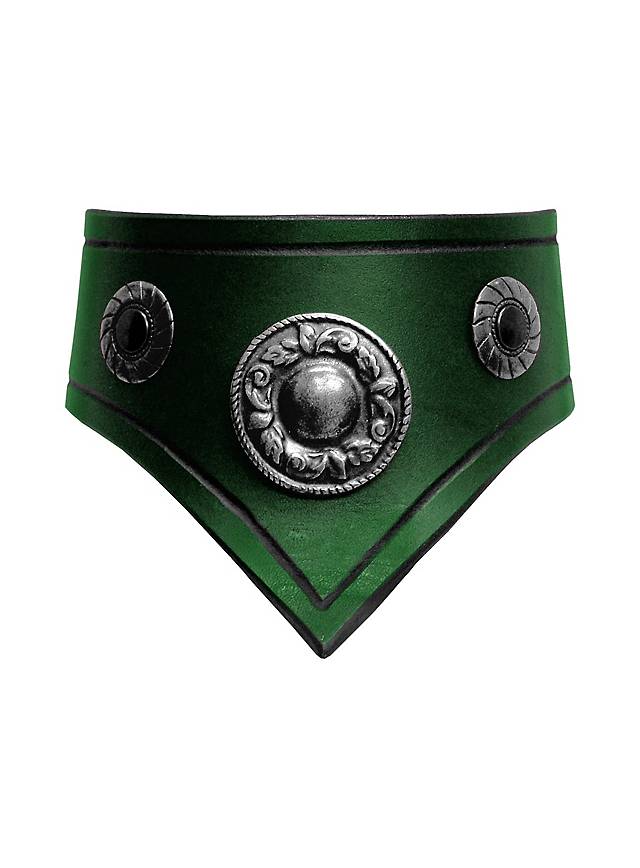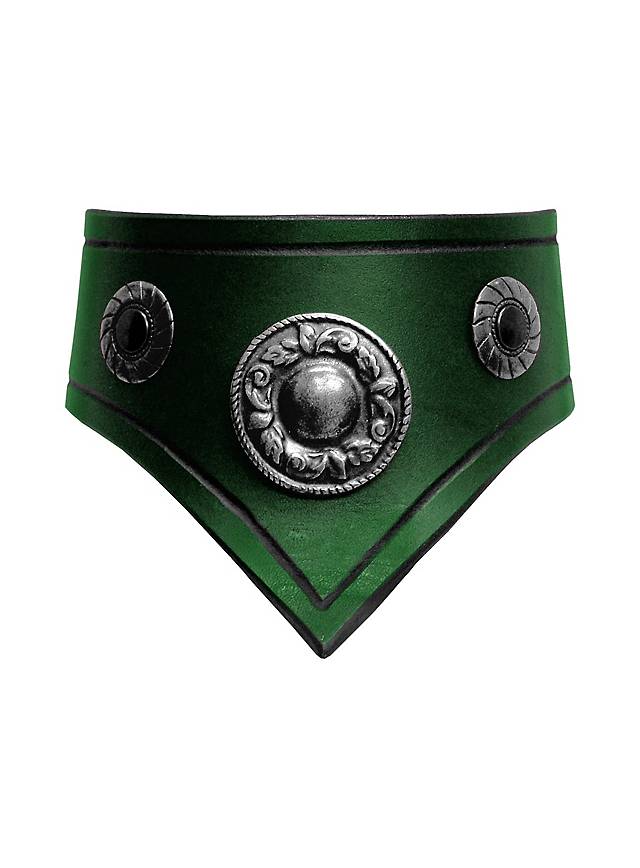 Leather Collar - Comtesse - Colour: Green Green
High-quality leather collar by Andracor, handmade in Berlin
Included in delivery
Green & silver leather collar, 2-piece
With collar
With leather tie
Product Description
Leather collar in green with silver ornament. Made of heavy grade leather, vegetable tanned. With decorative groove.
Our green & silver leather collar is approx. 34 cm long.
It's a perfect addition to a variety of LARP outfits. With its elegant cut, decorative grooved edging and riveted silver adornment, the leather collar enhances your character's look. Handcrafted from vegetable-tanned, heavy grade leather, it gets fastened for your individual comfort at the back of the neck with a leather band included upon delivery. Metal eyelets prevent the holes from tearing. Our Leather Collar also comes in green, black, and red.
Andracor has been designing and making leather products by hand in Berlin since 1999. Strict selection criteria for choice materials and artisans experienced in working with leather guarantee our high quality level. The products we create are equal to the everyday demands of the world of LARP – and we enjoy wearing them ourselves!
Green & silver leather collar, 2-piece
With collar
With leather tie
Material
Genuine leather
Payment & Support
✓ Fast and secure payment
✓ Payment options incl. PayPal and invoice
✓ 24/7 service and ordering
Orders & Shipping
✓ Free of charge on orders of €30 or more within Germany
✓ We deliver worldwide
✓ Super speedy express shipping
Claims & Returns
✓ Free return shipping on orders of €40 or more within Germany
✓ 14 days right of return
✓ Easy and hassle-free
Reviews
Leather Collar - Comtesse - Colour: Green
(1)
3 out of 5 stars
back to top