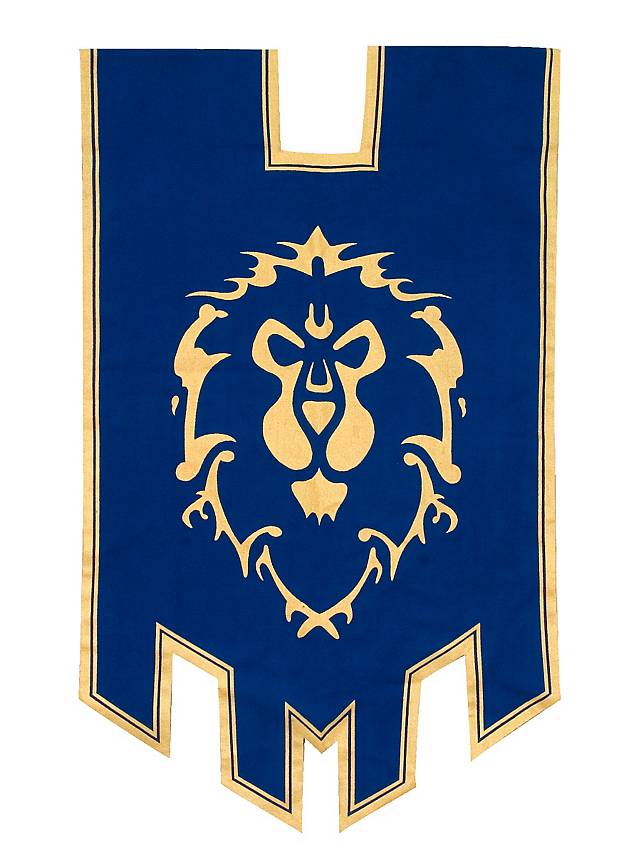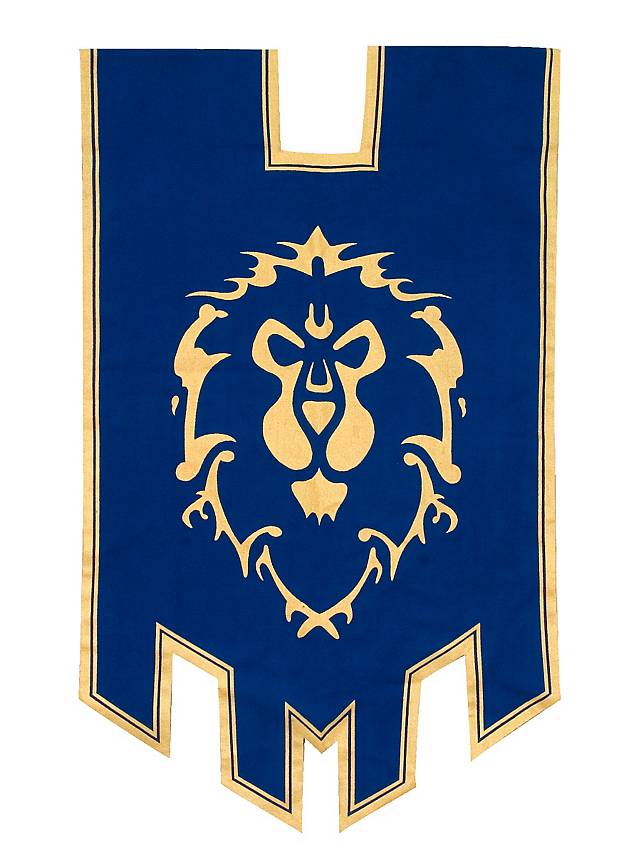 Original World of Warcraft Alliance Banner
Product Description
An alliance is an association created to further the common interests of the members. THE ALLIANCE, however, is one of the two main factions in the popular Warcraft franchise; the one dedicated to bringing light to the darkest corners of Azeroth. Choose your colors: our Original World of Warcraft Alliance banner features the Alliance lion head in gold on a royal blue background. This Alliance banner has tabs at the top so you can hang it from a spear or a pole, and the bottom edge is dagged. It measures approx. 83x50 cm (lxw).
Material
100% cotton
You may also like:
Your Favourite
-22%
Halloween Jelly Mould Brain
Decoration
8,90 €
6,90 €
Lord of the Rings Moria Orc
Mask
69,90 €
Freddy Krueger Costume Kit
Costume
119,00 €
-20%
Sunglasses "Cop"
Accessory
9,90 €
7,90 €
-10%
Freddy Krueger Pullover
Costume
49,90 €
44,90 €
Your Favourite
Skeleton Zombie
Costume
59,90 €
Your Favourite
Scream
Costume
39,90 €
-15%
The Crow
Mask
19,90 €
16,90 €
Robin of Locksley Sword
Foam Weapon
47,90 €
Staff Pick
Orc Halfmask
Mask Pieces
34,90 €
Your Favourite
-7%
Original Batman Joker
Costume
69,90 €
from 64,90 €
-38%
Hellraiser Pinhead
Mask
39,90 €
24,90 €
Lord of the Rings Orc Lurtz
Mask
69,90 €
Michael Myers
Mask
49,90 €
Batman Joker
Mask
59,90 €
Freddy Krueger Glove
Accessory
14,90 €
Lord of the Rings Witch King
Mask
69,90 €
Jason Deluxe Latex Mask
Mask
69,90 €
Your Favourite
Scream
Mask
14,90 €
World of Warcraft Horde Banner
Decoration
44,90 €
Staff Pick
Moon Elf Ears
Ears
14,90 €
Staff Pick
Dwarf
Nose
14,90 €
Staff Pick
-22%
Moonelf
Wig
44,90 €
34,90 €
-20%
WoW Alliance Tabard
Costume Part
49,90 €
39,90 €
Payment & Support
✓ Fast and secure payment
✓ Payment options incl. PayPal and invoice
✓ 24/7 service and ordering
Orders & Shipping
✓ Free of charge on orders of €30 or more within Germany
✓ We deliver worldwide
✓ Super speedy express shipping
Claims & Returns
✓ Free return shipping on orders of €40 or more within Germany
✓ 14 days right of return
✓ Easy and hassle-free
back to top